62nd One-Wall Nationals & ICHA/USHA Juniors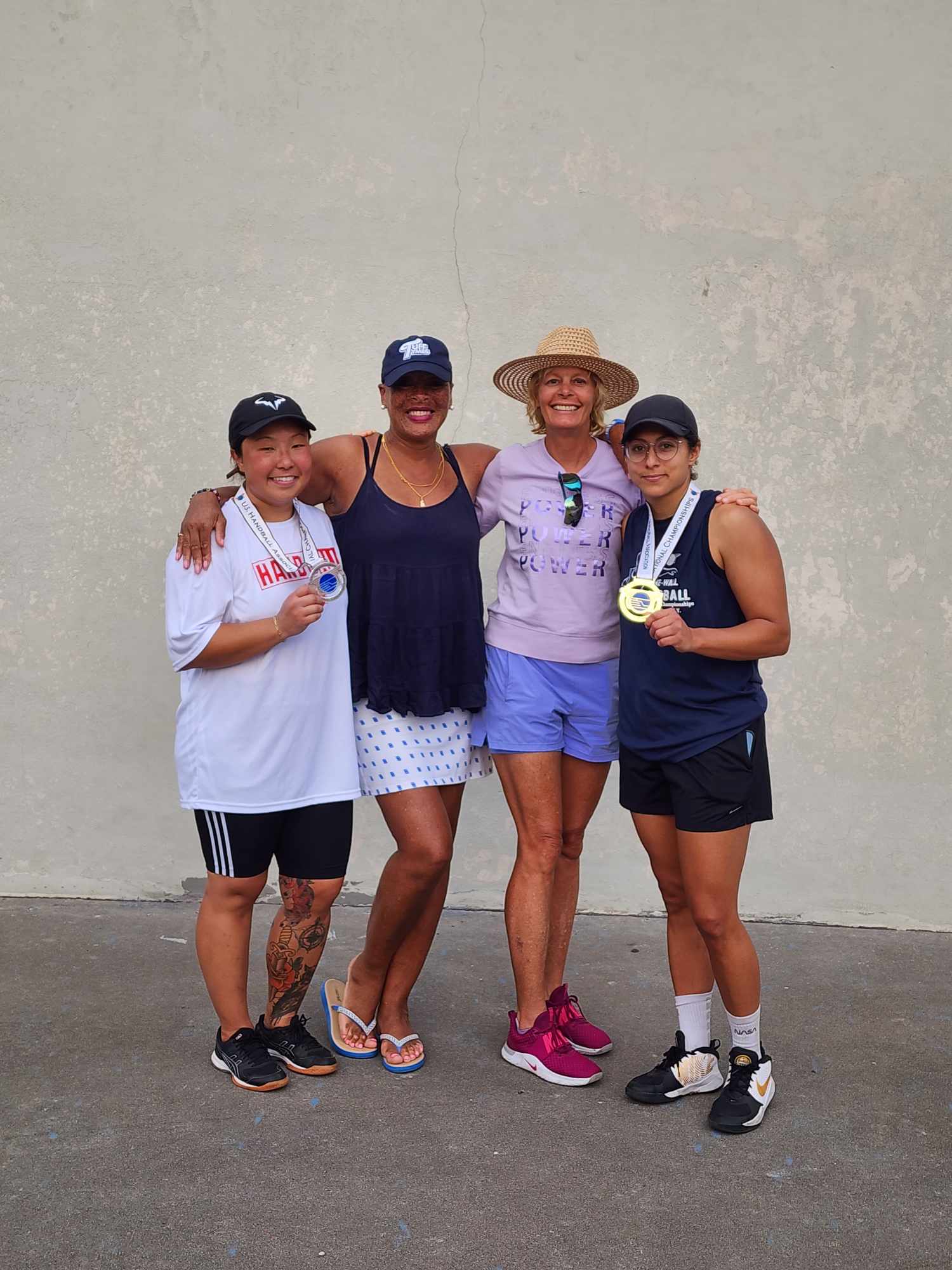 BROOKYLN — Tyree Bastidas and Danielle Daskalakis reminded us all of their greatness with their play at the 62nd USHA One-Wall Nationals in Coney Island, each slamming in their division.
Bastidas secured his ninth USHA One-Wall Pro singles title, an astonishing achievement which now ties him with Joe Durso for most all-time singles one-wall titles. Bastidas shows no signs of slowing down as he delivered an exceptional performance in the final match, triumphing over Tywan Cook. Both players looked strong, dominating opponents throughout the entire weekend to the championship. One of the top big ball stars of the game, Cook has adeptly transitioned to small ball, a skill that was evident in the finals.
The opening of the first game saw Cook and Bastidas locked in an even match. With the scored tied 11-11, Cook missed a setup that barely went outside the lines, giving Bastidas the serve. The error proved costly, as Bastidas rattled off seven straight points en route to a 10-3 scoring run, and eventually closed out the first game 21-14.
In the second game, Bastidas started with great intensity, aiming to secure a two-game victory. He surged to a commanding 13-2 lead. Despite Cook's refusal to give up, battling back to 9-18, Bastidas closed out the game with a 21-9 score, securing the championship.
Bastidas advanced to the finals by defeating Giovanni Vasquez in straight sets in the semifinal match, while Cook secured his place in the finals with an impressive victory over last year's runner-up, Jurell Bastidas, also in two games.
Tyree has incredible power, but also the ability to place the ball with deep drives on the court, moving his opponent's side to side. He also possesses an incredible power serve that earns him several aces. He continues to rack up the titles and is one of the all-time greats in one-wall handball.
Tyree later slammed with his brother Jurell Bastidas in a thrilling final against Carlin Rosa and Nazir Marston. After splitting the first two games, the Bastidas brothers dominated the tiebreaker, winning it 11-3.
On the Women's Pro side, Danielle Daskalaks continued to showcase her dominance, claiming her fourth national title in one-wall pro singles. Daskalakis's remarkable performance throughout the weekend allowed her to concede only 7 points across her three matches. Myohwa Hwee secured the second-place position, with her only defeat coming from Daskalakis in the round-robin format.
Daskalakis dazzles spectators with her shot making ability, and her opponents have no answer for her on the one-wall court. She has a tremendous left hand, where she can generate great power on the ball, while also possessing the ability to hop the ball both ways. When Daskalakis sets up for a shot, there is a good chance it is rolling out. That was especially true over the weekend.
Daskalakis further solidified her prowess by triumphing in the pro doubles division alongside her partner Tania Juarez. However, their victory was hard-fought, as Melissa Sky and Biridiana Garcia served for match point in the second game. A side out game Daskalakis and Juarez the window they needed, pushing the title deciding match to a tiebreaker.  In the third frame, Daskalakis and Juarez held all the momentum to emerge victorious, 16-21, 21-20, 11-3.
For a complete overview of the tournament results, visit the R2Sports link HERE
Special appreciation goes to Jared Vale, the One-Wall Committee, and our awesome team of volunteers for running an exceptional event.
Congratulations to all of our National champions:
Men's Pro: Tyree Bastidas
Women's Pro: Danielle Daskalakis
Men's Pro Doubles: Tyree Bastidas/Jurell Bastidas
Women's Pro Doubles: Danielle Daskalakis/Tania Juarez
Men's A: Daniel Grant
Men's A Doubles: Jeanpierre Garcia/Nicholas Cruz
Men's 40: Joseph Kaplan
Men's 40 Doubles: Tony Roberts/George Figueroa
Men's 50: Timothy Moeller
Men's 50 Doubles: Eddie Perez/Robert Sostre
—————————————————————————————————————————-<
The 62nd USHA One-Wall Nationals are here! We are thrilled to welcome some of the best one-wall players in the country to Asser Levy Seaside Courts. With the One-Wall Juniors Championships also taking place, this promises to be an exciting and inspiring event.
The Juniors Championships may have been postponed, but they are here and ready to shine alongside the Pros. Check out the draws and start times to ensure you catch all the action HERE.
Keep in mind that times and draws may change leading up to the day of the event, so double-check your schedule before making your way to the courts.
Don't let rain dampen your spirits – we have an indoor facility available in case of inclement weather. Stay tuned for updates and daily match reports, and let's make this a truly unforgettable tournament