2023 Handball Hall of Fame Inductees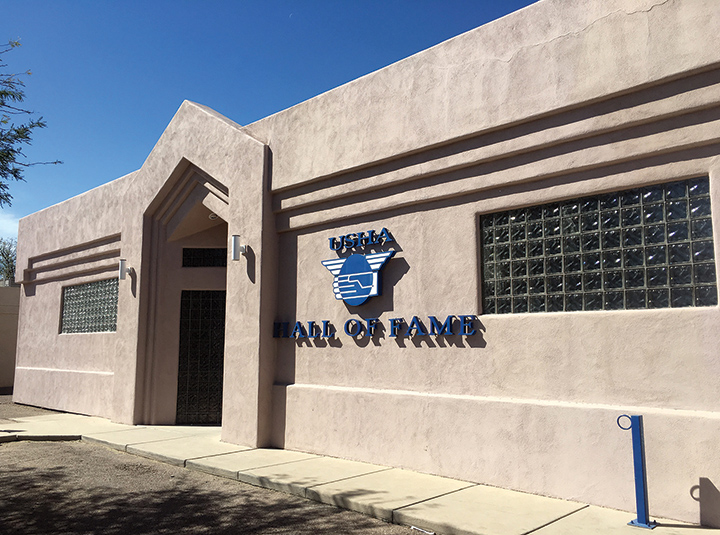 On behalf of the Handball Hall of Fame Committee and the USHA Board of Directors, we are proud to announce the 2023 Handball Hall of Fame Inductees. Congratulations to all deserving candidates!  Induction ceremonies will be announced at a later date.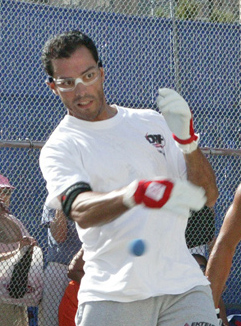 Robert Sostre adds the third Hall of Fame honor to his illustrious career on the courts. Sostre has already been inducted into the Paddleball Hall and the World Outdoor Raquetball Hall of Fame. Nicknamed "The Iceman" for his innate ability to thrive in high pressure situations, Sostre was one of the best of his era for nearly two decades.  What began as a junior title in 1989 blossomed into a decorated career with 7 national titles (2 USHA Singles, 3 USHA Doubles, 1 YMCA Singles, 1 YMCA Doubles). That span also includes 7 runner-up finishes and 11 semifinals appearances. 
"A rare breed of athlete who's greatness transcends multiple disciplines of our sport."
– Cesar Sala, six-time USHA National Champion
"He's been one of the top players to set the standard with a well-known offhand which made him interesting to watch, usually drawing large crowds of spectators."
– Ed "Fast Eddie" Maisonet, Handball Hall of Famer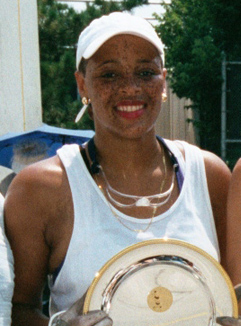 Barbara Canton-Jackson was a special player who carried herself with grace and fierce competitive desire. Canton-Jackson was one of the most dominant players in Women's Handball through a 15-year period. She won two National Singles crowns and five National Doubles, each time partnered with fellow Hall of Fame Inductee, Dori Ten. What's almost as notable about Canton-Jackson's career was her tremendous sportsmanship on and off the courts.  She always carried herself like a champion.
Dori Ten was originally a paddleball player who converted easily over to handball.  Ten excelled with both hands earning two singles titles and five doubles crowns in a 15-year period. She, like her longtime doubles partner Barbara Canton-Jackson, exhibited a tenacious competitive level while bringing an infectious positive vibe to the court. That demeanor helped set the stage and served as an example of positive conduct on and off the courts for One-Wall Women's Handball. Ten joins her spouse, Albert Apuzzi as the first husband and wife duo to be inducted into the Handball Hall of Fame.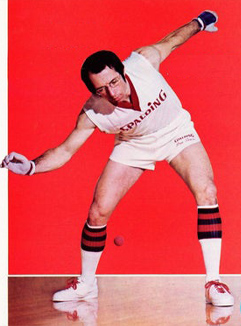 Gordy Pfeifer earned the nickname "Charlie Hustle" by the late USHA Executive Director Mort Leve, there wasn't a shot Gordy Pfeifer believed he couldn't retrieve. Longtime USHA Pro Tour fans will light up when they remember Pfeifer, one of the original players when Bob Kendler conceived the idea. The tenacious competitor from the Pacific Northwest always gave the gallery a tremendous show with his burning desire to win. For two decades, Pfeifer was clearly one of the best players on the handball court. Pfeifer accumulated a haul of titles, beating the best players of his era with the first coming in the 1969 YMCA Singles against Hall of Famer, Bill Yambrick.
Pfeifer went on to win a Canadian Nationals along with two consecutive National Invitational Singles Championships (an event loaded with talent that arguably exceeded the National Singles and Doubles those years). Pfeifer also excelled as a right-side doubles player, winning championships in World events, capping off his career in 1989 with a Masters title with Skip McDowell.
"He dominated front court play with his fabulous retrieving abilities and cannon right arm."
– Fred Lewis, Handball Hall of Fame Player

Tom Sove will be inducted into the Handball Hall of Fame as a Contributor. Tom's contributions to handball are impressive and represent 40 years of service given to the game. Starting at the regional level in Northern California, Sove joined the USHA Board in 1998 and has served nine consecutive terms. During that time, Sove has chaired multiple committees—usually the ones people are reluctant to lead.  Sove has spearheaded multiple efforts to improve and clarify rules and tournament protocol while emerging as a prolific fundraiser. In 2004, Sove helped launch the USHA's Share the Passion Capital Campaign and raised over $400,000 in pledges.

Throughout his tenure and to present day, Sove continues to champion the difficult causes, often rolling up his sleeves and leading by example. An Army Ranger and Vietnam Veteran, Tom Sove exemplifies the 75th Ranger Regiment's motto, "Rangers lead the way!"
Rodney Fink is recognized with the Carl Porter Award to honor his outstanding service to handball at the national level. Fink served on the Board of Directors for 10 years, joining various committees that promoted the development and growth of handball.  Fink was instrumental promoting the Heritage Fund, allowing members an avenue to leave a legacy for the USHA. As an attorney, He was instrumental in crafting sections of the by-laws and was always happy to offer advice from a legal perspective. Fink is very well known in the handball world as he is the founder and director for the Rodney Fink Classic Tournament, which has run continuously from 2009 to the present. He continuously donates his time and finances to help make National tournaments and pro stops successful.  As a Level 5 Referee, Fink has conducted clinics to further education on the rules. 
"I know Rodney as one of the most passionate handball players I have ever met. His kindness, enthusiasm, and positive approach exemplifies what is needed as a handball ambassador."
– LeaAnn Martin, USHA Hall of Famer, USHA Past President and current board member