2023 USHA Junior Three-Wall Nationals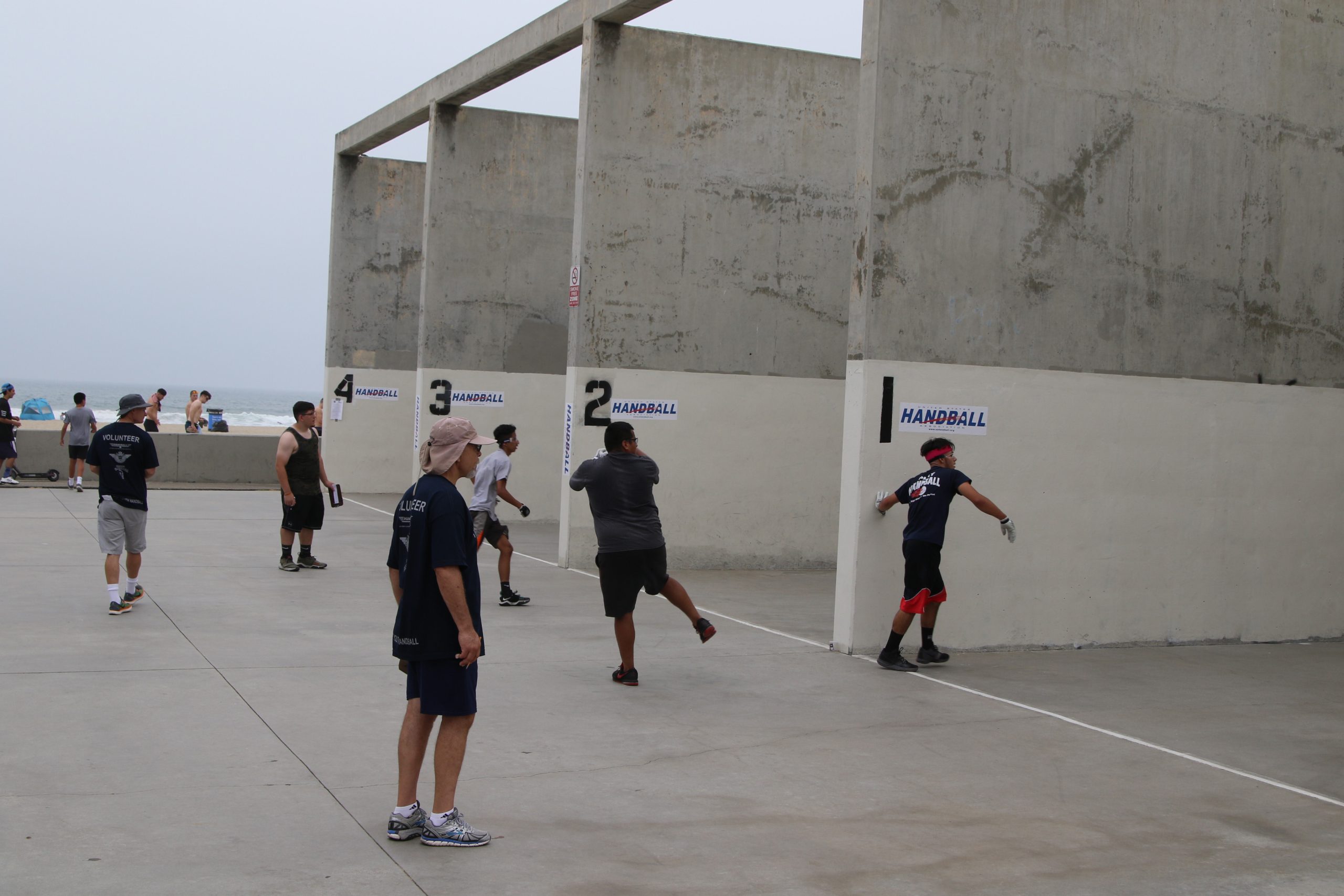 VENICE BEACH, Calif. – New National Champions were crowned on Saturday and Sunday at the Venice Beach Handball Courts. 
Saturday brought big ball action, and several of California's finest up and coming big ball players were on site to compete for a national title. Santa Ana Handball Club Coach Gilbert Granado coordinated for many of his junior players to compete, and they had a successful day, winning multiple national titles.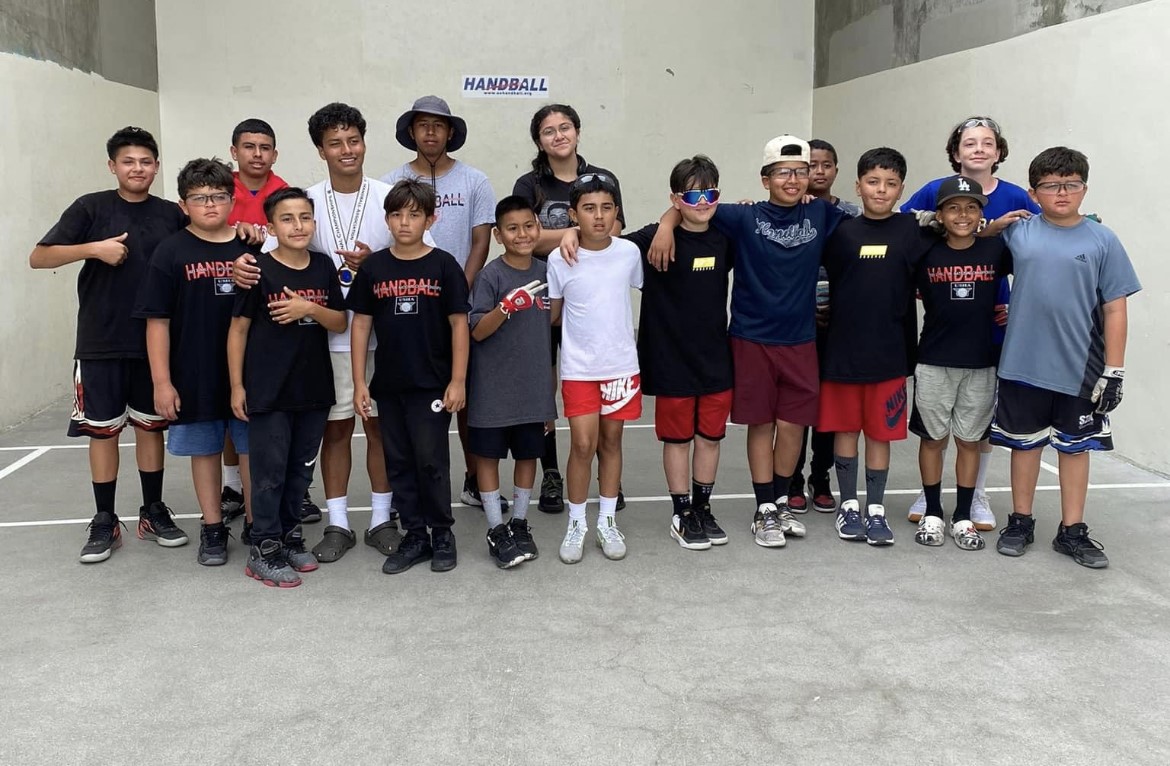 One of the most exciting matches of the day came in the big ball 17 and under final, where Patrick Leyva outlasted Freddy Reyes Jr. in a thrilling final, where Leyva pulled away late in both games to claim the title. 
Reyes Jr. got his revenge in the 17 and under doubles, when he teamed with Jose Arellano to defeat Leyva and his partner Kevin Batiz in what was the last match of the day. Reyes Jr. and Arellano withstood a huge comeback from Leyva and Batiz to close out the match in front of a packed crowd. 
Small ball finals were played Sunday morning, and the crowd was treated to several exciting finishes. 
The first final of the day was the 13 and under, and pitted California's Kevin Batiz against New Mexico's Isaac Holguin. After dropping game one, Batiz fought back to claim game two and three to win the final. Batiz completed the singles slam in the 13's as he won both the small ball and big ball division.
The 15 and under saw Tucson's Tonalli Perales-Valencia take out Colorado's Diego Rodriguez. Perales-Valencia and Rodriguez had some impressive long rallies but Perales-Valencia was able to close out his opponent to win 21-13, 21-14.
The 17 and under went to Colorado's up and coming star Eliseo Gutierrez. Gutierrez overcame a slow start to defeat Jose Arellano in two straight games in the final. 
The most anticipated final of the day was the 19 and under final between Tucson's Ayden Brule and Santa Barbara's Bryan Trejo. Each player has been a star at Venice Beach, racking up multiple national titles. The final did not disappoint, and showcased the highest level of handball from the tournament. Brule played his best match of the weekend, and fought through many momentum swings to win both games, and the title. Brule is just 16 years old and is becoming one of the most decorated juniors of all time. 
Brule and Gutierrez played up together to win the 19 and under doubles final over Arellano and Trejo to close out the day with their second title each. 
A big thank you to the Southern California Handball Association for their amazing hospitality and giving the kids such a great tournament experience. Thank you to the all of the volunteers who helped the tournament run smoothly. Lastly, thank you to the coaches who brought their kids to the tournament, it will give them life-long memories. 
See all the results from the weekend HERE. 
_____________________________________________________________________________________________________
VENICE BEACH, Calif. – After a four-year absence, the National Three-Wall Junior Championships returned to Venice Beach Rec Center which is just off the world famous boardwalk and Muscle Beach. Small ball competition began on Friday, as most seeds advanced in the singles and doubles divisions. Big ball divisions begin Saturday morning and will be continued throughout the day. 
On Thursday, before matches started, juniors were given a tour of Las Angeles Fire Department Station 69. The LAFD has a deep history linked to handball, many of the stations have handball courts on site.
Players were treated to a station tour by former National Champion Tati Silverya with Sal Castillon, and at the end were also gifted LAFD shirts.
See the updated results and progress of matches HERE.
————————————————————————————————–
Times and draws are now available. Please know that these are subject to change and players and coaches should continue to check them up until the day of the event.
Players should arrive 15 minutes prior to their match start time and be readier for earlier start times in the later rounds, especially on Saturday. 
The 2023 USHA Junior Three-Wall Nationals return to the Venice Beach Handball Courts this year July 14-16!
The Los Angeles Fire Department will be giving a tour of Fire Station 69 Thursday, at 2:30PM. All players are welcome. Address: 15045 Sunset Blvd, Pacific Palisades, CA 90272
Players and spectators will be just steps away from the beach and next to the famous Venice Beach Boardwalk and Muscle Beach. The Southern California Handball Association has tremendous hospitality planned for the kids. Come join us for a great weekend of handball and fun!
How to sign up: Contact the USHA at 520-795-0434 or enter HERE, or Enter through the Southern California Handball Association by contacting your local SCHA representative.
Address of the courts: Venice Beach Recreation Center- 1800 Ocean Front Walk Venice, CA 90291. 
When will divisions play?
Small ball divisions are expected to begin Friday and continue through the weekend.
Big Ball divisions will begin on Saturday and are expected to conclude on Sunday morning. Big Ball matches will be one 21-point game until the finals.