68th USHA National Three-Wall Championships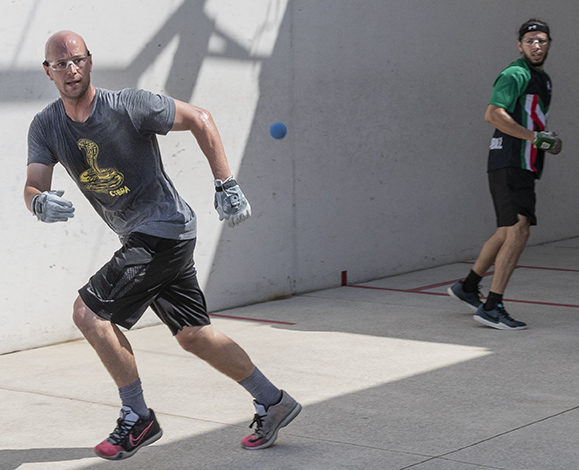 MAUMEE, Ohio — The Labor Day Holiday brought warmer temps creating brutal conditions for players on the Lucas County Rec Center Courts.  Temperatures were already reaching the high 80s for the 9 a.m. finals that began the day.  The steamy courts didn't slow down the elite players who battled to reach the championship matches on the event's last day. 
Hillary Rushe won her third consecutive Women's Open Singles championship, defeating Kristen Hughes from Austin, TX in two games, 21-7, 21-12.  Rushe would pair with Carly Munson to win the Women's Doubles crown over Hughes and Leah Kirk, 21-15, 21-10. 
In an all-brother Men's Open Doubles final, Daniel and Luis Cordova, making their first final appearance as partners, outlasted Dane and Adam Szatkowski 21-15, 21-15.  No team could match the consistency and fire power of the Cordova duo the entire weekend en route to their doubles crown. 
In other action, Mark Zamora once again took two titles home on Monday, winning the 55s with Alan Frank and the 50s with Tommy Valenzuela. 
Richard Solomon won the 65 Singles before taking a 10-year hiatus.  This year, Solomon slammed the 75 division, winning with Norm Young on the final day.
Once again, the Toledo Handball Club delivered an exceptional event for all the players and families who attended the 68th USHA National Three-Wall Championships.  Thank you to all the exceptional volunteers who make this the best overall handball experience each year! 
See final results HERE.