67th USHA National Four-Wall Championships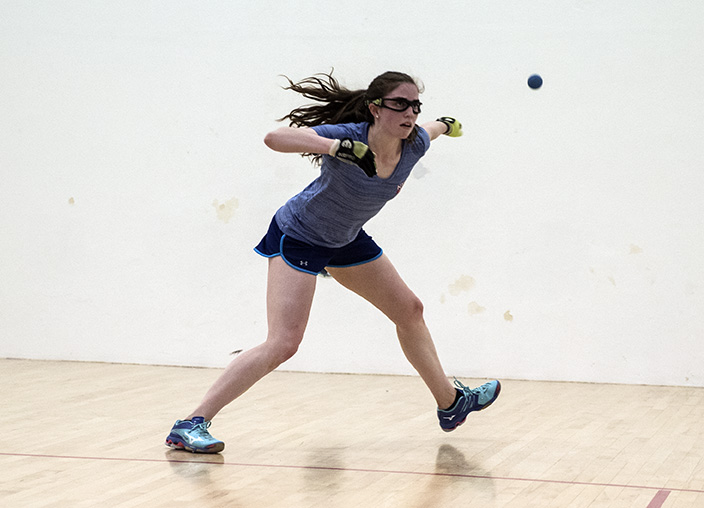 FOUNTAIN VALLEY, Calif. — Sean Lenning and Marcos Chavez once again proved there's nobody better when it comes to doubles. The longtime four- and three-wall team won their third consecutive title, defeating Vic Perez and Armando Ortiz 9-21, 21-3 and 11-9. The match-up was a repeat of the 2015 final, and it ended with the same 11-9 score. Perez's service game and Ortiz's hot shooting set them up for a chance at their first title, but both Chavez and Lenning made key shots down the stretch to seal the title.
In Women's Open singles, Catriona Casey won her third consecutive singles crown defeating Women's Classic champion Tracy Davis 21-8, 21-5. Davis started the match serving well, keeping pace with Casey to tie the score at 8-8, but the defending champ soon adjusted to Davis' power and cruised to the title. Ashley Moler defeated Jennifer Schmitt 21-14, 21-11 for third place.
Gabino "G-Man" Velazquez became the first USHA Four-Wall Big Ball Singles Champion pulling out a win over Sal Duenas, 21-9, 21-18. Duenas made every attempt to force a tiebreaker only to come up short as Velazquez executed key shots down the stretch to seal the win. It's worth noting that Velazquez survived an 11-10 first-round scare against Stockton's Antonio Chavez.
Duenas wouldn't be denied in the doubles final. Pairing with Big Ball powerhouse Samzon Hernandez, the team held off Stockton's Christian Salcedo and Chava Cordova from completing an improbable upset. Trailing 18-19 in the second game (after losing the first 21-20), Hernandez and Duenas earned the sideout and closed out the second game 21-19 to force the deciding tiebreaker. Their momentum carried them to an 11-3 win for the title.
Finally, one of the most exciting junior finals of 2016 (3-Wall Juniors) producing an intense sequel indoors. This time Bryan Trejo of Santa Barbara defeated David Sanchez 15-21, 21-14, 11-10. The pair hope to play the rubber match this month in Venice Beach at the Junior Three-Wall Nationals (July 20-23).
"Thank yous" go out to Los Cab and Mike Kane, Southern California Handball Association, Gary Cruz and all the incredible volunteers who made the 67th USHA National Four-Wall Championships a success!
And, "Thank You" to the WPH for capturing all the exciting action and streaming matches live.
FINAL Results (draws) can be viewed HERE.
WATCH SUNDAY'S FINALS REPLAY HERE:  https://www.youtube.com/watch?v=1GPhtfIXkV8&feature=youtu.be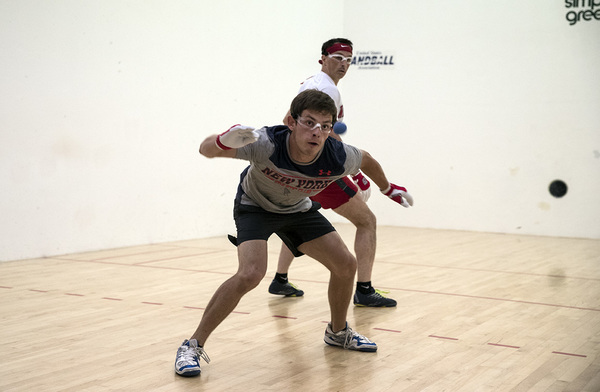 FOUNTAIN VALLEY, Calif. — In one of the most heavily anticipated rematches in recent history, Killian Carroll defeated Paul Brady, 21-19, 21-6 to successfully defend his singles title. Both players dominated their sides of the draw leading up to their showdown on Saturday. Brady was arguably playing his most dominant handball in years, leaving opponents in single digits throughout the week; while Carroll looked equally sharp. The two battled point-for-point in the first game, much to the delight of Los Cab's packed gallery. For every Brady ace or kill, Carroll would match with an unreal retrieve or re-kill. While Brady held a small lead late, Carroll rallied to take the first game by two points. In the second game, Carroll rolled to a huge lead and held on for championship point. If you didn't get to watch the WPH Live broadcast of the final, it will be available for replay.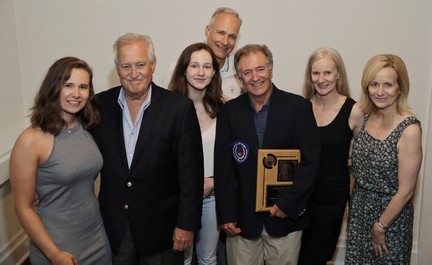 On Thursday night, handball players and families were able to honor the person who was instrumental in bringing the National Four-Wall (and other major tournaments) to Los Caballeros in Orange County:  Gary Cruz.  Cruz was inducted into the Handball Hall of Fame as a Contributor for his tremendous work for over two decades. In addition to his work behind the scenes at tournaments, Cruz spearheaded the USHA's Development Program and First Ace since 2004.  USHA President LeaAnn Martin presented Cruz with his jacket, Hall of Fame plaque and oil painting by Dave  Delaney.  In his acceptance speech, Cruz thanked all his family and fellow handball players for making his work within the sport such a rewarding experience.