2017 USHA National Junior 3-Wall Championships
VENICE BEACH, Calif. — In a classic NorCal vs. SoCal clash, the battle for Boy's 19-Under supremacy reached a boiling point on Sunday after simmering for two days at the 2017 USHA National Junior 3-Wall Championships.  The Boy's 19-Under Small Ball singles final would be the rubber match between Anthony Sullivan (San Jose) and Andrew Garcia (Los Angeles).  Garcia stunned Sullivan on Friday, winning the Big Ball singles in a tiebreaker.  The next day, with the help of doubles partner Jon Gutierrez, Sullivan exacted some revenge by defeating defending champions Garcia and Brandon Ramirez for the Small Ball Doubles title.  On Sunday, Sullivan and Garcia slugged it out for three games, battling fatigue and each other's desire to win before Sullivan prevailed, 21-1, 13-21 and 11-6. 
As soon as the match started, it appeared Sullivan would win in a walkover, hopping and hooking serves for which Garcia had no answer.  Needing what seemed the entire first game to adjust, Garcia battled back in the second game, building a nice lead and holding it to force the deciding tiebreaker.  Sullivan owned the serve to start, and shot out to a commanding 7-0 lead, but this time Garcia ferociously answered.  The two exchanged a number of lengthy rallies that pleased the Venice Beach crowds that started to gather.  After burning their timeouts, the exhausted finalists each welcomed a required glove change timeout to catch their breath.  Once the action resumed, Sullivan pressed harder to pick up the remaining points to clinch his title.  Down to match point, Garcia dug out a side out to delay any celebration for Sullivan, but the NorCal phenom regained the serve and scored the last needed point for the title. 
In other action, Luis Mendez (Santa Barbara) won the Boy's 17-Under Small Ball crown, defeating Jorge Pimentel (Tucson) in two games.  The win gave Mendez his second National Juniors title after winning a Four-Wall championships earlier this summer at Los Caballeros. 
There was nobody better in the Boy's 15-Under division (small ball or big ball!) than Jesus "El Diamante" Mendez.  The SoCal product from Los Angeles controlled both finals in two games, winning the Big Ball title over Fernando Espindola (Orange, CA) and the Small Ball championship over Joahan Campos (Kansas City).  
After suffering disappointment in the Boy's 13-Under Big Ball final, Anthony Sanchez (Los Angeles) edged Luis Fernandez (Santa Barbara) in an exciting 13-Under Small Ball final, 18-21, 21-13 and 11-3.
Finally, Kena Byrd-Jackson and Marisol Maldonado defeated Belisa Camacho and Sophie Della Croce in an All-Tucson Girls 17-Under Doubles final, winning 21-10 and 21-12. 
Thank you to all the tournament volunteers, organizers and contributors who made the 2017 USHA National Junior 3-Wall Championships a success!   Sunday was the birthday of LAFD Handball's Roy Harvey, who will also be inducted into the Southern California Handball Hall of Fame next month.  To show their appreciation, players, coaches and families gathered and sang Happy Birthday to Harvey on court one (below).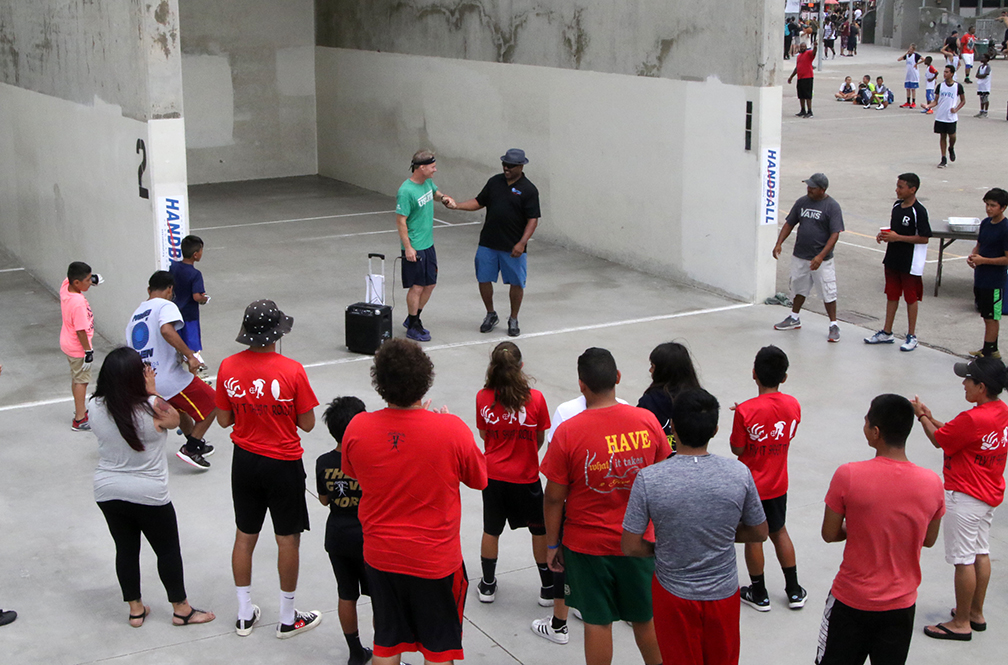 See the 2017 USHA National Junior Three-Wall Championships final results HERE.