66th USHA National Collegiate Championships


TEAM SCORES
INDIVIDUAL SCORES
SPRINGFIELD, Mo. — For the first time in modern USHA Collegiate Championships history, a team title was decided on the final day pending the results of the Men's Open Singles final.  Juan Canales (Lake Forest) and Sam Esser (Missouri State) held the fate of the Men's Team title in their hands with the result of their singles final.  The pair displayed the weekend's best handball and pure class through three games.  Splitting the first two games 21-16, Esser held a 3-0 lead in the tiebreaker but couldn't pull away.  Canales kept coming and ultimately took the lead; however, Esser didn't go quietly, forcing long rallies before falling 11-8 in front of a packed house.  With the win (and some help in another division), Lake Forest edged Missouri State for the Men's title.  That result didn't effect the Combined Team title, which Missouri State clinched on Saturday.  
In the Men's Doubles final, Esser and Max Langmack had too much firepower as they cruised to victory, defeating Canales and Ricardo Palmas, 21-8, 21-5.
Dublin City's Fiona Tully slammed the Women's Open events, defeating DCU teammate Meadhbh Ni Dhalaigh in the singles final, 21-8, 21-7.  The Open finalists teamed together to defeat Missouri State's Taylor Rumping and Christina Pecaut in the Women's Open Doubles final, 21-7, 21-2.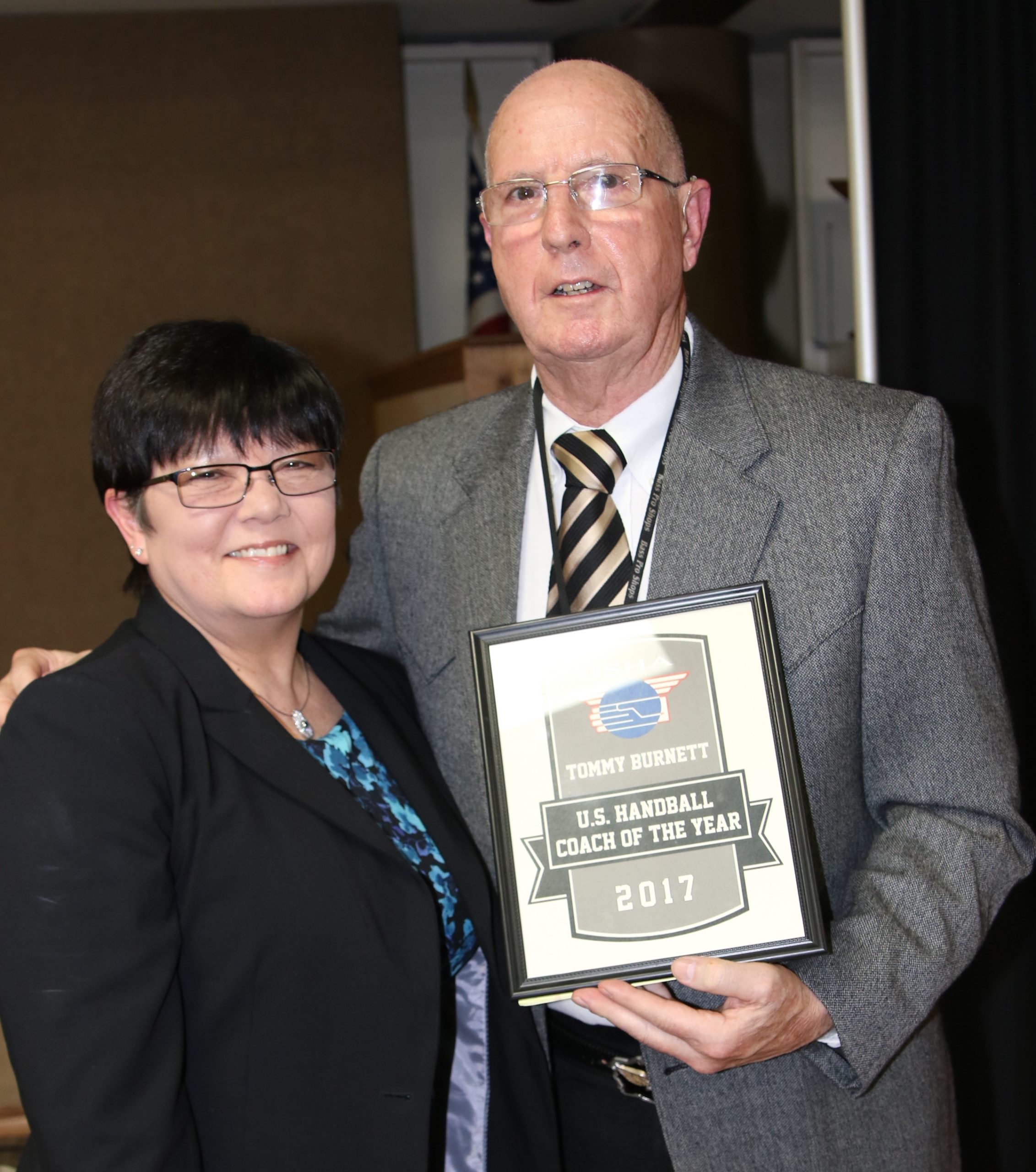 USHA President LeaAnn Martin with USHA Coach of the Year Tommy Burnett.
At the Collegiate Championship Banquet on Saturday, Tommy Burnett was honored with the USHA Coach of the Year Award.  USHA President LeaAnn Martin presented the award to Burnett who thanked his family, fellow coaches, volunteers and the handball players who helped make his program a success.    
The USHA also awarded John C. Sabo Sr. Scholarships to Julie Huestis of Pacific University and Chandler Straw of Lake Forest.
Martin with Sabo Scholarship recipients Chandler Straw and Julie Huestis with USHA's Matt Krueger.
This is the first National Collegiates hosted on the courts since they were dedicated as the Dr. Thomas Burnett Handball Courts back in November.   The refinished courts named for the Hall of Fame coach looked pristine as they were refinished and ready for the tournament.  
The USHA Collegiate National Championships offer a unique format where each player is guaranteed three matches.  The first two matches determine final division placement (Open, A, B, etc.).  The third match (and beyond if player advances)  determine points scored for their team.  See the updated draws and results below.  Team results will be posted once scores are confirmed.
Please Note:  Draws updated Feb. 25 (12:30 p.m. Central)

Men's Singles (Friday Matches/Results)

Open
Open (9-16)
A1
A2
A3
B1
B2
B3
C1
C2

Women's Singles (Friday Matches/Results)
Men's Doubles
Women's Doubles
Men's Singles (First Matches)

Men 1-16
Men 17-32
Men 33-48
Men 49-64
Men 65-80
Men 81-96
Men 97-112
Men 113-128

Men's Singles (Thursday Matches/Results)

Open/A1
A1/A2
A2/A3
A3/B1
B1/B2
B2/B3
B3/C1
C1/C1
Women's Singles (First Matches)

Women 1-16
Women 17-32
Women 33-48
Women 49-64
Women 65-80
Women's Singles (Thursday Matches/Results)
Open/A1
A1/A2
A2/B1
B1/B2
B1/B2 (cont.)
B1/B2 X

2017 Results (65th USHA Collegiate Handball Championships) HERE.

Rules, Eligibility and Code of Conduct

Deadlines
Monday, February 19 – Starting Times and Draws Posted
February 21 (12 pm) – Play may begin
February 25-(12 pm) – Play ends
March 5 – All American Bios and Championship Articles due
Division names
The new naming conventions will be broken into Open, A, B, and C Divisions for the men and women draws. Each Division will contain a number of brackets based upon the number of players in a division.
Men
Open Division – Open Bracket
A Division – A1, A2, A3 Brackets
B Division – B1, B2, B3, Brackets
C Division – C1, C2, C3 Brackets
Women
Open Division– Open Bracket
A Division – A1, A2 Brackets
B Division – B1, B2 Brackets
C Division – C Bracket
To categorize teams for Open, A, or B team titles, you would take the AVERAGE of the players' seeds. For the 2017 men's draw, to find the three Divisions you would divide the total number of entrants by 3, e.g. 162 entrants / 3 = 54.
Open Division up to 54
A Division 55 – 108
B Division 109 – 162
To qualify for a team title, a school would still need to have a minimum of three players in a gender. Points would be calculated exactly how they were in 2017. The schools would have been divided as follows in the Men's 2017 tournament using this method.
Points
Format
Wall chart-Draws will be posted on the wall in a diamond shape to reflect where players move to as the players either win or lose in the first two rounds.
Women's Divisions (template)
Men's Divisions (template)
Maps
Meals
Location-TBD
Times- Thursday (TBD), Friday (TBD), Saturday (TBD)
Banquet
Coaches meetings
Welcome Meeting – Room 248 (Above Lobby) 11 a.m.
Times – TBD
Agendas – TBD
Awards
All Tournament -(semi and finalist Open division both genders)
All American-top 4 (or more in case of tie) American players in top 16 Singles or finalists of Open Doubles
Sportsmanship (both genders)
Most Improved Player (both genders based on 2017 finish/2018 finish)