65th USHA National Collegiate Championships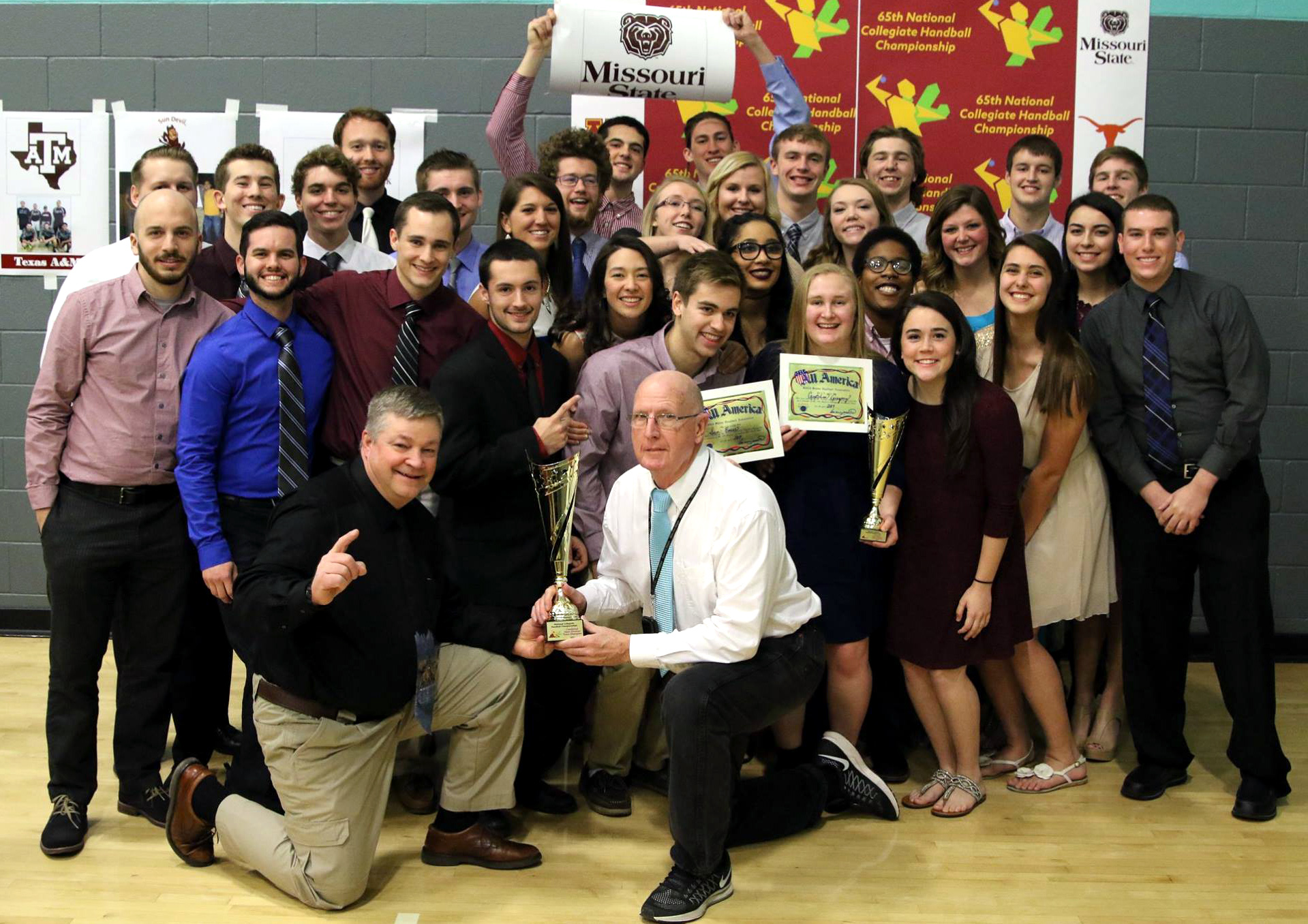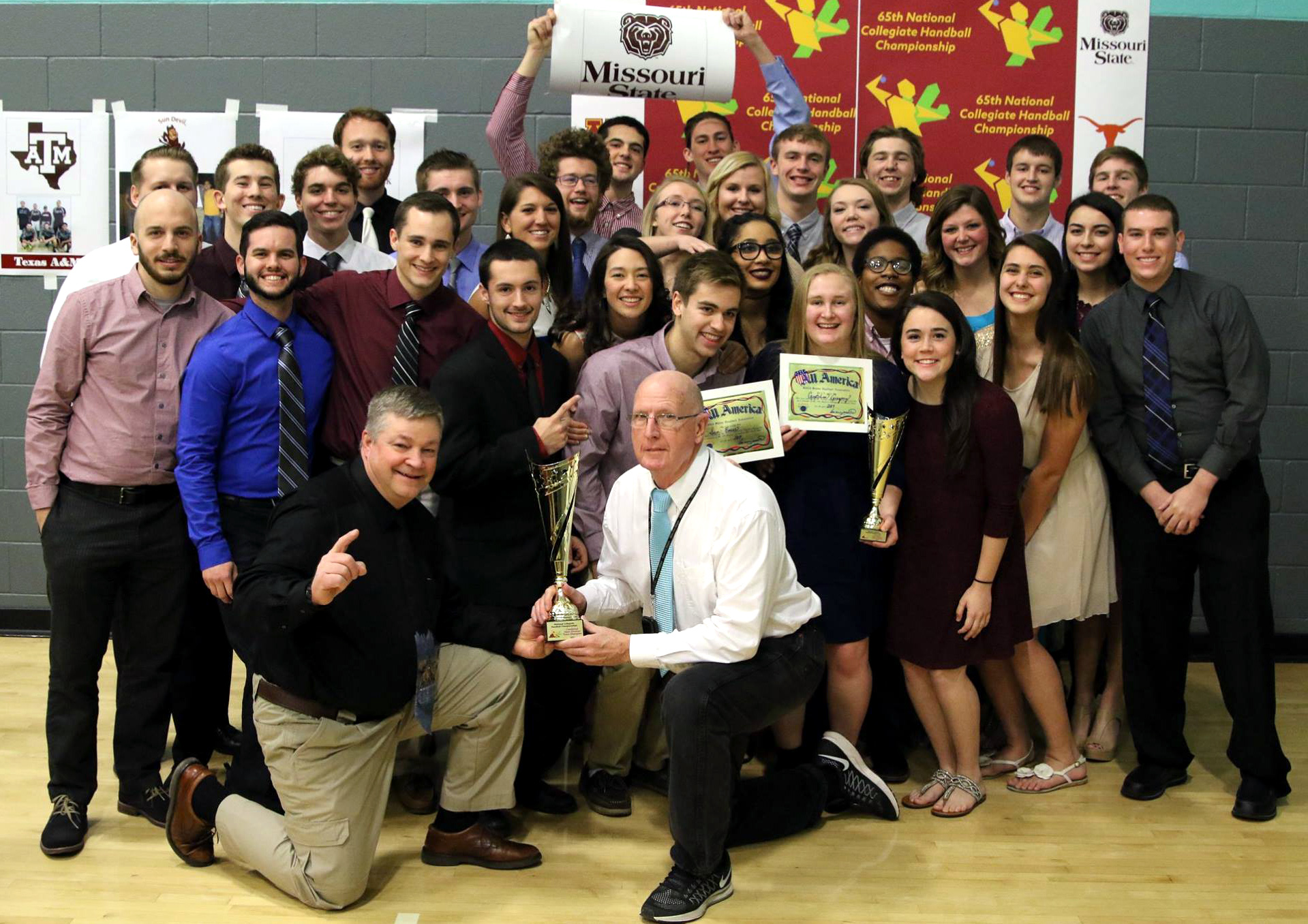 TEMPE, Ariz. — Sunday's matches wrapped up a tremendous 65th USHA Collegiate National Championships at Arizona State.  The ASU Sun Devil Handball Club was recognized as the USHA Organization of the Year on Saturday night, and they delivered an exceptional event.  University of Florida's Michael Morgan was honored with the USHA Coach of the Year award.  Lake Forest's Ricardo Palma and Juan Canales were awarded the John C. Sabo Scholarships. 
After the banquet, collegiate players and coaches enjoyed an after party with pool, table tennis and cyber bowling in Sparky's Den at the Student Union. 
In Sunday's finals, Trinity College Dublin's Ciara Mahon dominated all opponents during the week to win her first Women's Open Singles title defeating Limerick's Niamh Dunne, 21-15, 21-9..  The win denied University of Limerick's chances to sweep the singles.  Mahon jumped to big leads in both games and cruised to the title despite a late-game surge from Dunne in the first game.   
In the Men's Open final, University of Limerick's Colin Crehan found a higher gear whenever challenged by Leo Canales of Lake Forest winning 21-10, 21-11. Canales fell behind in both games but pushed back by executing some tough serves and timely passes to keep the score relatively close.  During one of Canales' streaks, a late timeout in the second game spelled Crehan who came back in to close out the remaining points needed for championship point.  
Men's Open Finalists: Champion Colin Crehan (Limerick) with finalist Leo Canales (LFC).
Missouri State University returned to the top of college handball Saturday by winning the combined team open title.  Minnesota State-Mankato finished second.  
University of Limerick won the Men's Open team title, edging out Lake Forest.  In the Women's Open team standings, Missouri State topped University of Texas.  
Pacific University won the Combined A team title over University of West Florida. 
Stony Brook University won the Men's A team title.  University of West Florida finished second.  
Pacific University won the Women's A team title.  Angelo State finished runner-up. 
Michigan State University won the Men's B team title while Pacific finished second. 
Click on the links below to see team scores. 
Men's Brackets
Women's Brackets
Men's Preliminary Matches
Women's Preliminary Matches
Thursday Matches 
Entry and Eligibility
Deadlines
February 22 (2 pm)-play may begin
February 26-(12 pm)-play ends
March 3-Articles due
Seeding
Please take a look at the Skill Levels Document before completing the online or mail back forms. We hope to not just a ranking of players on your team but a sense of their skills and how they compare to other players on your team. When combined with last years results we will create our first draft.
Challenges policy-First round challenges do not require any written reason. A written reason for challenges in the second round will require a written reason.
Returning player seeding policy-Players will be seeded above where they finished in the previous years unless they zero-pointed in the previous year. Requests to a seed below where they finished must be in writing and include the reason for the request.
2016 National Collegiate Results HERE.

Division names
The new naming conventions will be broken into Open, A, B, and C Divisions for the men and women draws. Each Division will contain a number of brackets based upon the number of players in a division.
Men
Open Division – Open Bracket
A Division – A1, A2, A3 Brackets
B Division – B1, B2, B3, Brackets
C Division – C1, C2, C3 Brackets
Women
Open Division– Open Bracket
A Division – A1, A2 Brackets
B Division – B1, B2 Brackets
C Division – C Bracket
To categorize teams for Open, A, or B team titles, you would take the AVERAGE of the players' seeds. For the 2015 men's draw, to find the three Divisions you would divide the total number of entrants by 3, e.g. 162 entrants / 3 = 54.
Open Division up to 54
A Division 55 – 108
B Division 109 – 162
To qualify for a team title, a school would still need to have a minimum of three players in a gender. Points would be calculated exactly how they were in 2015. The schools would have been divided as follows in the Men's 2015 tournament using this method.
Points
Format
Wall chart-Draws will be posted on the wall in a diamond shape to reflect where players move to as the players either win or lose in the first two rounds.
Women's Divisions (template)
Men's Divisions (template)
Maps
Meals
Location: Lunches will be in the "Large Classroom" which is on the second floor.  Go up the stairs near court 1.  The Large Classroom is straight in front of you across the hall.
Times: Thursday, Friday and Saturday, Noon-2:15 p.m.
Banquet
Location: Green Gym (located on the first floor between courts 3 & 4).
Time: Saturday, (Feb. 25) 7:00 – 9:00 p.m.
Coaches meetings
Location: Sun Devil Fitness Complex-Well Devil Suite (first floor)
Times: Wednesday (1:00 pm), Saturday (3:30 or 4:00 pm)
Agendas: Wednesday-(meet and greet/tournament information), Saturday- (awards, articles, election, governance)
Awards
All Tournament: (semi and finalist Open division both genders)
All American: Top-4 (or more in case of tie) American players in top 16 Singles or finalists of Open Doubles
Sportsmanship: (both genders)
Most Improved Player: (both genders based on 2016 finish/2017 finish)
University of Arizona's Lucas Neff against Michael Mathis from University of West Florida in Friday's quarterfinal action in the Men's A3 action.  Neff won 21-18, 21-5 to advance to the quarterfinals.
FRIDAY
It was a topsy-turvy Friday in from the Men's Open to the Men's C3 division as upsets happened across the board.  While top-seeded Colin Crehan (Limerick) was not one of the casualties, others were knocked out in the first round and quarterfinals.  Luis Bustos (Minnesota State-Mankato) upended third seed Anthony Collado (Lake Forest) in the first round with an 11-6 tiebreaker victory.  In the same half of the bracket, Leo Canales (Lake Forest) stopped second seed Tyler Stoffel (Minnesota State-Mankato) in two games, 21-10, 21-18.  Canales faces Sam Esser (Missouri State) in the semifinals on Saturday.  
Esser produced the match of the day earlier, fighting off match point and scoring three-straight points to defeat Seamus Conneely (Limerick) 19-21, 21-8, 11-10.  Click on the draws below to see Friday's results.  
The atmosphere remained electric with teammates cheers and applause ringing through the rec center while players battled on the courts.  Thanks to Red Bull Energy Drinks and Jimmy John's Sandwiches for supplying products and samples for the tournament.  Red Bull has a connection with handball by sponsoring the Annual Red Bull Slaps each summer in New York City (also see Red Bull's The History of Handball in 77 Seconds).  The National Collegiates will continue through this weekend with singles and doubles finals wrapping up on Sunday.
Admission to watch is free!  The Sun Devil Fitness Complex is located at:  400 E Apache Blvd, Tempe, AZ 85287.