64th USHA National Collegiate Championships
MINNEAPOLIS — Peter Funchion and Ciana NiChurraoin will be taking the men's and women's titles back to Ireland (on the shoulders of their teammates).  Ni Churraoin slammed in the women's with Niamh Dunne .  Funchion turned back Minnesota favorite Tyler Stoffel in a great final to a great tournament. In one of the most competitive Collegiates ever, University of Limerick won its first Men's Title and the University of Texas grabbed the Women's.  Lake Forest held the Overall Championships with second-place finishes in both men's and women's.
See the Final Team Standings:  COMBINED SCORES     MEN'S SCORES     WOMEN'S SCORES
See the Final Individual Player Results:
Men by Name
Men by School
Men by Points
Women by Name
Women by School
Women by Points
The photo below features the Univ. of West Florida Argonauts striking a pose–very Argonaut-like! See the BRACKET ROUND draws at the bottom for most up to date scores and match times.  #NATLCOLLEGIATEHANDBALL16.  
BRACKET ROUNDS

MEN'S SINGLES
WOMEN'S SINGLES
DOUBLES
Men
Women
Draws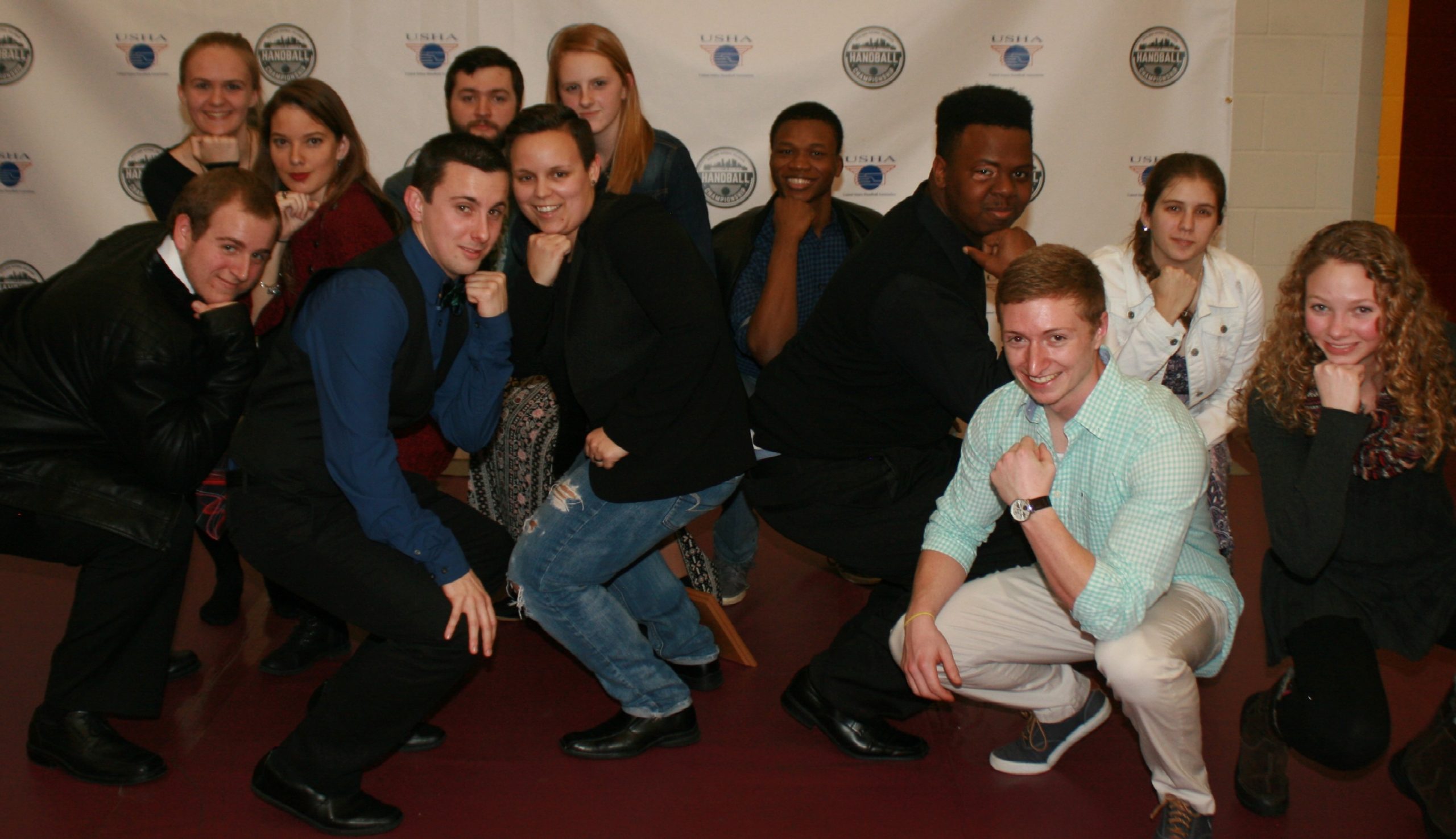 MEN
Men's Seeds
FIRST ROUND (Brackets and times available)


SECOND ROUND (Brackets and times available)

WOMEN
Women's seeds
FIRST ROUND (Brackets and times available)
SECOND ROUND (Brackets and times available)
Contact Information
University of Minnesota
VINH CHUNG
(612) 626-7591
(612) 626-7708
USHA
MATT KRUEGER
(520) 795-0434
Time lines
February 22-Draws posted
February 24 12 noon-registration opens
February 24 1:30 pm-coaches meeting
February 24 3:00 pm-play begins
February 25 8:00 am-play continues
February 26 8:00 am-play continues
February 27 9:00 am-semifinals
February 27 3:30 pm-coaches meeting
February 27 7:00 pm-banquet
February 28 9:00 am-finals
Hotels
Days Inn. Call (612-623-3999) by Jan. 24 of $99/night. Mention US Handball. Parking and continental breakfast is included. U.S. Handball
Commons  Call (612-379-8888) or reserve online by Feb. 3 to for $129/night,
Transportation 
Light rail to and from airport-The train runs from both airport terminals. Take the Blue Line north (towards Target Field) to Downtown East station. Transfer to the Green Line east (towards St Paul). Exit at Eastbank station for the Commons and the UM Recreation Center. Exit at Stadium Village for Days Inn.
Walking from Commons to Rec Center Right on Harvard, 2 minutes walk
Walking from Days Inn to Rec Center-Southeast on Washington, to Harvard, turn right. 10 minutes walk.