61st USHA National One-Wall Championships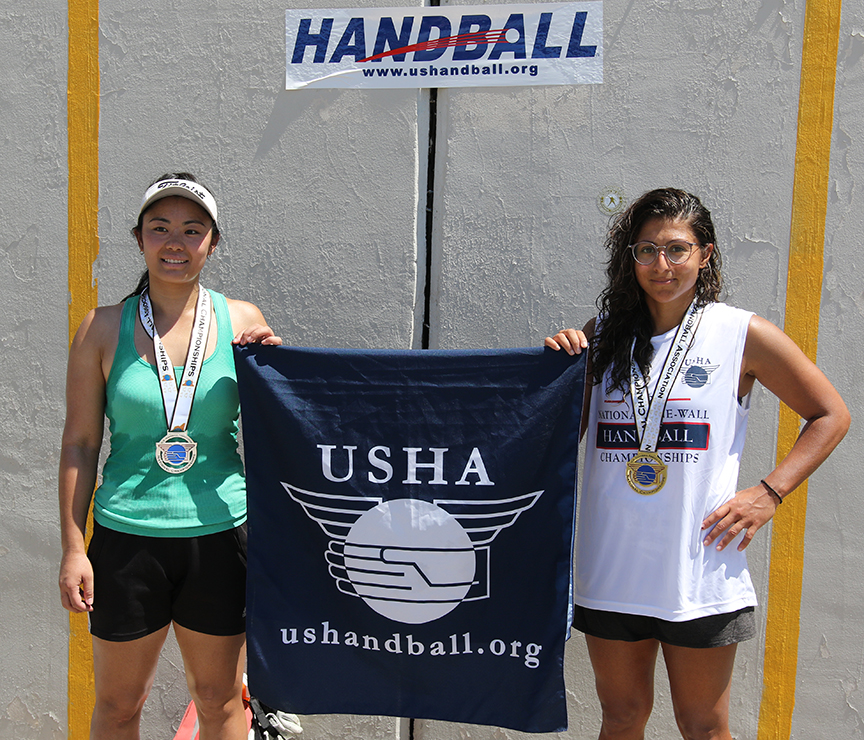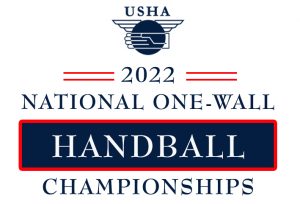 BROOKLYN, N.Y. — Tyree Bastidas defeated his brother Jurell for the second straight year to claim his eighth one-wall pro singles title.
Tyree was dominant in game one, using his great serve and drive shots to win 21-7. Game two saw Jurell jump out to a fast start and early lead, but Tyree clawed his way back in the game. The brothers played even until the end. At 20-19, Tyree was serving for the match and hit a perfect ace just over the short line that Jurell didn't even move for.
The victory gave Tyree the slam after winning the doubles with his brother. He continues to show that he is a force to be reckoned with one the one-wall court. You can watch the finals on our YouTube Channel HERE.
————————————————————————————————————————————
BROOKLYN, N.Y. — Rain fell over the Coney Island Handball courts on Sunday and caused a long delay in play. Because of the rain and a few Saturday night matches needing to be pushed to Sunday morning due to the lack of daylight, the Pro Singles Final between Tyree and Jurell Bastidas had to be moved to Sunday, August 21st at Noon Eastern Time.
Despite the Men's Pro singles not playing, championship Sunday was still filled with several great matches.
Eddie Perez kicked off the day with a strong victory over Milton Jones in the 50 singles finals. That was followed by William Polanco putting on a serve and shoot clinic to win the 40 singles final over Jai Ragoo. Ragoo later teamed with Joseph Kaplan to win the 40 doubles title. 
Tony Roberts and George Figueroa continued their dominant run in Coney Island, knocking off Thomas Valenzuela and Oscar Dejesus in a close match in the 50 doubles.
The Pro Doubles saw Tyree and Jurell Bastidas square off against Allan Sanchez and William Polanco. The first game came down to the wire. Sanchez and Polanco lead 20-17, but despite having several serves to put the game away couldn't convert and the Bastidas brothers squeaked out a 21-20 victory. Their momentum carried into the second game, and they were dominant from start to finish, defeating Sanchez and Polanco 21-2 to earn the Pro Doubles title.
Check out all of the results HERE.
Stay tuned to this webpage for more information when the Pro Singles final will take place. 
_____________________________________________________________________________
BROOKLYN, N.Y. — Day two of the One-Wall Nationals was a hot one from start to finish. Players battled through the heat and played sensational Handball.
The Women's Finals concluded Saturday morning with Danielle Daskalakis claiming victory over Sandy Ng 21-20, 21-14 in a thrilling match. At 20-20 in game one, Ng held serve to close out the game and just barely missed an ace serve down the left. The ball was just over the side line, giving Daskalakis the serve back where she closed it out. 
Daskalakis and Ng later teamed up to win the Pro Women's Doubles final over Tracy Davis and Melissa Sky, where they played flawlessly.
The Pro Men's division played their quarterfinals and semifinals Saturday. Four-wall star Killian Carroll played a sensation match against Wallball champion Tywan Cook in what was the match of the day.
Cook crushed Carroll in game one, but Carroll found a serve that Cook had no answer for in game two, and forced a tiebreaker. It looked like Cook was going to win when he jumped out to a 7-2 lead, but Carroll rediscovered his serve and won the next 9 points of the match.
Tyree Bastidas cruised past PeeWee Castro in his quarterfinal, showing why he is the defending champion.
Tyree's brother, Jurell Bastidas, played a nearly 3 hour match against Alvaro Rebaza that saw a plentitude of momentum swings. Bastidas was able to find the bottom board in the tiebreaker to take victory. 
Saul Gonzales won the last quarterfinal, defeating Joshua Garcia. Gonzales just narrowly escaped game one 21-20, and looked to be in trouble after losing game two 21-6. He rediscovered his form in the tiebreaker to win 11-1. 
The first semifinal was between Tyree Bastidas and Killian Carroll. Bastidas ran Carroll all over the court, and Carroll tracked down many tough balls, but Bastidas had too much power and easily advanced to the finals.
Jurell Bastidas looked equally as dominant against a tough Saul Gonzales in his semifinal. This game featured a lot of strong serves and power drives. The two played evenly in both games but Bastidas was able to close them both out 21-17. 
The Men's Pro Final between Tyree and Jurell Bastidas will take place tomorrow at 11:00am eastern time. It's a rematch of the Speaker's Cup final, which went to Jurell.
Check out all of the results HERE.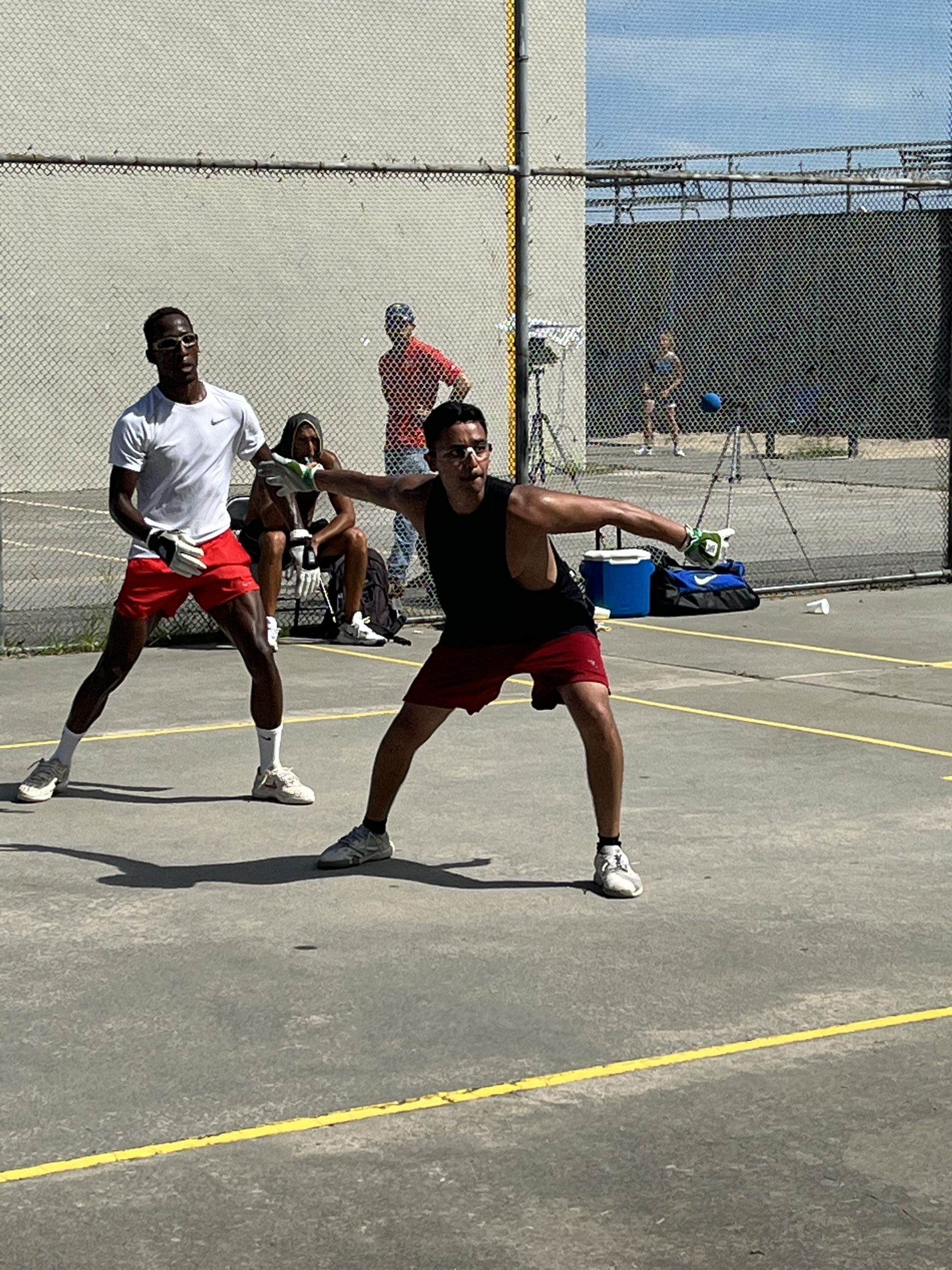 BROOKLYN, N.Y. — Day one of the tournament was met with overcast skies and sporadic sprinkles in the early part of the day, a welcomed addition to the New York heat. Afternoon came with sunny skies and high temperatures which the players battled through.
The first two rounds of the Men's Pro division were played today, with most of the top seeds holding true. Brothers Tyree and Jurell Bastidas entered the tournament as the top two seeds and both looked great on the court today. The quarterfinals and semifinals of the Men's Pro will be played tomorrow.
The quarterfinals and semifinals of the Women's Pro division were also played today. Danielle Daskalakis looked dominant against Mikaila Esser in the first semifinal of the day, dazzling the crowd with one inch high kill shots and hop serves that Esser could not get a hand on. Daskalakis advanced 21-1, 21-4.
Sandy Ng and Tracy Davis squared off in the second semifinal, with Ng prevailing 21-4 and 21-6. Ng's serves were impressive, and Davis could never get a feel for a strong return. Tomorrow's final between Ng and Daskalakis looks to be an exciting one as both players are on top of their game.
Check out all of the results HERE
Play resumes at 9am Eastern Time Saturday.
__________________________________________________________________________
BROOKLYN, N.Y. — For the second consecutive year, the 61st USHA National One-Wall Championships has grown, adding more players and competitive divisions!  The Women's Pro divisions and a Women's B singles division are a welcomed addition. Good luck to all the players competing in Coney Island this weekend!
Play begins Friday morning at the Seaside Courts, located at Surf Avenue and West 5th Street. Draws and start times are now available HERE.
Please note: start times and draws are subject to change up to the day of the first match. Remember to double check players' times the day of the event.eight