2022 USHA National Junior Three-Wall Championships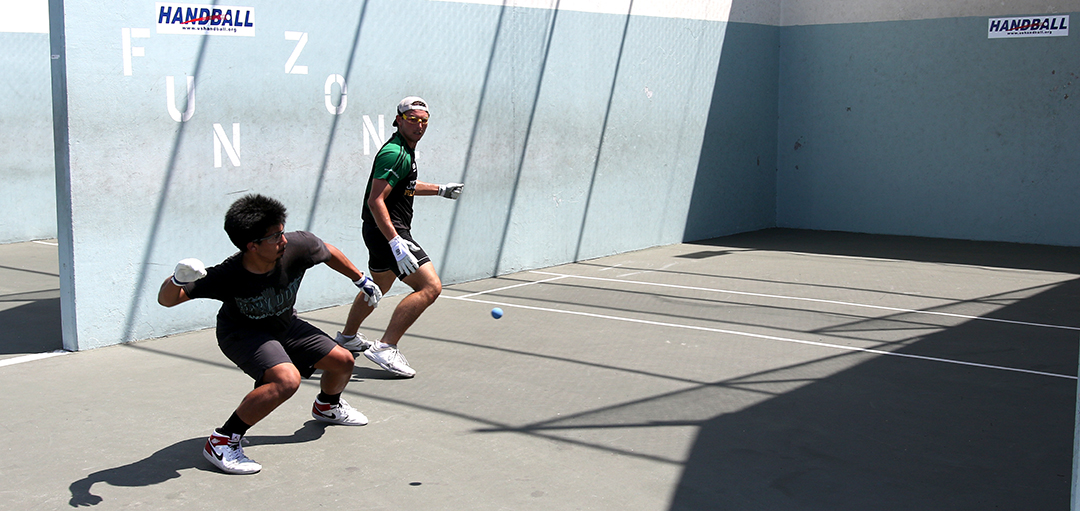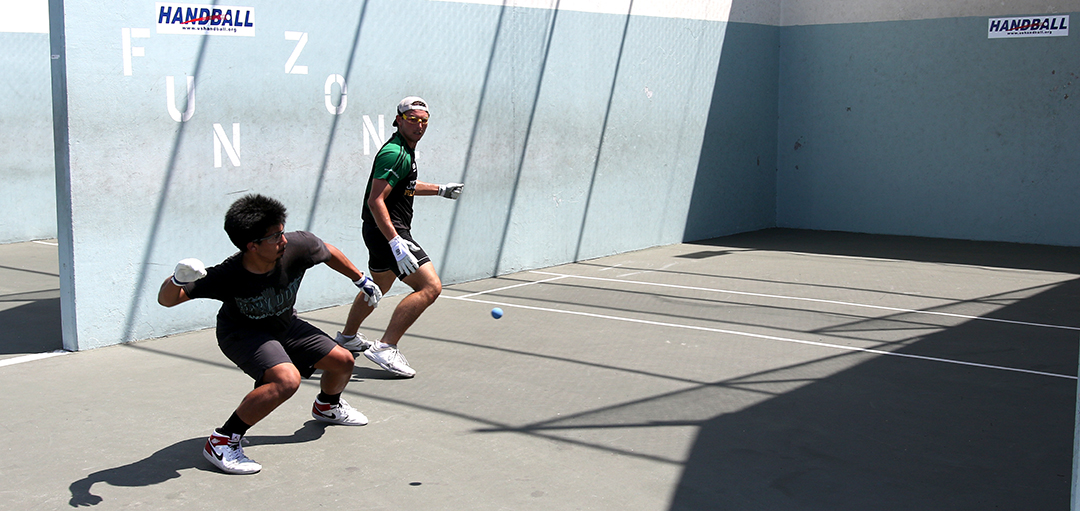 SAN GABRIEL, Calif. – Juniors descended upon Smith Park for the final day of the Junior National Three-Wall Championships. Fittingly, the best matches of the weekend featured handball's future stars battling for supremacy and a national title in each of the division finals.
By the finals, most players adapted to the courts with shorter sidewalls and no ceiling. Some used the short walls to their advantage, aiming their serves close to the edge of the sidewall making it difficult to return.
In the Boy's 19-Under final, Anthony Sanchez (Los Angeles) relied heavily on his serve to keep a determined Ryan Watkins (Apple Valley, CA) off the court chasing down shots to return to win, 21-17, 21-19.
Watkins made his return to junior nationals play after nearly a decade away. Playing baseball at nearby Glendale College, Watkins practices with his dad Chris (a Grand Master) and other top players in Victorville. In the previous two rounds, Watkins looked to be the clear front-runner in the 19-Under division, especially after an impressive win over top-seeded George Mitchell in the semifinals, 21-15, 21-11.
Sanchez came up through coach Patrick Saito's program out of Washington Irving Middle School, and after a pandemic layoff (for everyone), he had been keeping his skills sharp on Southern California's three-wall courts.
Sanchez proved to be up for the challenge. He built an early lead using a Z-serve that would either hit the sidewall or scoot "out the door" for a nearly impossible return. Remarkably, Watkins chased down the majority of those shots and was able to stay within reach to overtake his opponent. Sanchez kept applying pressure with his serve, which was just enough to hold off Watkins for a four-point game one win.
In the second, Watkins was on pace to force a tiebreaker, blasting serves and kills to craft a lead while keeping Sanchez involved in longer rallies. From the way Watkins was playing, the park crowd was expecting an inevitable third game, but Sanchez executed crucial shots down the stretch and rediscovered his serve to close the match.
Sanchez had the opportunity to slam with partner Yung Tang, but they had to get through former Washington Irving Middle School teammates Fermin Victoria and George Mitchell. It would be Mitchell and Victoria's day, playing consistent doubles to win in two games, 21-17, 21-13.
Sanchez did collect his second singles title by defeating Victoria in the Boys 19-Under Big Ball singles, 21-6, 21-17.
As exciting as things were in the Boys 19-Under divisions, the next generation of stars in the Boy's 15-Under divisions wowed the crowds with an impressive array of shots and athleticism.
Tucson's Ayden Brule held off a much improved Eliseo Gutierrez of Denver in the 15-Under small ball final, 21-19, 21-15. Each player exhibited the trademarks of top three-wallers, fly killing returns and placing pass shots out of their opponent's reach. Brule made the toughest shots down the stretch, wrapping up his third Junior Three-Wall singles crown to go with the title he won in Toledo.
In the Boy's 15-Under Big Ball final, Xavier Flores (Los Angeles) made an incredible comeback to defeat JJ Arellano (Lennox, CA), 11-21, 21-9, 11-9. Both players hold six Junior Three-wall titles between them and make a nearly unbeatable doubles team. While Flores could kill the ball from any point on the floor, getting reactions from the crowd after each one, Arellano was the steadier player by picking and choosing the most opportune times to kill high percentage shots for a game one win, 21-11.
A determined Flores came out on fire in the second, willing himself to a 21-9 victory.
The torrid pace would favor Arellano, as he built an 8-0 lead in the tiebreaker before Flores could gather himself to score his first point. That first point would start a scoring run that would cause Arellano to burn his timeouts. The strategy allowed Arellano to get another point, but Flores wouldn't be denied as the "thwack" of ball became louder and louder with each return. Arellano fought off one match point, but he couldn't convert any scoring chances before Flores regained the serve and took championship point, 11-9.
Fred Lewis Foundation's Jorge Pimentel and Sophie Della Croce would sweep the big ball and small ball titles in the 21-under divisions.
Players gathered around to congratulate 2019 USHA Coach of the Year Patrick Saito who was given his award by USHA's Matt Krueger while a number of his students joined by other juniors offered Saito their thanks and congratulations.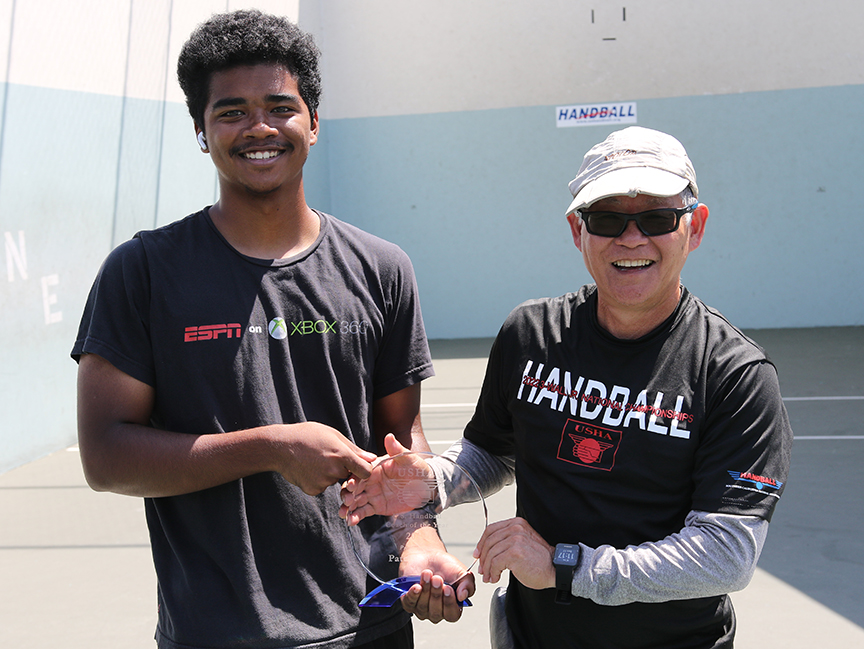 Southern California's George Mitchell was presented with the first "Munoz Good Sport Award." This new junior sportsmanship award, named in honor of three-wall legend and Hall of Famer Vince Munoz, will be given each year at the USHA National Junior 3-Wall Championships to the most deserving player who best exemplifies the sportsmanship Munoz exhibited throughout his playing career.
A Special Thank You to the following: SCHA, Jim Vandenbos, Mark Zamora, Roy Harvey, Rob Nichols, Ralph Fregoso, Sabrina Zamora, Roberto Camacho, Patrick Saito and all the coaches and juniors who made this event run so well. THANK YOU!
Thank you to First Ace supporters which provided Ardito Travel Funds to junior players traveling 250 miles or more.
Thank you to the event sponsors who helped each player get four shirts with amazing hospitality: Far West Meat Co., LAFD Handball, T.B. Penick & Sons, Inc., The World Protection Group, Inc. , Owen Gloves
See the final results, scores and draws HERE.
———————————————————————————————————————————-
SAN GABRIEL, Calif. – It's been three years since the USHA National
Junior Three-Wall Championships were last held. Players and families
relished the opportunity to reconnect at the handball courts with the
friends they had made at the annual summer event. Others were making
out-of-town trips for the first time.
"Our kids have been playing and practicing against each other for so
long, and many of our newer players have never traveled outside of
Tucson for a handball tournament." said Abe Montijo, Executive Director
of the Fred Lewis Foundation for Youth Handball.
Play in singles, doubles, small ball and big ball divisions began
Friday at noon, continuing until dusk as temperatures reached the low
90s on the four courts of Smith Park.
Two Southern California players treated the crowd in the match of the
day in the Boys 15-Under Singles small ball division. Freddy Reyes Jr.
of Venice Beach defeated Jose "JJ" Arellano (Lennox) in a competitive
first game, 21-17. Arellano, a player who has dominated in the younger
junior divisions, came out blasting in the second game, attacking every
opportunity to kill or pass. Leading 20-10, Arellano seemed poised to
force a tiebreaker where he would have momentum in his favor. But Reyes
stayed level-headed and calm, a trait definitely learned by watching his
dad, Freddy Sr. during many matches at the Venice Beach Rec Center. A
side out was the opportunity he needed to stop Arellano's scoring
onslaught.
Back in the service box with the serve and a renewed sense of
urgency, Reyes delivered the smooth strokes and accurate shots he had in
the first game. With each shot, he chipped away at his deficit until he
scored his 11th unanswered point to win, 21-17, 21-20. The
last point produced the loudest cheers of the day, with the crowd
applauding both players as they shook hands and walked off the court.
Reyes will play Ayden Brule of Tucson in Saturday's semifinal.
Arellano went into the drop-down bracket in small ball; however, he
advanced to the semifinals of the 15-Under big ball division.
Play resumes Saturday morning at 9 a.m.
View the draws and results HERE.