61st USHA National Junior Four-Wall Championships
TUCSON — The Boy's 17-Under final was an international affair showcasing Canada's Michael Gaulton against Ireland's Kavan O'Keefe.  Gaulton delivered a flawless performance, winning the title in two games, 21-3, 21-10.  The champion put immense pressure on O'Keefe, executing steady high-percentage shots while closing the door on many rallies with impressive kills.  Ever since his first juniors, Gaulton has steadily improved and will be a top contender for next year's 19-Unders.  

  Luis Bustos helped Anthony Sullivan slam the Boys 19 Division with a dominant win over Austin Biddle and Michael Gaulton, 21-6, 21-11.
  Lorcan McBride became the first juniors player ever to win three events at a Nationals.  McBride won the 15-Under Doubles with partner Michael Kiely, defeating David Sanchez and Ray Ure, 21-7, 21-4.  McBride won the 15-Under Small Ball and 15-Under Big Ball titles earlier in the week. 
  The Kate Conlon/Kurt Johansson Most Improved Award, The Tom Lynch Newcomer Award and The Vince Gabriele Jr. Sportsmanship Award were presented at the Juniors Awards Banquet on Thursday night.  Patrick Cooke (center) was presented the Most Improved Award.  Lorcan McBride (left) was given the Newcomer Award,  and Josh Webster (right) was presented with the Sportsmanship Award.   Carlos Espinoza, Pedro Murillo and Austin Biddle were
recognized as Junior Alumni players (19-Under players t
hat have played in at least four Junior Nationals) and were given Junior Alumni gym bags.  
See final results, draws and scores
HERE.
Thursday's matches in the
61st National Junior Four-Wall Championships
produced some of the best handball and highest drama.  In Boy's 19-Under action, Anthony Sullivan fought off match point to force a tiebreaker against Coleman McGrath in the championship final.  The two players from the Bay Area played the third set tight for most of the duration, with McGrath holding an early 2-1 lead before Sullivan stormed back to hold a 5-3 advantage.  

Locked at 7-7, Sullivan made key shots down the stretch for an improbable comeback win, 7-21, 21-20, 11-9.  
  "I'm glad it went to a tiebreaker, obviously," said Sullivan.  Sullivan saw a big lead evaporate in the second game which turned into a match point opportunity for McGrath.  "He got hot and was on a roll.  We played close the rest of the way, and I was fortunate to come out on top."   
  Kena Byrd-Jackson of Tucson won the Girl's 15/17-Under crown over Marisol Maldonado, 21-1, 21-8. 

  In the 13-Under final, David Sanchez of Stockton, CA stopped Tucson's Andres Maldonado in two games,  21-5, 21-8. 
  Lorcan McBride of Corrickmore, Co. Tyrone, Ireland was the class of the Boy's 15-Under field.  McBride dominated the bracket and defeated Chicago's Ray Ure in the final, 21-5, 21-3.  
  "Wow." an exasperated Ure exclaimed.  "I was making some shots and didn't play that bad–[McBride] is just that good." 
  Team Lattof teammates Irena Hong and Rimata Halabi faced off for the Girls 13-Under title with Hong edging Halabi 21-10, 21-19. 
  In the youngest age division, Andres Cordova was looking at a 6-10 deficit against Team Juarez teammate Eder Reneteria in the Boys 11-Under final.  Cordova took back the serve to start an improbable comeback to win, 21-17, 15-21, 11-10.     

 

See Thursday's results and the updated draws
HERE.
2017 National Juniors Drop-Down Results:
19 A Semifinals: Carlos Espinoza d. Rory Rakochey, (19), 11, 5; Austin Biddle d. Pedro Murrillo, 9, 12.
Final: Biddle d. Espinoza, 14, (11) 4.
19 B First Round: Bryan Pacheco bye; Christian Solis d. Julian Aviles Figueiredo; Greg Cameron d. Julian Rivera, (10), 18, 1; Danny Romero d. Jimmy Connolly, 3, 1.
Semifinals: Pacheco d. Solis, 18, 10; Romero d. G. Cameron, 6, 9.
Final: Pacheco d. Romero, 7, 7.
19 Cons. Semifinals: J.A. Figueuerida bye; Rivera d. Connolly, 9, 17.
Final: Rivera d. Figueuerida, 7, (12), 4.

17 A Quarterfinals: Esteban Camacho d. Ben Flynn, 7, 10; Jake Cervantes d. Jake Moore, def.; Adam Clark d. Sam Ure, 8, 8; Sam Richer d. Noe Rios, 12, 11.
Semifinals: Camacho d. Cervantes, 11, (12), 2; Clark d. Richer, 13, (18), 6.
Final: Clark d. Camacho, (11), 8, 8.
17 B: First Round: Carlos Castillo d. Alejandro Sandoval, 14, 10; Sam Brekke d. Danny Connolly, 0, 1.
Quarterfinals: Aron Cameron d. Angel Mariscal, (17), 10, 3; Nicholas Roberts d. John Silva, 20, 17; Vince Fork d. Castillo, 20, (13), 6; Ruaric Cusack d. Brekke, 14, 5.
Semifinals: Roberts d. Cameron, 7, 13; Cusack d. Ford, 4, 8.
Final: Roberts d. Cusack, (14), 14, 10.
17 Cons. First Round: Castillo d. Mariscal, 2, (20), 0; Sandoval d. Brekke, 13, 10; Silva d. D. Connolly, 2, 2.
Semifinals: Castillo d. A. Cameron, 2, 5; Sandoval d. Silva, def.
Final: Castillo d. Sandoval, 19, 4.

15 A Semifinals: Guillaume Chouinard d. Carter Rakochey, 8, 1; Collin Peters d. Oisin Hallahan, 17, (7), 10.
Final: Chouinard d. Peters, 14, 9.
15 B Quarterfinals: Jamie Moylan bye; Josh Webster d. Diego Hernandez; Isaac Rios d. Johnny Cooke, 16, 2; Jessie Davis d. John Franks, 6, (5), 5.
Semifinals: Moylan d. Webster, 9, 3; Davis d. Rios, 10, 7.
Final: Davis d. Moylan, (15), 18, 8.
15 Cons. Semifinals: Webster d. Hernandez, 2, 2; Franks d. Cooke, 11, 11.
Final: Franks d. Webster, 7, (14), 5.

13 A Final: N. Stoffel d. Z. Wells, (14), 15, 5.
13 B Semifinals: Abraham Sanchez d. Jensen Payton, 2, 8; Young Tang d. Colton Stout, 0, 3.
Final: Tang d. Sanchez, 13, 17.
13 Cons.: Payton d. Stout, 3, 6.

11 Small Ball A: L. Wells d. A. Brule, def.
11 Small Ball B: Vincent Stodola d. Alexis Cruz, 1, 0; Andres Araiza d. Antonio Rivera, 0, 2; Rene Sosa d. Gabriel Orozco, 7, 15; Angel Araiza d. Robt. Martin, 2, 0.
Semifinals: Rivera d. Stodola, 9, 0; Angel Araiza d. Sosa, 11, 3.
Final: Araiza d. Rivera, 5, 17.
11 Small Ball Cons. Semifinals: Andres Araiza d. Alexis Cruz; 6, 8; G. Orozco d. Robt. Martin, 3, 4.
Final:  Orozco d. Arazia, 16, 8.
11 Big Ball A: Angel Araiza d. Antonio Rivera, 8, (18), 9.
11 Big Ball B Semifinals: Rene Sosa d. Andres Araiza, 11, 2; Gabriel Orozco d. Alexis Cruz, 8, 9.
Final: Sosa d. Orozco, 0, 13.
11 Big Ball Cons.: Andres Araiza d. Cruz, 13, 11.

Girls 15/17 A: Belisa Camacho d. S. Della Croce, 15, (7) 4.
Girls 15/17 B First Round: Irena Hong d. Cassie Hanselman, 11, 3.
Semifinals: R. Halabi d. I. Hong, 5, (18), 10; A. Pena d. A. Hernandez, 9, 19.
Girls 15/17 B Final:  R. Halabi d. A. Pena, 13, 0.
Girls 15/17 Cons.: Hanselman d. A. Hernandez, 1, 15.
WEDNESDAY (Dec. 28)

TUCSON — Andres Cordova grew up watching his dad and brothers play and win handball tournaments.  Playing in his first juniors at the 61st National Junior Four-Wall Championships, the youngest of the Cordova family from Juarez, Mexico put the handball world on notice, winning the Boys 11-Under Big Ball singles over Tucson's Ayden Brule, 21-9, 21-13.  The young lefty utilized an impressive combination of power and control, forcing Brule to use his off-hand deep in the court and on defense.  When asked how long he's been playing handball, Cordova quickly replied, "All my life."
   Cordova will play Team Juarez teammate Eder Renteria in tomorrow's 11-Under Small Ball final at Noon (Mountain Time).
   It's an All-NorCal Boys 19-Under final as top-seeded Anthony Sullivan (San Jose) will face Coleman McGrath (San Francisco) in tomorrow's final at Noon. 

   Action continues tonight with doubles competition.  The Juniors Awards Banquet will take place tomorrow at La Quinta Reid Park at 7 p.m.
   See Wednesday's results and the updated draws HERE.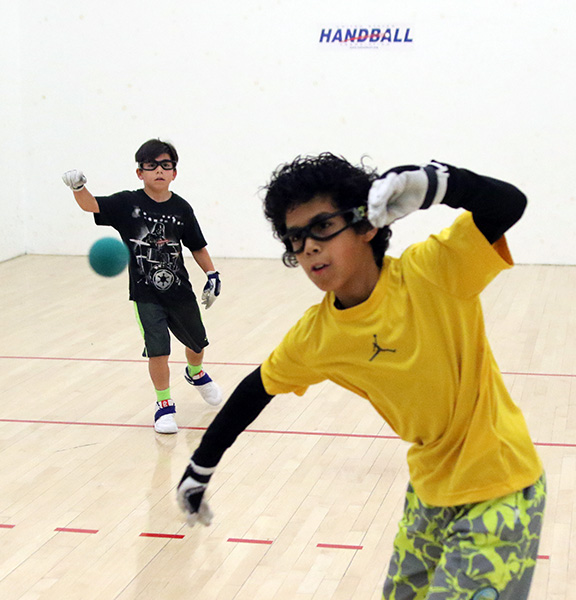 TUESDAY (Dec. 27)
TUCSON — The second day of the 61st National Junior Four-Wall Championships brought a full slate of small ball matches for every age division.  All top seeds advanced in first round play with the rest of singles
action finishing up in the evening.  Snow and cancelled flights couldn't keep top-seed Michael Gaulton from getting to Tucson from Canada.  Fortunately, Gaulton had a
first-round bye and won his first match over Ben Flynn from Co. Waterford Ireland in the round of 16.    
     In the Boy's 19-Under singles, last year's runner-up and number one seed Anthony Sullivan advanced over Calgary's Rory Rackochey in quarterfinal action. 
     In the photo:  Oison Hallahan (Co. Waterford, IRE) winds up for a shot against Johnny Cooke (Oak Forest, IL) in 15-Under action. 
   

See the updated draws and start times
HERE.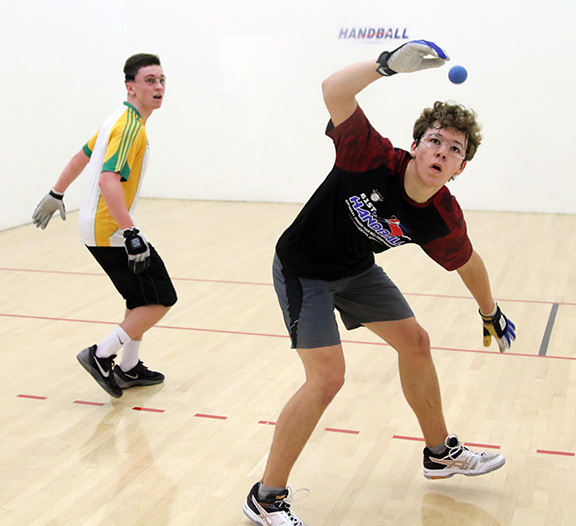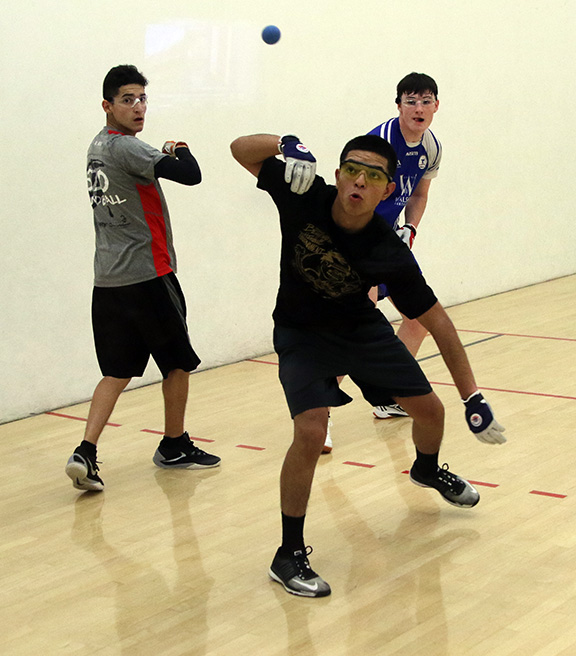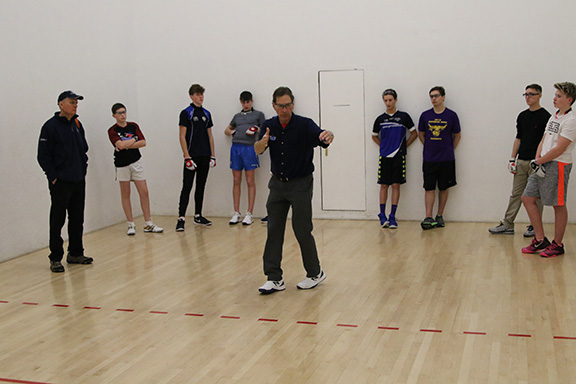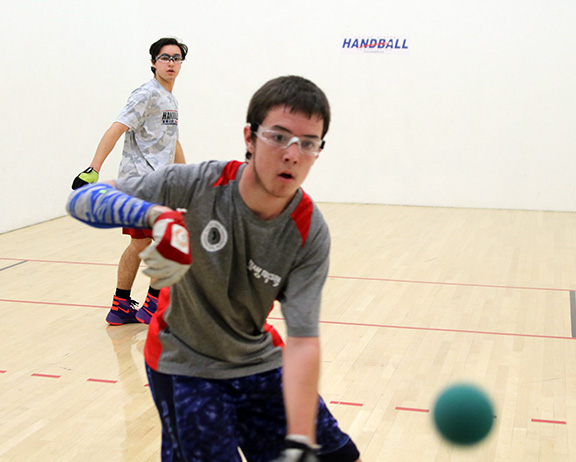 MONDAY (Dec. 26)
TUCSON — Juniors arrived in the Old Pueblo to kick off the 61st National Junior Four-Wall Championships at the Tucson Racquet & Fitness Club.  Players jumped on the court as Big Ball singles competition began in the early afternoon and lasted until the early evening.  All small ball divisions begin tomorrow with play starting at 9 a.m.

    The highlight of the day for the juniors was a Pro Clinic where players learned shot anticipation, serve, return of serve, defense and offense.  WPH Race4Eight Pros Dave Fink, Sean Lenning, Abe Montijo were joined by USHA Executive Director Vern Roberts as each hosted various station workshops. 

    "When I played in the Juniors, we never had anything like this," said WPH's Development Director Dave Fink.  "The kids really enjoyed it, and I hope this is something that can be offered every year."