25th USHA Hall of Fame Event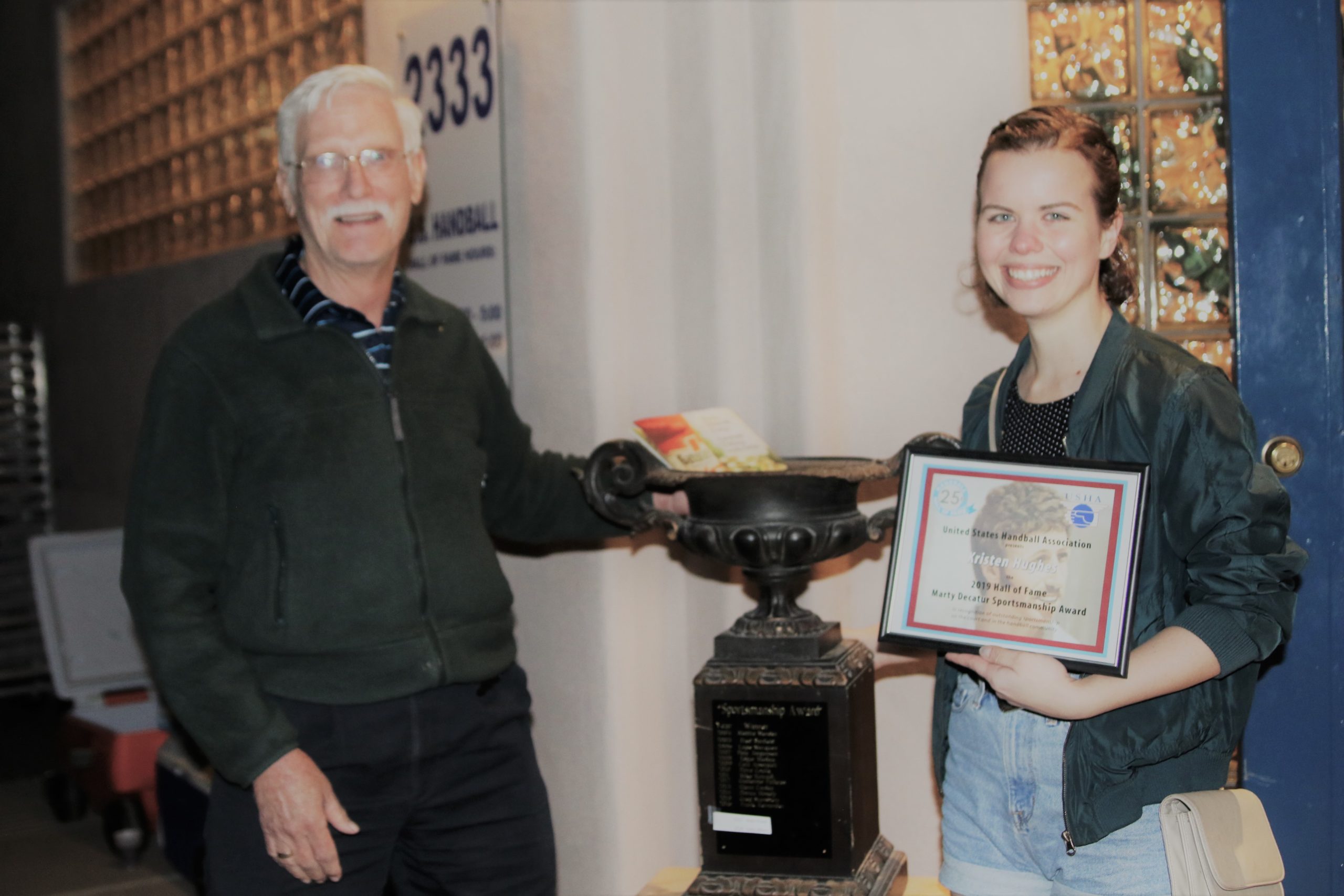 TUCSON — Ashley Moler completed a dominant weekend of handball on Sunday, winning the Women's Classic over Tracy Davis, 21-11, 21-16.  Moler not only matched Davis' commanding front court game, she also forced her opponent back with timely defensive shots to the difficult corners of the exhibition court.  This play allowed Moler to build leads through both games that Davis ultimately couldn't overcome; although, she did make a late push in the second game before falling short.  The win marked the first Women's Classic title for Tucson's Moler.    
In the WPH R48Pro LTE final, Daniel Cordova stopped David Fink's incredible run in Tucson, winning 15-9, 15-6.  Cordova's amazing talent was on full display, showing why he's one of the pro tour's biggest rising stars.  Fink held an early lead to open the match, but Cordova immediately answered and kept constant pressure on his opponent.  Fink made an exceptional effort to keep the games close, only to have Cordova slam the door with a kill or a will-timed pass.  
The day was not lost for Fink as he recovered quickly after his pro final to take his first Masters (40-plus) Singles title, defeating Adam Zimet in two games.  In other Masters Singles action, Emmett Peixoto took the 35-plus title over Fausto Castro, and Marcos Chavez won the 45-plus crown by defeating Raul Jasso.  
Chris Tico defeated Ryan Grossenbacher in the 50-plus final.  Phil Kirk won the 60-plus title over Lloyd Garcia.  Glenn Carden held off Greg Sizemore's rally to win the 65-plus division.  Merv Deckert outlasted Ed Campbell in a tiebreaker for the 70-plus crown.  Jim Ward topped Jim Smith in the 75-plus final, and Norm Young took home the 80-plus title over Mike Lundy.
In Hall of Fame action, two of handball's rising stars won singles titles to add to their growing collection of hardware.  David Sanchez III edged Dylan Key in the Men's A final, and Andres Cordova stopped Ashton Steadman in the Men's B division.  
A special Thank You to all our event sponsors and volunteers.  Thank you to the WPH's Dave Vincent and David Fink for their work in bringing the top pros to Tucson for the R48Pro LTE event (read the WPH wrap-up and coverage HERE), and thank you to all the players who traveled to play the best game on the planet: Handball! 
Next season's Women's Classic will be held in conjunction with the Milwaukee Classic in December.   
See the draws and final results on the tournament's R2sports site HERE.