Sign up for Court Shorts
US Handball's E-Newsletter
Contact Us
Phone:
1-520-795-0434
Address:
2333 N. Tucson Blvd.
Tucson, AZ 85716
Email:
This email address is being protected from spam bots, you need Javascript enabled to view it
2014 Simple Green US Open of Handball & 24th Naty Alvarado Classic
Sunday at the 2014 US Open of Handball and 24th Naty Alvarado Classic saw the drama peak early in the day and stay at a tense level throughout as the top players in the game battled for the huge purses in all versions of the game. Just two points into the men's open four-wall, Paul Brady's (at left) backswing was interrupted by Luis Moreno and some wondered whether Paul would be able to continue. When Brady got back on the court he was not only OK physically, but devastating in the two-game rout. Catriona Casey earned the women's title with her flawless play against Aisling Reilly. Marcos Chavez and Victor Perez rallied from 6-17 in the first game to devastate Nikolai Nahorniak and Tyree Bastidas in the doubles. Outside, Juan Santos suffered an ankle sprain while leading 20-19 in the first and hobbled the rest of the way Samzon Hernandez repeated in the three-wall. Timbo Gonzalez also retained his one-wall crown over Andres Calle. The final match of the day saw Manny Sanchez and Raul Calvillo win a tiebreaker of the big ball three-wall big ball title.
In the first-ever women's one-wall (at left), Melissa Sky and Tamiko Pearson beat Suly Ruiz and Sandy Ng.
For all the scores and draws on the event's website, CLICK HERE.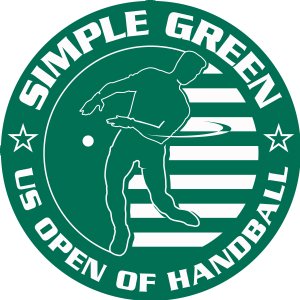 Read more...
Handballers Wear Pink for the Cure!
The USHA has joined the fight against breast cancer! The month of October is Breast Cancer Awareness Month. USHA will be selling limited edition PREMIUM PINK HEADBANDS to help raise awareness for breast cancer. The Premium Pink Headbands will be available by phone (520-795-0434) or online while supplies last. Cost is $10 with $6 of each sale going directly to the National Breast Cancer Foundation
(www.nationalbreastcancer.org).
2014 USHA National Three-Wall Championships
Nahorniak sets up for a shot in Men's Open Doubles action.

MAUMEE, Ohio - Nik Nahorniak steps in for a shot in the Men's Open Doubles final on Monday. Braulio Ruiz (back court) and Armando Ortiz (front) won their first USHA 3-Wall National Open Double in two games, 21-13, 21-7.
On Sunday, Sean Lenning put on a spectacular show in the Men's Open Singles final defeating Tyree Bastidas in two games, 21-7, 21-11. Lenning's display of deep kills, crack serves provided fans a window into why he's been one of the most dominant 3-Wall players in the past decade. Bastidas' athleticism was neutralized as Lenning put the pressure on early and never let up throughout each game.
In women's action, Tracy Davis slammed the Women's Open divisions at the 64th USHA National Three-Wall Championships.
Davis looked sharp with an unbeatable serve and devastating power over Megan Dorneker in two games, 21-14, 21-12. Davis then teamed with Na Liu to win the Women's Doubles over Hillary Rushe and Carly Stickles in two games, 21-11, 21-10.

CLICK HERE to see the final 2014 3-Wall Results.
Read more...
The Fred & Abe Show Launches in Arizona
Abe Montijo (center) with Paxton Ortega and Zane Hawley of Phoenix Youth Handball.

By Fred Lewis

GOODYEAR, Ariz. - The Fred and Abe Show premiered at Lifetime Fitness over the weekend. As one of the initiatives of the USHA's newly created President's Club, Abraham Montijo and I will attempt to educate and influence "Pied Pipers" like us in the art of developing and sustaining junior handball programs.
Junior members of the Fred Lewis Foundation accompanied us on this venture. They were extremely helpful in providing the Phoenix kids with coaching techniques as well as demonstrating proper form and body positioning when hitting different shots. We spent two hours teaching fundamentals, such as how to hit overhand, sidearm and underhand, serving and back-wall technique. Both big balls and small balls were used to demonstrate and play. Near the end of the session one of the observing parents decided to join in and had a great time playing with his son. All the players seemed to have fun and determined to continue playing.
Fred Lewis works with one of the junior participants.
Phoenix has a rich handball history like many cities in America. Because of club closures, existing players are scattered throughout the metropolitan area. I would like to challenge those players to unite and get behind Sam Ortega with their support. Money and volunteering time will insure that more young players will be introduced to the game and as a result handball will grow.
We have had a number of inquiries about bringing the "Show" to different cities, including New York and Los Angeles. These are the two largest population centers in the country that potentially have the most "untapped" handball talent. We hope to report positive outcomes after we visit these two great cities. If you meet all the criteria listed below, you can submit a request for The Fred & Abe Show to visit your club or school.
Eligibility:

1. Individuals must have access to handball facilities.
2. Must have the support and backing of adult handball players in the community.
3. Must have access to junior participants.

This email address is being protected from spam bots, you need Javascript enabled to view it to submit your request. Be sure to list each item required for eligibility.
<< Start
< Prev
1
2
3
4
5
6
7
8
9
10
Next >
End >>
Results 1 - 9 of 219
Purchase Handballs
CLICK HERE to purchase handballs!
21 Handballs are the Official handballs of the United States Handball Association