Contact Us
Phone:
1-520-795-0434
Address:
2333 N. Tucson Blvd.
Tucson, AZ 85716
Email:
This email address is being protected from spam bots, you need Javascript enabled to view it
Simple Green 2015 US Open
FOUNTAIN VALLEY, Calif. -- The Simple Green 2015 US Open of Handball and 25th Naty Alvarado Classic is set to go off at Los Caballeros later this month (October 22-25). Paul Brady is set to defend his singles title and looks to add a doubles crown playing with his National Singles final opponent Emmett Peixoto. The new team is arguably the most talented team in the bracket; however, they'll have to go through National Champions Sean Lenning and Marcos Chavez and finalists Mando Ortiz and Vic Perez. Not lost in the mix is the current World Champions

Diarmaid Nash and Robert McCarthy.




Fans can also look forward to another possible match-up between Catriona Casey and Aisling Reilly. It's always an epic final, when both of these Irish players face-off. If that's not enough, great handball will be going on outdoors at the US Open of Handball with the game's top three-wall and one-wall stars, including Juan Santos, Samzon Hernandez, Tywan Cook, Sandy Ng, Tracy Davis and Danielle Daskalakis!


Although the regular deadline has passed, players can still enter until October 9th (with a late fee). Don't miss year's event, where you can play One-Wall, Three-Wall and Four-Wall in one tournament! New this year! Participants can enter singles and doubles: TWO events only. ENTER HERE!
2015 National 3-Wall Handball Championships
LENNING SLAMS! DORNEKER THE NEW QUEEN OF THREE-WALL
It was all Sean Lenning in the Open Divisions at this year's Three-Wall Nationals.
MAUMEE, Ohio -- Sean Lenning was nothing short of dominant winning his seventh Three-Wall National Open Singles title over Tyree Bastidas, 21-10, 21-0. On Monday, Lenning and Marcos Chavez completed the slam by defeating Nikolai Nahorniak and Tyree Bastidas in the doubles final, 21-6, 21-7. The reigning Four-Wall doubles champions didn't let their opponents into the match behind Lenning's devastating serves and the cagey play of Chavez.
Watch the replay of the Men's Open Doubles Final Game 1 and Game 2 (courtesy of Keith Thode).
Megan Dorneker shoots for a right corner kill in Monday's Three-Wall Women's Open final.
In Women's Open action, Megan Dorneker won her ninth Three-Wall National Open Singles title over Hillary Rushe, 21-7, 21-7. The win moves Dorneker into first place for all-time Three-Wall Women's Open Singles titles, breaking Rosemary Bellini's 24-year-old record.

In other finals action, Dan Zimet served his way to the Masters (40-plus) Singles title over Bear Meiring, 21-7, 21-12. Zimet teamed with Alan Frank to take the 45-plus Doubles title.

Josh Ho brought the Seniors (35-plus) Singles crown back to Maryland with a 21-15, 21-6 over Kendell Lewis.
Three-Wall newcomer Jared Vale won the 40B Singles with an impressive 21-3, 21-5 victory over Eric Neff.
Besides Lenning and Zimet, Isidro Garcia slammed in the As, Peter Service in the 55s, and Mike Driscoll earned the 75 slam. Doubles slammers included Shane Conneely and Alan Frank.
See the updated results and match-ups
HERE
.
See the R2Sports Site HERE.
Read more...
Opinion: Seriously...Tag Team Doubles?
One of the many highlights of the 2015 World Handball Championships in Calgary were the outstanding performances of Women's & Men's Singles champions Aisling Reilly and Paul Brady.

There are good precedents, and then, there are bad precedents. Paul Brady's unprecedented fifth consecutive World Title will stand for a very long time, and he may be the only person to ever challenge it. That is, if he changes his mind and decides to come back for a sixth in 2018. That win and Aisling Reilly's repeat in Women's Four-Wall should have been the biggest news from the championships. But the Herculean effort of the hosts and the play of Brady and Reilly aren't the first things on most folks' minds when they ask "what happened?"
According to World Handball Council Policy, "The Host Committee is responsible for all aspects of organizing and running the Championships within the parameters established by this policy." Thus, different countries have used different balls, formats, age and skill level eligibilities, and even slightly different rules.
There are some precedents that shouldn't be repeated.
• In Canada (2015), the Wall Ball events were played with optional eyeguards. Also, some players took advantage of the opportunity to compete in four events in one-wall or four-wall since the R2 software can't handle the limitation of two in one- and two in four-wall. As a result, it became a scheduling nightmare.
• In Ireland (2012), the court time was so overrun that the scheduling was days off what international attendees had been told they needed to be available to play. Some players never got to play their intended event. Some players stayed through the first round and then left, leaving their partner without a partner. The Host committee allowed players to pick up a new partner or two after winning a round or two with someone else.
Hopefully, good ones are repeated and bad ones are not. This year's decision by the World Handball Council President to overrule the Host was bad on two counts. The decision reversed the Host's ruling to not allow a player substitution after a round had been played (won). This one can't be repeated unless the World Council wants to run and administer any future World Championship.
The situation was a little murkier than that but not much…Paul Brady and Michael Finnegan were the Irish representatives in Men's Open Doubles and won their first round of play. Brady defeated Charlie Shanks in the quarterfinal round of singles and wasn't up to playing the quarterfinal round of doubles. The Hosts were told there was a precedent to allow a substitution. After getting more feedback during the course of the match as word spread, the Hosts decided to allow the match to finish and inform the players of the match being played under protest. After more deliberation, the Hosts posted the match on R2 as a default early the next morning. As the day wore on and the semifinal doubles match was about to be played, the Hosts were overruled and Shanks/Finnegan stepped onto the court.
No present or former World Handball Council member contacted was aware of a Host being overruled at any other championship. If handball is to be taken seriously, "tag-team doubles," especially at the highest level in the World Championships, this precedent cannot be repeated. And, if the World Handball Council wants someone to run its tournament, it will let them run the best tournament they can put together in return for the sanctioning fee paid to the Council.

2015 World Handball Championships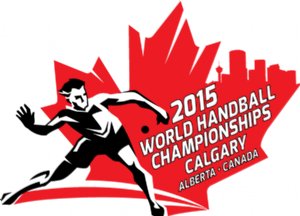 CALGARY, Alberta -- Paul Brady posted his name into the record books with an exclamation point on Friday, making quick work of Killian Carroll to win his Fifth Consecutive World Singles title. Afterward, Brady noted he'd be back for a year or two of competition but isn't planning to be at the next Worlds in 2018. "I've always said I want to go out a champion."
Aisling Reilly said she drew on the 2012 World final when she rallied to win in a tiebreaker. Reilly rallied to defeat Catriona Casey on Friday to claim her second consecutive World Championship and is shooting for a slam in the Women's Doubles.
Other notable performances were turned in Friday as Ducksie Walsh is still the Masters kingpin, defeating Marcos Chavez in the final. Johnny Woods won an exciting 19 singles final in three games and there were many more played in four venues across Calgary.
Team USA came up big in one-wall with Men's and Women's One-Wall Championships coming down to all-USA Open finals.
See all draws and results HERE .
See more info about the 2015 World Championships HERE.
The WPH will began filming the 2015 World Handball Championships starting on August 17th providing onsite viewing experience for locals on a big screen TV. From August 18-21, the WPH webcast is broadcasting matches live from the show court for the whole world to view on www.race4eight.com.
Read more...
<< Start
< Prev
1
2
3
4
5
6
7
8
9
10
Next >
End >>
Results 1 - 9 of 235
Purchase Handballs
CLICK HERE to purchase handballs!
USHA 21 Handballs are the Official Handballs of the United States Handball Association's National Tournaments and Sanctioned Events.
New Handball Gear
The NEW Performance Polo: An embroidered Handball Logo and charcoal color-blocking on the sleeves and sides gives the Handball Performance Polo a sleek look along with an understated texture, snag-resistant, moisture-wicking material.
ORDER ONLINE HERE or order by phone at 520-795-0434.