Contact Us
Phone:
1-520-795-0434
Address:
2333 N. Tucson Blvd.
Tucson, AZ 85716
Email:
This email address is being protected from spam bots, you need Javascript enabled to view it
2015 National 3-Wall Handball Championships
Lucas County Rec Center's West-facing Courts.
MAUMEE, Ohio -- Just over 200 particpiants have entered this year's USHA National Three-Wall Championships. Draws and start times are now available
HERE
.
Please Note: These are tentative times, and draw/times may change up to the day of the event. Remember to double check the scheduled time on the draw.
Fresh off winning the 2015 Worlds 1-Wall title, Sean Lenning hopes to repeat as the Men's Open Singles champ. Tyree Bastidas will try to reach his third consecutive final. Action starts NEXT THURSDAY, (Sept. 3) at the Lucas County Rec Center. Draws and start time will be available Friday afternoon.

The Buckeye Sports Cable Network will be covering the semifinals and finals of the Men's & Women's Open Singles this year.
Good luck to everyone in the 65th USHA Three-Wall National Championships!
NEW THIS YEAR!
The 2015 Toledo 3-Wall Nationals will include a Shirt Swap this year. Please bring any handball shirts you may want to swap. "We will have new shirts, almost new and used bins with shirts available for anyone wanting to recycle some of their shirts. Put one in, take one out. It is a lot of fun and a great way to find some unique handball gear." says Toledo's Phil Kirk.
The Toledo Handball Cooks next to the beer truck and hospitality tent are a welcome sight to any weary 3-waller!
Paired with
Toledo Handball's

amazing hospitality
, the Three-Wall Nationals are a must!
Draws and Start Times on the R2Sports Site HERE.
2015 World Handball Championships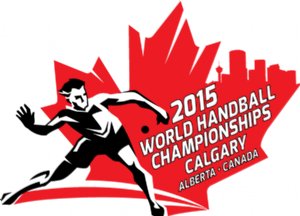 CALGARY, Alberta -- Paul Brady posted his name into the record books with an exclamation point on Friday, making quick work of Killian Carroll to win his Fifth Consecutive World Singles title. Afterward, Brady noted he'd be back for a year or two of competition but isn't planning to be at the next Worlds in 2018. "I've always said I want to go out a champion."
Aisling Reilly said she drew on the 2012 World final when she rallied to win in a tiebreaker. Reilly rallied to defeat Catriona Casey on Friday to claim her second consecutive World Championship and is shooting for a slam in the Women's Doubles.
Other notable performances were turned in Friday as Ducksie Walsh is still the Masters kingpin, defeating Marcos Chavez in the final. Johnny Woods won an exciting 19 singles final in three games and there were many more played in four venues across Calgary.
Team USA came up big in one-wall with Men's and Women's One-Wall Championships coming down to all-USA Open finals.
See all draws and results HERE .
See more info about the 2015 World Championships HERE.
The WPH will began filming the 2015 World Handball Championships starting on August 17th providing onsite viewing experience for locals on a big screen TV. From August 18-21, the WPH webcast is broadcasting matches live from the show court for the whole world to view on www.race4eight.com.
Read more...
2015 USHA National One-Wall Championships
BROOKLYN, N.Y. -- Daskalakis and Bastidas Slam!
Danielle Daskalakis (at left) teamed with Sandy Ng to slam in the Women's Open, while Tyree Bastidas teamed with Billy O'Donnell to slam in the Men's Open. Tyree (making a stretched-out return in the doubles) turned back a great finals' performance from Cesar Sala, rallying from 9-7 in the breaker to win and then beat Timbo Gonzalez and Victor LoPierre in the doubles in two exciting games.
It was a hot Sunday with endurance playing a crucial role in all finals.
See the Draws on R2sports.com site HERE.
Read more...
2015 National 3-Wall Juniors / 24th LaGrange 3-Wall
LA GRANGE, Ill. -- The 24th Annual LaGrange 3-Wall Tournament held in conjunction with the 2015 National 3-Wall Junior Championships , hosted by the Illinois Handball Association.
There were weather delays on all days but Sunday when Nikolai Nahorniak (left with IHA's Jamie Simon and Dane Szatkowski) slammed in the Open events in LaGrange. Nahorniak is back on top of his game after knee surgery, as evidenced by his win over Dane Szatkowski in the singles and teaming with Bill Mehilos to beat Dane and Adam Szatkowski in the doubles. Adam teamed with Mike Munson to win a tough seniors doubles final over Shane Conneely and James Komsthoeft.
Weather was an issue for the event but Leo Canales beat Michael Gaulton outside for the 19 title on Friday, 8, 11. Anthony Sullivan (hitting in photo) and Michael Gaulton (far left) came up just short in the 18 doubles to Leo Canales, who slammed in the singles and doubles, and Anthony Collado (right).
Sullivan and Gaulton, 17, 16) took the first game, 14, and lead 19-11 In the second when Collado tightened his defense and Canales went on a serving spree to run out the game. The tiebreaker was nip and tuck with the 19-year-olds pulling it out 11-8. "I got a little tired," Sullivan admitted.
Jon Gutierrez went through the 15 and under round robin undefeated, beating Joe Coman in the final match in two close game.
19 Doubles results:
Leo Canales/Anthony Collado d. Devin Peters/Patrick Cooke, 4, 12; Anthony Sullivan/Michael Gaulton d. Chandler Straw/James Teuber, 6, 5.
Final: Collado/Sullivan d. Sullivan/Gaulton, (14), 19, 8.
To view draws, start times and scores on the tournament's r2sports site CLICK HERE.
Read more...
<< Start
< Prev
1
2
3
4
5
6
7
8
9
10
Next >
End >>
Results 1 - 9 of 233
Purchase Handballs
CLICK HERE to purchase handballs!
USHA 21 Handballs are the Official Handballs of the United States Handball Association's National Tournaments and Sanctioned Events.
New Handball Gear
The NEW Performance Polo: An embroidered Handball Logo and charcoal color-blocking on the sleeves and sides gives the Handball Performance Polo a sleek look along with an understated texture, snag-resistant, moisture-wicking material.
ORDER ONLINE HERE or order by phone at 520-795-0434.