USHA One-Wall Junior Nationals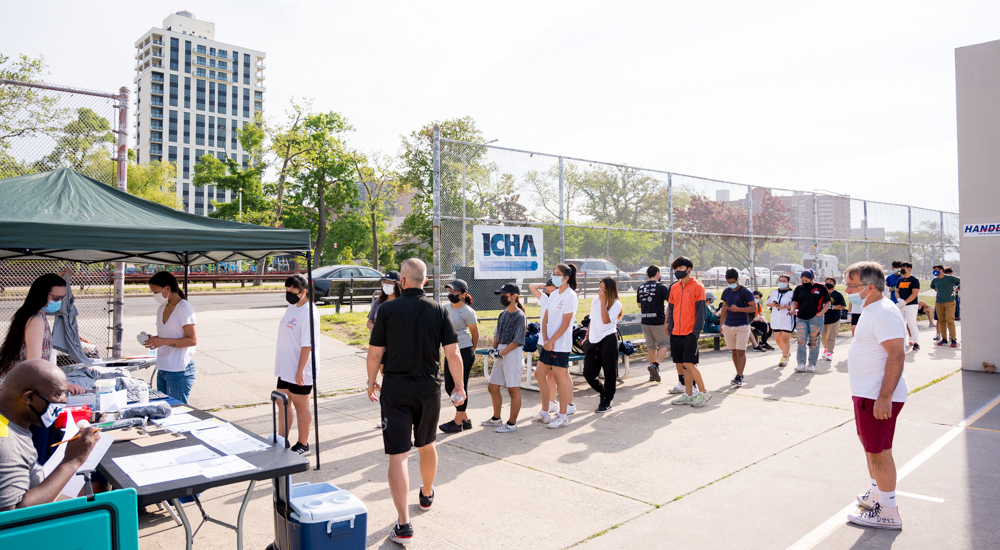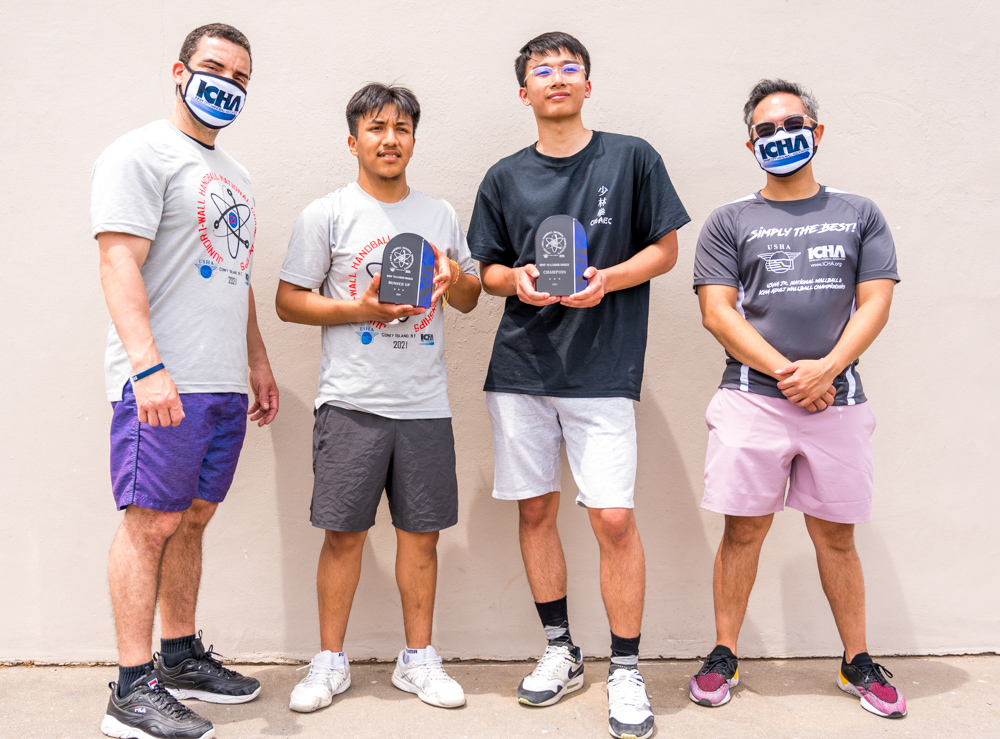 ICHA President Cesar Sala (left) and Vice President Bryan Lucero (right) congratulate Boys 19-Under finalists Christian Pimentel and Steven Poon.
BROOKLYN — The USHA One-Wall Junior Nationals hosted by the Inner City Handball Association (ICHA) took place this past weekend in Brooklyn, NY showcasing the future stars of the sport. Thanks to event co-sponsor Jared Vale and his ValeU Group the event was free for the kids. Safety guidelines were put into place to protect both the players and the spectators. All matches were one game to 21.
Steven Poon entered the boys 19 and under as the 1 seed, and survived an early scare from the 16 seed Brandon Lopez-Herrera just escaping him with a 21-16 victory. Poon was rolling after that, not conceding more than 6 points in any game the rest of the tournament, including a 21-6 championship victory over surprise finalist 14 seed Christian Pimentel.
On the girls side of the 19 and under, Cathy Chen emerged victorious against Kunga Chodon in the finals. Chen easily took care of Lizbeth Sierra in her semifinal while Chodon upset 1 seed Amy Liang to earn her spot. Chen and Chodon put on a great show, showing the future of the sport is in good hands with Chen ultimately winning 21-20 to become the champion.
Daniel Lin won the boys 17 and under by defeating Angelo Balajadia in the final. Lin only gave up 3 points the entire tournament proving he's ready to compete in the next age group.
1 seed Ivett Avila won the championship of the girls 17 and under and did so in dominating fashion by holding every opponent to single digits. She defeated 2 seed Shirley Chen in the finals, who was also coming in hot, holding her opponents to less than 4 every game but was ultimately no match for Avila, falling 21-3.
Thank you to the ICHA and ValeU group for making this event happen for the kids! To see all of the results from the tournament go here: