13th USHA Wallball Nationals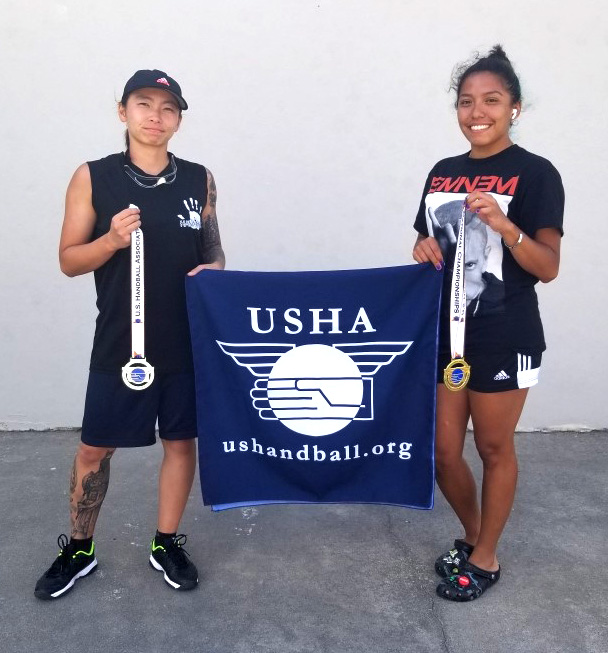 BROOKLYN, N.Y. — Play resumed early Sunday morning on the final day of the 13th USHA Wallball Nationals, after a full first day of matches with a few exciting finals. Nine of the twelve Wallball Nationals divisions would crown champions on our Championship Sunday.
The highly anticipated Pro Singles final of Timbo Gonzalez and Tywan Cook delivered another electrifying exhibition of skill and athleticism from the two top-seeded players. As the match neared the 45-minute mark, Cook pulled away and executed crucial kills and passes that skimmed the court lines to win his third singles crown over Gonzalez, 25-19.
Things looked bleak early on, as Gonzalez looked unbeatable for the first few points, cruising to an 8-0 lead. Cook withstood Gonzalez's barrage of shots and would score his first point with a sharp angled "ace" serve to the left. As Cook began to crawl back into the match, frustration grew for Gonzalez, as he burned two failed appeals (USHA One-Wall / Wallball Rules give a player three failed appeals) over Cook's first three points. Cook tied the score at 13-13 with a pass down the right line forcing Gonzalez to use a time out.
Once play resumed, Cook would take the lead; however, Gonzalez stayed within striking range as the two traded side outs before Cook pulled away leading 19-14. Gonzalez produced one more push, getting within two points from Cook, down 19-21. While Gonzalez began to wear down, Cook found an extra gear. After one amazing shot, even Gonzalez showed appreciation for his opponent with a fist bump. Gonzalez would prolong the match by fight off one match point, but a wide shot to the right gave Cook the serve where he would kill match point. With the win, Cook joins Gonzalez as the only two players to simultaneously hold wallball and one-wall small ball national titles in the same year.
Cook hardly had a moment to enjoy his win before jumping on the courts for the Pro Doubles with partner Eddy Troncoso. Cook /Troncoso endured a semifinal nail-biter against Joshua Garcia and Paul Yagual, 25-24. Their final opponents, Carlin Rosa and Mickey Osorio did the same, defeating the super team of Allan Sanchez and Carlos "Los" Pena by the same score, 25-24.
The championship match didn't hold the same drama, Cook/Troncoso dropped Roas/Osorio 25-9; however, both teams treated the crowds to some more amazing handball to close the tournament while Cook earned the "slam."
In Women's Pro Doubles, sisters Jessenia and Melanie Garate held on to defeat previous champions, Ruby Lloyd and Birdiana Garcia, 25-12. The win marked the first National Doubles title for the Garate sister and completed the "slam" for Melanie.
In other action, William Polanco and Steve Robalino captured the Masters (40+) Doubles, defeating Ray Lopez and George Figueroa, 25-13. Gary Luk closed his B career with a "B Slam," winning both the singles and doubles. In the Women's B Doubles final, Lily Fung and Hope Valenica turned back Erica Mendez and Sabrina Roberts, 25-17. Michelle Wu captured the Women's B Singles title the day before, edging Shantel Mena, 25-23. In the Men's Golden (50+) Singles, Jose Olivencia stopped Ronald Beard, 25-12 to win his first National Singles title.
Finally, in the Men's Golden (50+) Doubles, Darwin Lee and last-minute sub Peter Ostander held off a valiant effort from Tim Samuel and Javier Pellot to win the title, 25-23.
Thank you to all the players for entering while showing cooperation and patience to complete each day's matches. Thank you to USHA Board Members, Jared Vale, Alethia Mendez and every one from the USHA One-Wall Committee for their outstanding work. Thanks to Shenta Pizarro for keeping the tournament desk humming and matches on time. And thank you to all tournament volunteers and refs. Be sure to read the full coverage and see some of the wonderful action photos in the Summer Issue of Handball Magazine.
It is amazing to finally hold tournaments once again. We missed all of you, and we're already looking forward to next year!
See the 13th USHA Wallball Nationals results HERE.
BROOKLYN, N.Y. – The 13th USHA Wallball National Championships kicked off Saturday morning on Sea Breeze Courts in Coney Island, marking the first Nationals in 2021. Matches began at 8:00 A.M. sharp, since a full draw of 153 players meant a full day of play.  Ideal conditions, player cooperation, volunteers and tournament staff kept matches rolling.
In the Women's Pro Singles, the top two seeds, Jenny Qu and Melanie Garate blazed their way to a highly anticipated final.  Garate made the most of her first final appearance (her sister Jessenia had made the final in 2018) winning her first national title over Qu, 25-14. 
The first championship final played was the Men's Masters (40+) Singles division between George Figueroa and Ray Lopez.  The two legends put on a tremendous show with Figueroa holding on for a 25-24 win.  Lopez, left everything on the court, making some tremendous gets and dives, but Figueroa executed all the crucial shots down to the wire to successfully defend his title from 2019.
See Saturday's results HERE.