65th USHA Junior Four-Wall Nationals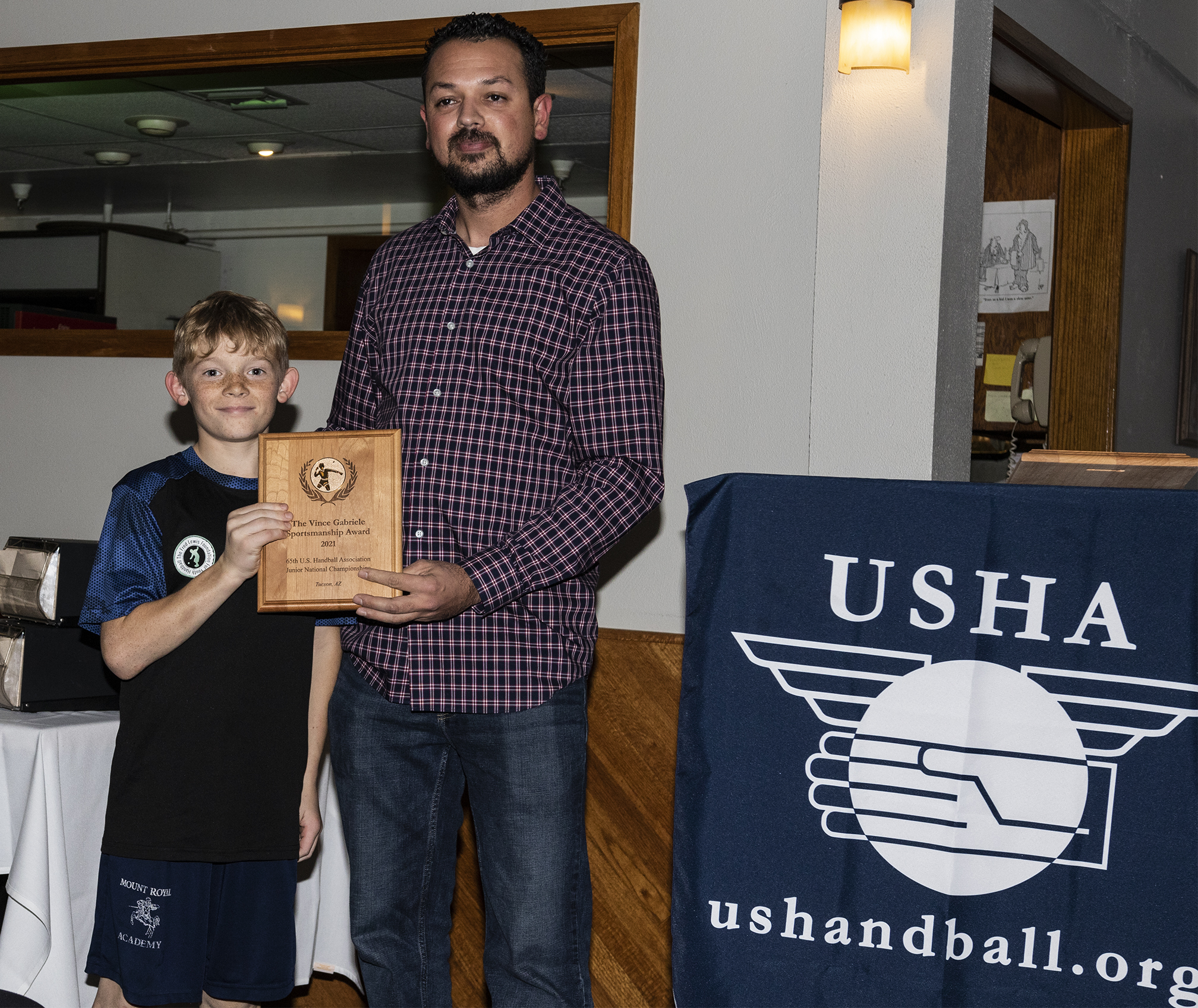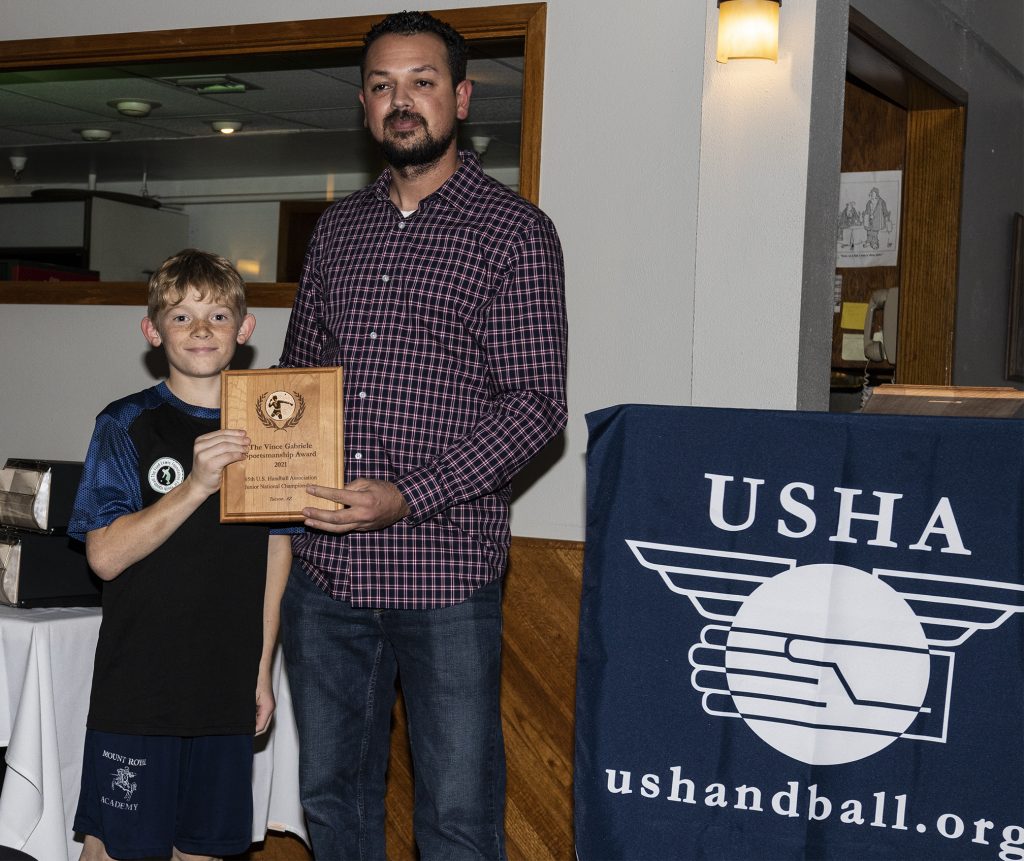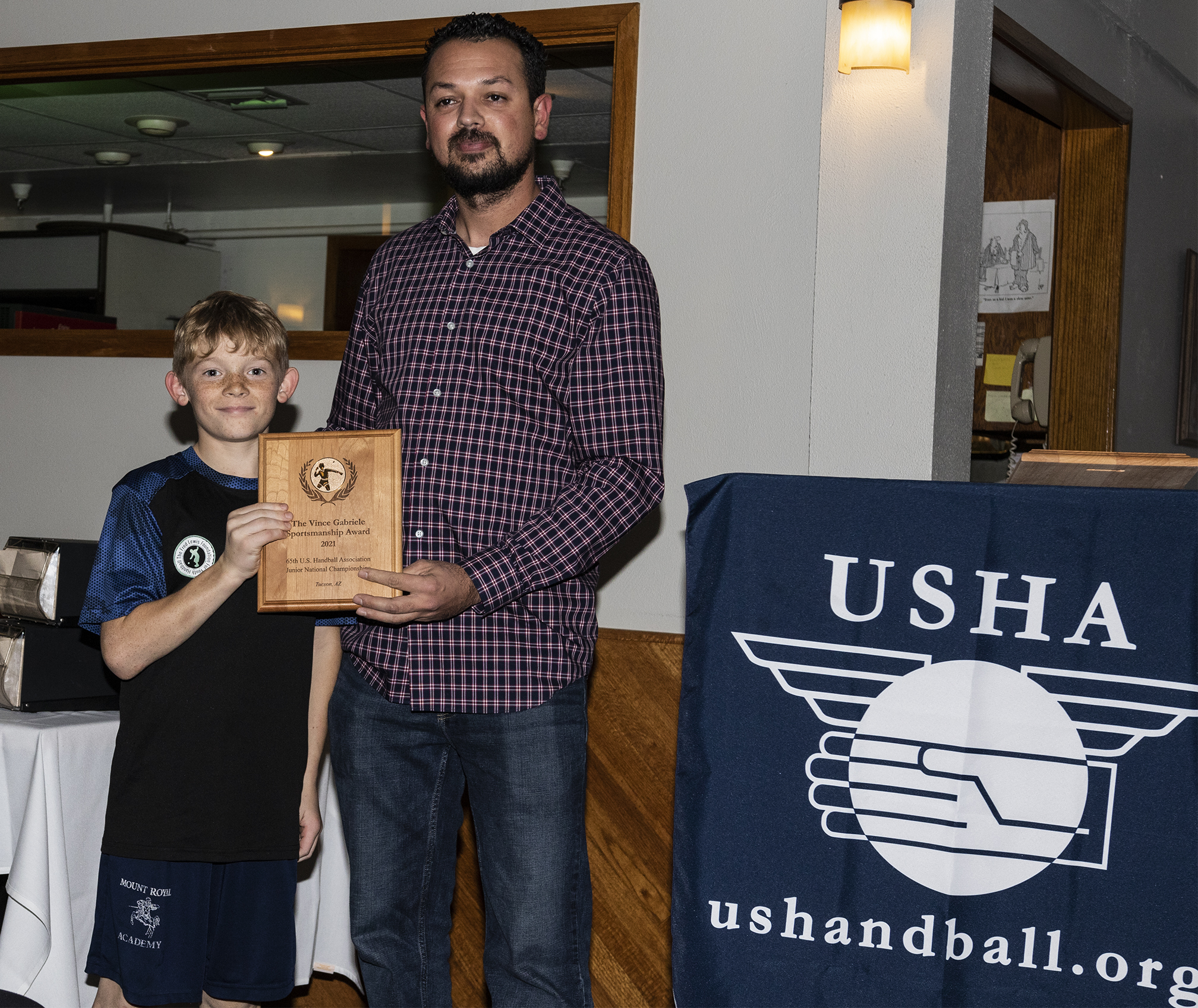 The Vince Gabriel Sportsmanship Award winner Collin Beturne with Head Coach Abraham Montijo
TUCSON — Day three saw several more champions crowned in both the small ball and big ball divisions.
Eliseo Gutierrez became the first champ of the day when he finished off his sweep through the 5 person round robin in the 13 and under. Gutierrez was dominant in every match and certainly has a bright future.
The 21 and under final between provided the match of the tournament when Tucson's Jorge Pimentel took on Juarez's Alejandro Garcia. Garcia took a commanding game one lead, but Pimentel began to crawl his way back. Pimentel stepped into the service box at 19-20 but could not convert on a setup, giving Garcia the serve and ultimately a game one win. Pimentel came out fast game two and never let up, defeating Garcia 21-11. The tiebreaker was back and forth. Garcia earned a sideout to get into the service box facing match point down 7-10 after a Pimentel error. Garcia could not take advantage and would end up double faulting, giving Pimentel the serve back where he converted a back-wall set up for the championship.
Check out all of the results HERE and re-watch the action from Wednesday on our Youtube page by clicking HERE. 
Congrats to all of our banquet award winners:
Newcomer of the year: Isaac Holguin
Most improved player: Nathan Stoffel
Vince Gabriel Sportsmanship award: Collin Beturne (pictured above)
TUCSON — Day two of the USHA 2021 Junior Four-Wall Nationals saw are first champions being crowned. Ray Ure became the first champion today when he defeated David Sanchez in the 19 and under final 21-4, 21-2. Ure finished off an incredible junior handball career with another title and will look to add one more in the 21 and under doubles with his partner Nathan Stoffel.
The 17 and under final featured Mexico's Andres Cordova vs Minnesota's Nathan Stoffel. Cordova showed off his vastly improved game by running Stoffel all around the court, and claiming victory 21-4, 21-5. 
In the female 21 and under division, decorated junior players Belisa Camacho and Sophia Della Croce squared off for the final. The two good friends displayed excellent Handball, with Della Croce just edging Camacho 21-19 in the first game. She kept that momentum going in the second game and was able to defeat Camacho 21-11 to win another national title. 
The last final was the 11 and under final which saw Luke Lambert defeat fellow Fred Lewis Foundation player Gabe Torgeson 21-13, 21-12. Both players showed that they have a bright future ahead of them!
Follow along with all the results on R2sports by clicking HERE. 
TUCSON — Day one of The USHA 2021 Junior Four-Wall Nationals kicked off Monday morning at the Tucson Racquet Club. Every small ball division was in action from the 11 and under to the first ever 21 and under, which was added due to last year's event being cancelled and several juniors missing out on their last year of eligibility. 
Many small ball divisions will have their final played tomorrow morning, and the big ball action will begin in the afternoon. Follow along with all the results on R2sports by clicking HERE.