Tucson Memorial & WPH R48Pro VII Stop #2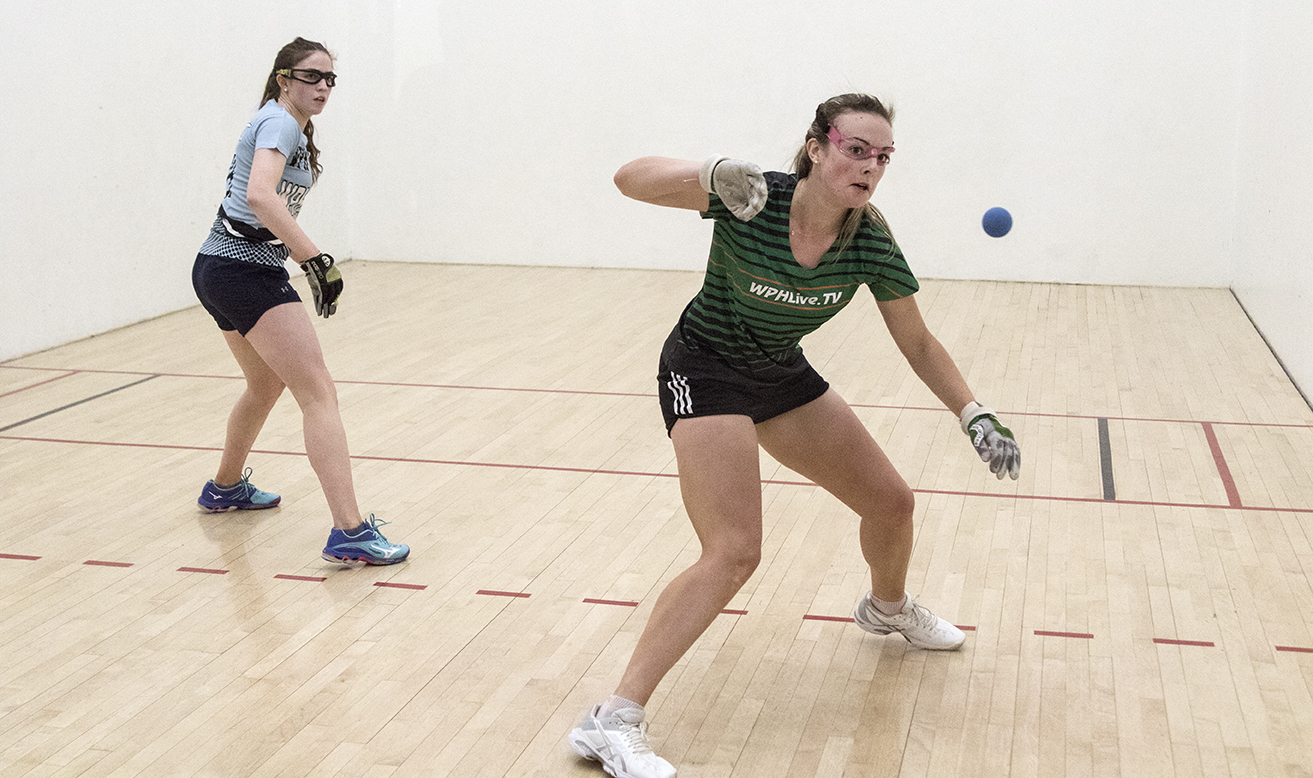 TUCSON — Handball is often defined as a fraternity of players, a tight-knit population.  When we lose someone, the effect ripples through the community, whether we played regular matches with that person, watched them at tournaments or were intertwined through the many tournaments and leagues across the country.  When there's a loss, the community comes together.  Players, fans and friends turned the Tucson Racquet Club into a three-day handball gala, remembering and honoring those who passed while the top players battled it out in the WPH R48Pro VII Stop #2. 
Setting the table for Sunday's action, Samzon Hernandez (Los Angeles) defeated Timbo Gonzalez (New York) 15-14, 15-9 in a thrilling Big Ball 4 Wall Singles final.  It was a classic battle between the top-two big ball stars from opposite coasts.  After trailing for much of the match, Hernandez caught Gonzalez at 13-13 and was able to take away the first game.  In the second, Gonzalez never fully recovered from a 6-0 deficit and played catch-up the rest of the way until Hernandez sealed match point.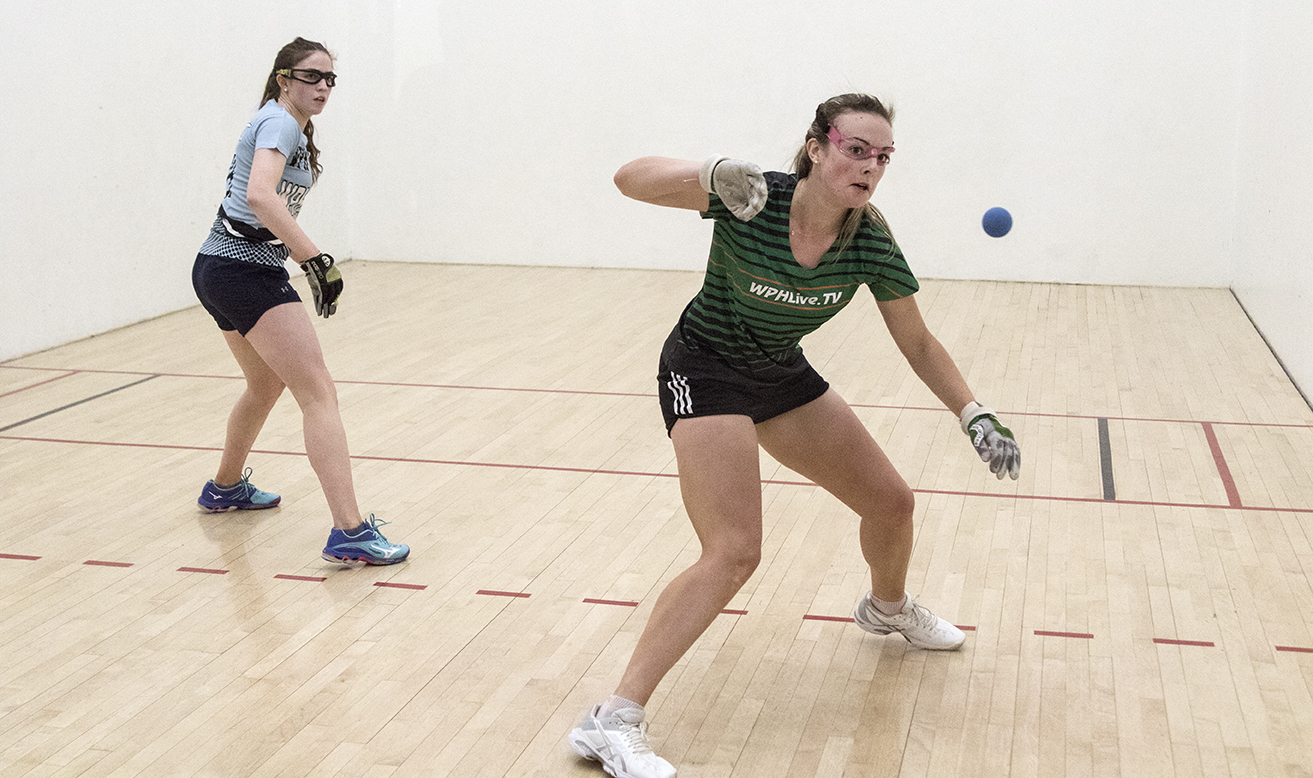 In the Women's R48Pro final, Martina McMahon (Limerick, Ireland) won her first WPH event defeating Catriona Casey (Ballydesmond, Ireland), 14-16, 15-9, 15-3.  With a commanding serve and showing amazing two-handed power and versatility, the Southpaw McMahon held game point in the first game at 14-11 only to see Casey claw back to win by two.  Although she fell behind 6-1 in the second game, McMahon's resolve didn't waiver as she continued her brilliant play to outscore Casey 14-3 to force the tiebreaker.  McMahon's momentum continued to roll in the tiebreaker as she won handily by a 12-point margin.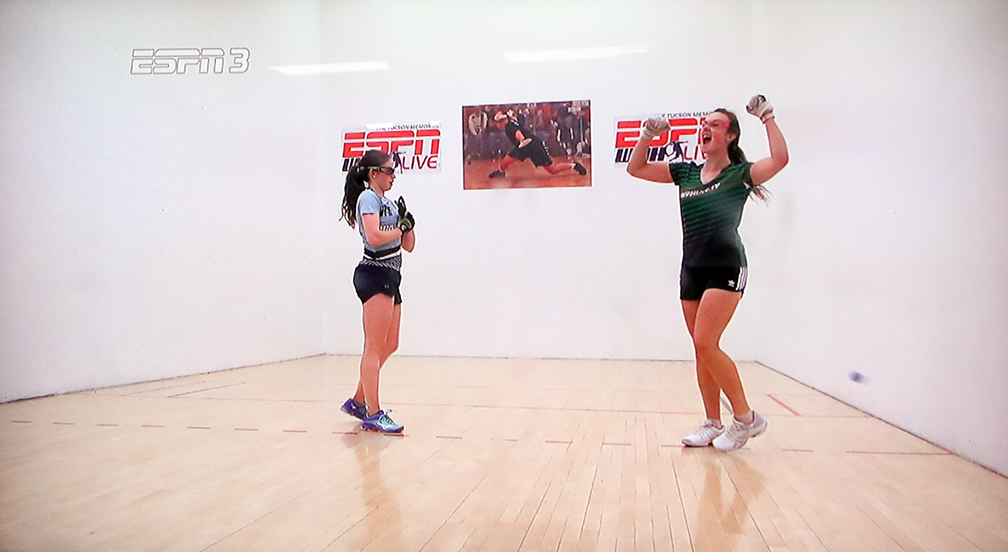 "To beat [Casey] in 40X20 is something special." McMahon said during the trophy presentation.  "She shouldn't have gotten that first game and she did, but that's Catriona, she fights to the end.  She went up 6-1 in the second.  I usually I lose the head, but I've been trying working on that.  I have the hands and just need to work on the thoughts in my head."  McMahon credited her brother, coach and mother for support and helping her reach the next level of mental toughness.  
Immediately following that barn-burner was the highly anticipated R48Pro final between Robbie McCarthy (Westmeath, Ireland) and current two-time USHA champion Killian Carroll (Boston).  McCarthy started the match with the hot hand and in control, leading 5-0 before Carroll could counter.  But once Carroll got onto the scoreboard, he didn't look back, showing off tremendous athleticism, out-hustling, out-shooting and outscoring McCarthy 30-5 to claim his second R48Pro final victory of the young season winning 15-9 and 15-1. 
"Robbie doesn't come to the pro tour very often, and he's number one in Ireland right now.  To show that I can, not just play American players, but play Irish players, too." Said Carroll.  "It's a very important win for me." 
As a qualifier, McCarthy played a few extra matches leading up to the round of 16, and against Sean Lenning (Tucson) in the semifinal, he was looking up at match point at a 14-1 deficit.  Showing intense grit and desire, McCarthy made the remarkable comeback, winning 5-15, 16-14 and 15-4 to reach the final. 
To wrap up the Tucson Memorial, Braulio Ruiz and Timbo Gonzalez won the Men's Big Ball Doubles, defeating Alfredo Morales and Esteban Erazo. 
The Tucson Memorial completed an unbelievable weekend of handball.  Congratulations to the WPH for hosting a tremendous event and bringing live handball to the airwaves at ESPN 3 and the WatchESPN App. 
Watch the replay HERE (Click on the "Schdule & Replays" tab, choose "Replay," then choose "Handball" under the "All Sports" drop-down button.  Check with your provider to see if you have access to WatchESPN). 
See the final results on the tournament R2sports page HERE.