ELMHURST, N.Y. —  The One-Wall Awards Dinner on February 25 honored the top One-Wall Players in several categories over the past year.  We were privileged to honor the following for their accomplishments in 2016:
WALLBALL AWARDS:  Men's Division –Timothy Gonzalez        Women's Division – Sandy Ng        Junior Boys – Daniel Pitre
SMALL BALL AWARDS:  Men's Division – Tyree Bastidas        Women's Division – Danielle Daskalakis        Junior Boys – Gabriel Carbuccia         Junior Girls – Michele He
LEGENDS AWARD:  George Figueroa and Tony Roberts
COMMUNITY SERVICE AWARD:  Veronica Figueroa
ARTHUR "BUTTERHUP" CUSSELL AWARD:  2015 – Paul Lonergan         2016 – Carlin Rosa
The top Wallball and Small Ball honorees of Timbo, Tyree, Sandy and Danielle are all repeat honorees and the dominating players of our era in these handball disciplines. The other categories may need more explanation but are every bit as noteworthy.
The "Legends Award" was decided by a vote from the One-Wall Committee and honors past champions who have distinguished themselves through continued excellence and longevity.  In 2016, George Figueroa and Tony Roberts achieved a remarkable string of five consecutive National titles in small ball as a doubles team.  This is a rare feat in any sport and is a remarkable achievement.
The Arthur "Butterhup" Cussell Award was established by Cussells friends to honor the sportsperson who exhibits character, honor, and sportsmanship on and off the court. In 2015 our committee voted for Paul Lonergan who exemplified these traits.  So too has Carlin Rosa who earned our accolades in 2016.
The Community Service Award is given to an individual who has changed and influenced handball over many years of selfless service and devotion to our game. The honoree for 2016, Veronica Figueroa, is so deserving of our award for the countless hours she has devoted to juniors and adults alike. If you want to get something done–ask Veronica.
By Glenn T. Hall, Chairman
A Coach for Character
by Dr. Raquel S. Barnes
Sportsmanship for me is when a guy walks off the court and you really can't tell whether he won or lost, when he carries himself with pride either way.   
– Jim Courier, Four-time Grand Slam Tennis Champion
Today's sporting culture, places great importance on the idea of winning and thus sportsmanship takes a back seat.  However, in most if not all sports, athletes inspire, bring hope and whether they like it or not, they are viewed as role models.  Sportsmanship can be defined by the spirit of fairness, respect and fellowship with other people in the competitive arena.  The Arthur "Butterhup" Cussell Sportsmanship Award embodies this spirit, and this year Carlin Rosa and Paul Lonergan will be presented with the award.
Rosa, as a young teen was taught the game by his uncle.  His natural athleticism served him well as he climbed the rankings of pro handball in the Open division.  Rosa's humble nature doesn't go unnoticed once he steps on the courts throughout the Bronx and Brooklyn.  It was on the courts that Rosa chose to emulate players like Albert Apuzzi, William Polanco and George Figueroa, who were renowned for their on-court decorum and fair play ethos.  These mentors along with the strong influence of Rosa's family instilled integrity and character.
2016 Winner Paul Lonergan:  A Polished Champion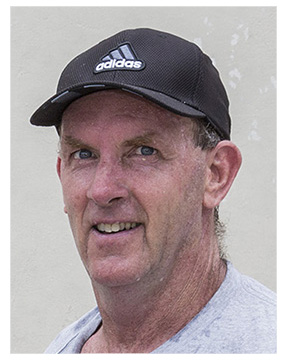 Paul Lonergan has long been a gentleman on and off the court.  Teaming with Al Torres, in the 80s, they were always in the discussion to win a national title, finishing second for three consecutive years before Paul teamed with his brother Joe to win in 1991.  Lonergan reached the semifinals in the singles in 1988.  During this time and throughout his masters playing career today, Lonergan maintains a high level of sportsmanship and fairness which embodies the spirit of Arthur "Butterhup" Cussell Sportsmanship Award.