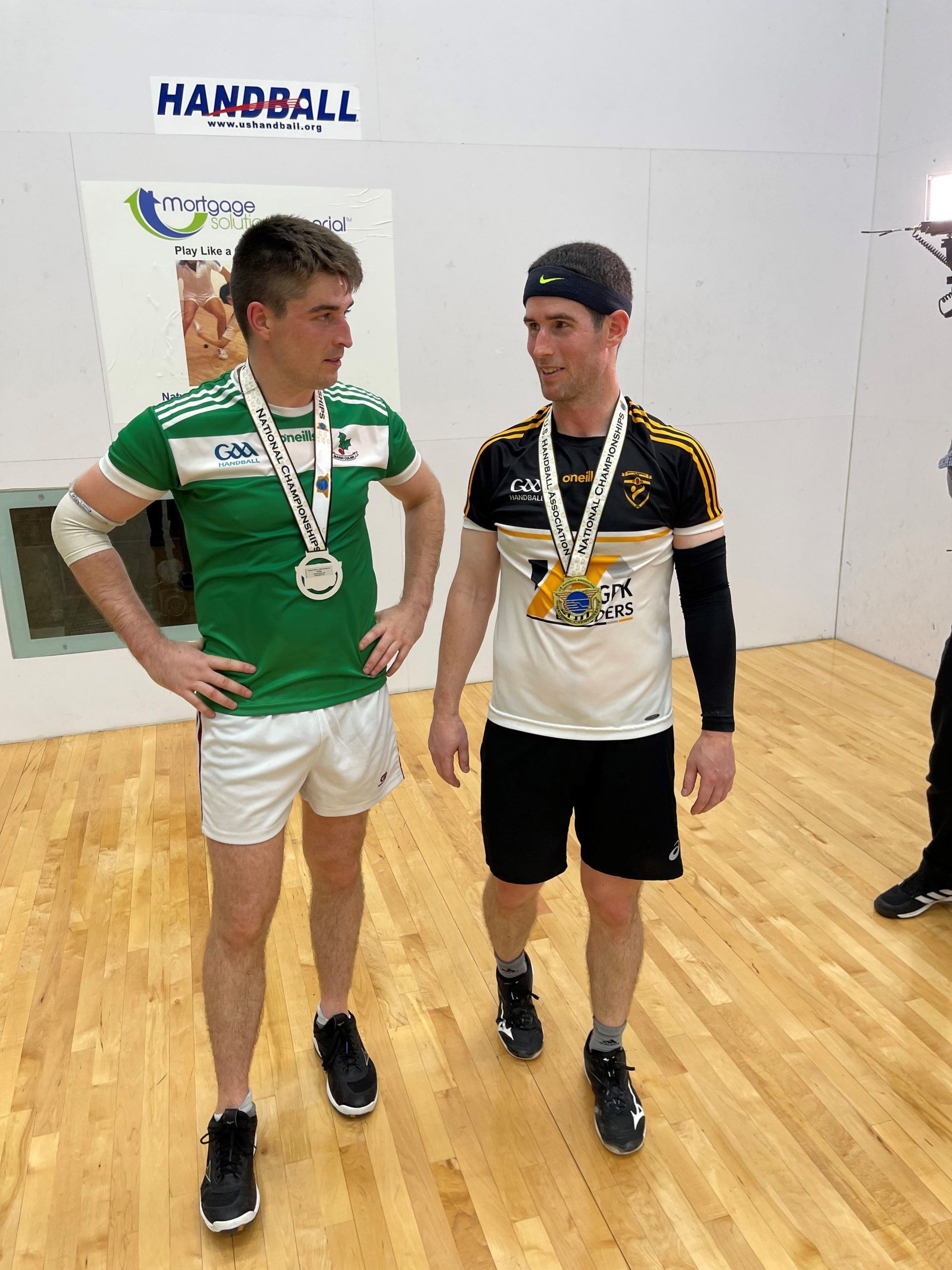 DAY 5 — Play concluded Sunday with several doubles finals throughout the morning. 
In the Women's Doubles Final, Catriona Casey and Fiona Tully defeated Ashley Moler and Mikaila Esser in two games. The Irish tandem played flawless throughout the match. Esser and Moler made a late run at the end of game two but it was too late, as they fell 21-4, 21-11. 
The Men's Open Doubles final between Diarmaid Nash and Martin Mulkerrins vs Max Langmack and Sam Esser was one of the matches of the tournament. Langmack and Esser came out firing game one to stun the irish team but could not take advantage in game two or three. Despite a day removed from an incredible Men's Open Singles final, Nash and Mulkerrins found enough energy to win 17-21, 21-15, 11-4. 
Thanks to all players who participated in the tournament and to the incredible people and players in Portland who volunterred and planned the tournament!
Check out all of the finals winners HERE
WATCH LIVE SUNDAY: https://www.youtube.com/watch?v=kcFim0p9aig
————————————————————————————————————————————-
DAY 4 — We crowned several singles champions on Saturday including the Men's and Women's Open Singles champions.
Catriona Casey put on an amazing display of handball in her victory over Fiona Tully in the Women's Final. Casey's precision and ability to go a whole match without making a mistake was incredible and propelled her to the win. 
The Men's Final was one of the best national finals to be played in years. Diarmaid Nash overcame Martin Mulkerrins in an 11-9 tiebreaker after dropping the first game. The gallery was stunned at the ability of both of these players. Nash's hands in the front court were unbelievable. He was able to handle Mulkerrin's power and dump shots in the corner by taking speed off the ball. It was an amazing display. 
Several other champions were crowned Saturday.
Check out the brackets HERE to see all of the results. 
Watch the action live on Sunday HERE
WATCH LIVE SATURDAY – https://www.youtube.com/watch?v=XUqpsYqZon0
_________________________________________________________________________________
DAY 3 — The Men's and Women's Open finals are set for tomorrow after the semifinals concluded Friday.
Martin Mulkerrins defeated Shorty Ruiz in convincing fashion in the first men's semifinal, 21-7, 21-5. Diarmaid Nash then put on a spectacular performance to defeat Sean Lenning 21-13, 21-2 to set up an all-Irish final tomorrow. 
Catriona Casey showed why she is regarded as the best women's player in the world in her victory over Mikaila Esser 21-0, 21-2. Fiona Tully and Ashley Moler followed that with what was maybe the match of the day, which belonged to Tully 21-14, 12-21, 11-5.
In other action, we had our first national champion winners today. 
Men's 35: Shorty Ruiz
Men's 55: Lennart Delatorre
Men's 80: Ed Grossenbacher
Men's B: Michael Stenberg
Catch the action live on Saturday HERE. Streaming starts at 11am PST
Check out all the draws HERE.
____________________________________________________________________________________________
LINK TO WATCH FRIDAY (11am pst): https://www.youtube.com/watch?v=_opRdIGGF7Y
PORTLAND — Days 1 and 2 at the Multnomah Athletic Club were filled with great matches. Nearly all the singles divisions are down to their semifinals or the finals. 
The WPH will be filming both the Men's and Women's Open semifinals on Friday. You can watch the action live by clicking HERE.
The first semifinal will take place at 11am (pacific time) between Martin Mulkerrins and Braulio "Shorty" Ruiz. That will be followed by Sean Lenning and Diarmaid Nash at noon.
After the men conclude, the women will play their semifinals. The first matchup will be Catriona Casey vs Mikaila Esser. That will be followed by Ashley Moler vs Fiona Tully. 
Check out the results in each division by clicking HERE. 
_______________________________________________________________________________
We're proud to partner with the WPH to allow you to watch the action from the showcourt at the USHA Four-Wall Nationals live! The following links will give you access for each day. Stay tuned for the filming start times each day. 
Tentative draws and start times are now available on R2sports. You can check them out HERE . Good luck to all players!
Remember, all times and draws are subject to possible changes so please continue to check leading up to the day of the event.