2022 National Junior 4-Wall Championships


PLEASANTON, Calif. — The tournament wrapped up Friday morning with finals taking place in doubles and big ball singles divisions. After the finals, players said there goodbyes to old and new friends they spent countless hours on the court with over the week.
A big thank you to the Northern California Handball Association for putting on a great tournament for the kids.
Thank you to all the kids who played this year and the parents/coaches who accompanied them. We had players represented from Ireland, Canada, Mexico, and of course the United States. 
We look forward to another great tournament next year. Check out all of the results HERE. 
__________________________________________________________
(Nicole Eike with USHA's Matt Krueger and flanked by her parents, Randall and Joheem after winning the Sportsmanship Award)
PLEASANTON, Calif. — The third day of action brought several finals in the small ball singles events. 
The first title of the day belonged to Alex Duval who defeated Alex Neri to win the 13 and under small ball finals. Duval, who is only 12 years old, caps off an impressive year which also saw him win the 13 and under title at the four-wall nationals in June.
Ireland's Anthony Clifford put everyone on notice with his impressive two game sweep over Eliseo Gutierrez in the 15-under final. Gutierrez looked overmatched as Clifford saved his best for the championship final after a week of nearly flawless handball.
The 17-under final was one of the most highly anticipated finals of the day with Ireland's Rory Carthy taking on Mexico's Andres Cordova. Carthy got off to a hot start in both games, and never took his foot off the gas. While Cordova has an impressive arsenal of shots, he couldn't get into a rythm, dropping the final with the scores of 6 and 7. 
The 19-under final featured Ireland's Kyle Jordan and California's Ryan Watkins. This match featured several incredible rallies, but Jordan was just too strong. Jordan has an incredible serve that would give any player in the world trouble. Between that and his ability to kill the ball, he overcame Watkins.
The girls 19-under final featured two of Ireland's strongest up and coming players. Leah Minogue took Jodie Keeling. Minogue and Keeling were dead even most of the first game, but Minogue was able to hit some clutch shots and close it out. She used her momentum to easily take game two.
Keeling would earn her title in the girls 17 and under, where she took out Illinois Izzy Klicker in two dominant games. 
The girls 15 and under was a battle between two more young Irish stars, with Carmel Kelleher taking on Katie Jordan. Kelleher came out fast and easily claimed game one. Despite a great effort from Jordan in game two, Kelleher held her off to win 21-5, 21-17.
The night concluded with a banquet that featured delicious barbeque from Frank's Barbeque. 
The annual Junior Nationals awards were presented to the following three deserving players:
The Tom Lynch Newcomer Award: Niko Vasquez
The Kate Conlon/Kurt Johansson Most Improved Award: Alexander Duval
The Vince Gabriele Jr. Sportsmanship Award: Nicole Eike (pictured above)
See the results and draws HERE.
______________________________________________________________________________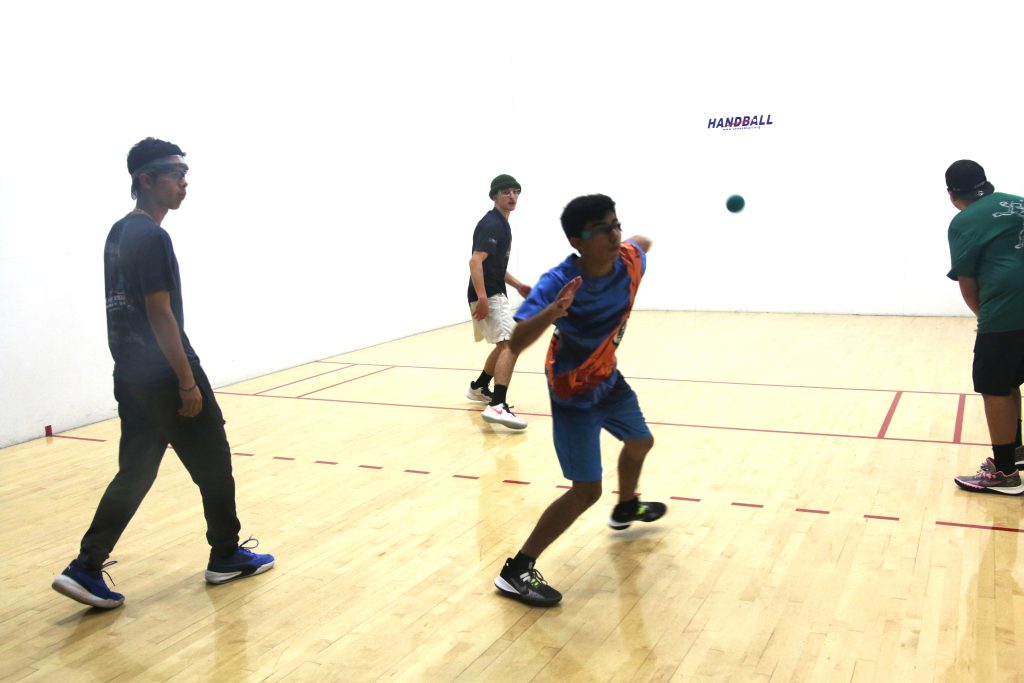 PLEASANTON, Calif. — Day two of the tournament had action in all divisions, including small ball, big ball, and doubles. 
Our first champion was crowned when Albuquerque's Adrian Valenzuela defeated El Paso's Luis Cordova III to win the 11 and under small ball division. 
The 19 and under small ball division saw Los Angeles's Ryan Watkins advance to the final by defeating Mexico's Luis Ogaz. Watkins will take on Ireland's Kyle Jordan who has looked very strong to this point.
The 17 and under final will feature Mexico's Andres Cordova and Ireland's Rory Carthy. Each player has been dominant so far this week and it should be one of the most exciting finals of the tournament. 
The 15 and under division will feature Colorado's Eliseo Guttierez and Ireland's Anthony Clifford. Guttierez took down another Irish player, Caleb Donnellan, in an impressive semifinal win. 
Washington's Alexander Duval and California's Alex Neri will square off for the 13 and under final tomorrow morning. Neri survived a close tiebreaker to advance.  
On the girls side, Ireland's Leah Minogue advanced to the 19 and under final with ease. She will take on Jodie Keeling in the finals tomorrow, who won an 11-9 tiebreaker in her semifinal to advance. 
Keeling will also be looking to win the girls 17 and under final when she finishes her round robin matches. 
Ireland's Carmel Kelleher and Katie Jordan will compete for the girls 15 and under final tomorrow in what is sure to be a great match. 
Doubles and big ball semifinals will be held tomorrow. You can view all results to this point and follow along with the draw HERE
____________________________________________________________________________
PLEASANTON, Calif. — Day one of the USHA National Junior 4-Wall Nationals kicked off Tuesday morning. With weather affecting travel all over the country, several players were delayed and had to have their match pushed back. Thanks to the hard work of the Northern California Handball Association, the day ran as smooth as it could, and play was caught up as much as possible. 
Quarterfinals were played in all small ball divisions, and tomorrow will feature several exciting semifinal matches. The big ball divisions will also begin tomorrow along with some doubles divisions. 
Be sure to follow along with the results HERE
____________________________________________________________________________
PLEASANTON, Calif. — The 66th USHA National Junior 4-Wall Championships are slated to kick off next Monday, Dec. 26 at The Bay Club Pleasanton. Nearly 70 players from around the country, Canada, Mexico and Ireland will descend on the club next week to compete in small ball and big ball events. 
The USHA National Junior Championships offer players drop-down events, so players of similar skill land in a competitive bracket. 
Draws and tentative start times are now available. Please note: times and draws may change up until the first match is played. See the draws and start times HERE.