2018 USHA Women's Classic & Southwest Regionals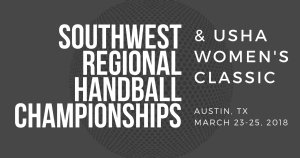 AUSTIN, Texas — A determined Suzanne Koehler (hitting) beat Jennifer Schmitt in the final of the Women's Classic.  Koehler said she was looking forward to the rematch on the same court from two years ago.  Everyone got lots of play in the triple drop down. 
The Men's Open semis featured current vs. former Collegiate stars with Adam Bernhard facing Max Langmack and Memo Pallares versus Sam Esser.  The elders won again as Esser admitted: "We've been coming here for four years and trying to beat those guys."  Bernhard held on to his title but not without a tussle. Pallares took the first game and garnered 9 in the tiebreaker.
Follow the results at the tournament's R2sports site HERE.