2018 Armed Forces Memorial Day Handball Tournament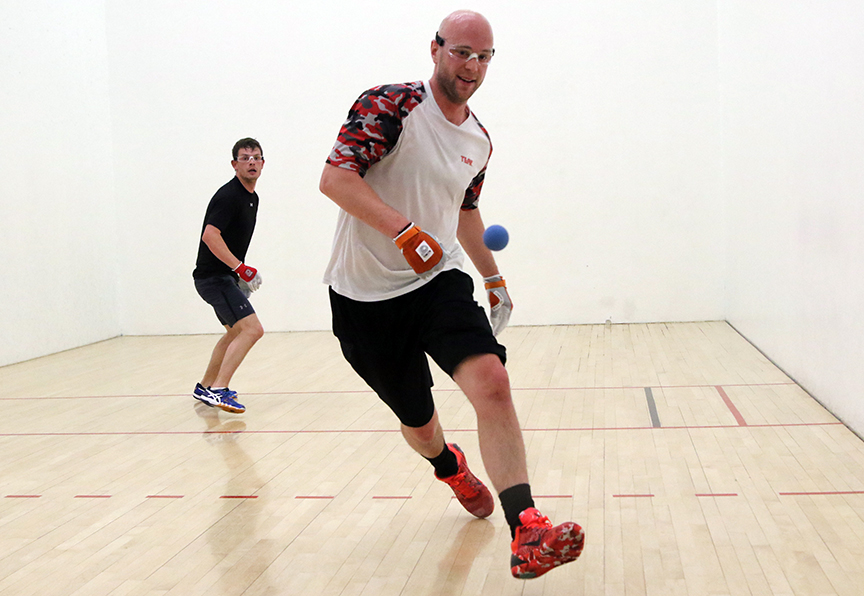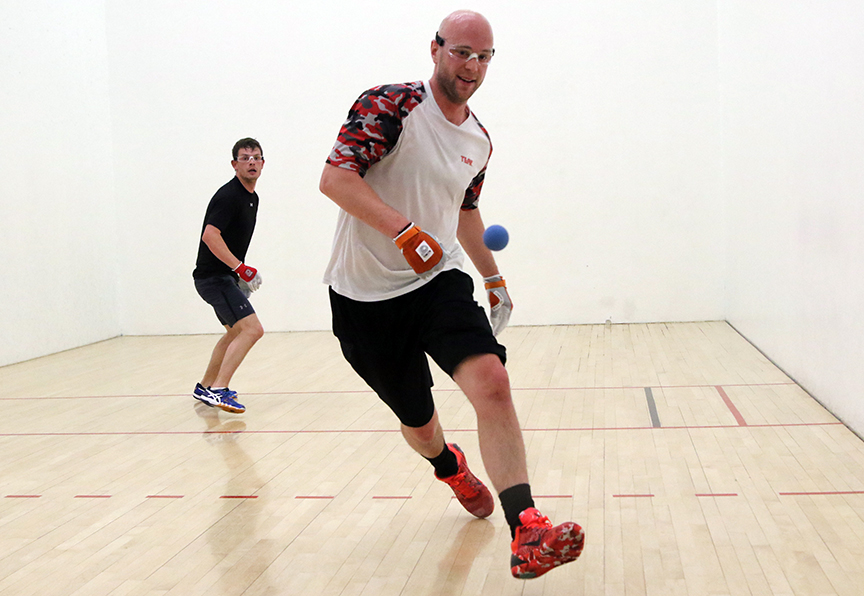 TUCSON — The top pro players delivered another incredible final to wrap up the final day of action in the 2018 Armed Forces Memorial Day Handball Tournament.  Killian Carroll came away with a slam, defeating Sean Lenning 21-17, 21-15 in the singles, then teaming with Abe Montijo to drop Armando Ortiz and Braulio Ruiz in the doubles, 21-1, 21-20. 
Both Carroll and Lenning dazzled the Tucson Racquet Club gallery, delighting the glass-pounding fans with a fast-paced two-game slug fest.  While Lenning kept pace with Carroll through each game, he couldn't break away with big enough runs to stop his opponent's momentum.  See the finals video courtesy of the WPH HERE.
In the Women's Open final, Ashley Moler looked solid against an improving Beth Blackstone, winning the title, 21-8, 21-5.
Before the Saturday night banquet began, the United States Marine Corp Color Guard presented the flag while the Pledge Allegiance to the Flag was recited. The Marine Corps Color Guard is four-member formation – consisting of the senior Marine and Color Sergeant carrying the National Colors, a Marine carrying the Marine Corps Colors, and two rifle bearers.  After dinner Fred Lewis and Vince San Angelo presented awards to division winners, thanked the players and paid tribute to our Armed Forces and the service members who paid the ultimate sacrifice defending our country.  University of Arizona Police Sergeant Alex Garcia played "Taps" to close the banquet and ceremonies.  
Players from 11 states and Mexico came to compete in the 2018 Armed Forces Memorial Day Handball Tournament at Tucson Racquet Club.  The event pays tribute to service members who have given their lives defending our country as well as honors veterans who have served.  Six WPH R48Pro players entered a stellar Open Singles draw of 16.  After two days of exciting play, Killian Carroll and Sean Lenning will meet in Sunday's championship match. 
There were no upsets leading up to the final, although Lenning survived a close game one loss to win a tiebreaker against the Collegiate champion Leo Canales, (19-21), 21-5, 11-5.  In other quarterfinal action, Armando Ortiz stopped Abe Montijo (16-21), 21-17, 11-5. 
In the semifinals, Carroll and Ortiz battled closely in game one before the two-time defending champion closed out the match, 21-16, 21-3. In the other semifinal, Lenning jumped up early on Dave Fink in order to hold off any comeback hope, winning 21-10, 21-16.
In Women's Open action, Ashley Moler will face Beth Blackstone in tomorrow's Women's Open singles final. 
See draws and results HERE.