2016 USHA National One-Wall Championships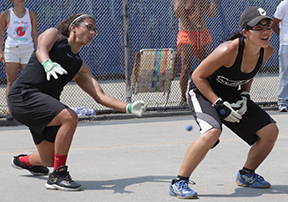 A beautiful Sunday met players and fans who got out to the courts early for some of the makeup matches from the late rain on Saturday.  Tyree  Bastidas capped a great week of play to win his fourth consecutive singles title , this time over Willie Polanco.  Later Bastidas won two doubles matches to complete the singles and doubles slam with Billy O'Donnell over Polanco and Michael Schneider.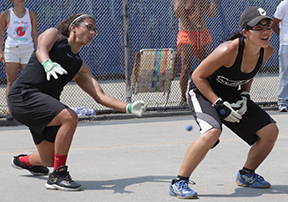 Danielle Daskalakis (shown hitting on Sat. with Huang holding her ground) slammed in the women's events with Sandy Ng as her partner over Theresa Haley and Melissa Sky.  Tony Roberts, George Figueroa, Joe Agosto and Dan Flickstein were all in the winners' circle with their wins bringing them close to, or adding to, their Grand Masters status.  You can f
ollow the 2016 USHA National One-Wall Championships on R2sports HERE. 
FINAL RESULTS ARE NOW POSTED.
    Only a few steps away from the iconic Coney Island Boardwalk, there were plenty of attractions to enjoy while not on the courts, so make your plans to attend next year, the first weekend of August, 2017.