2016 USHA National Junior 3-Wall Championships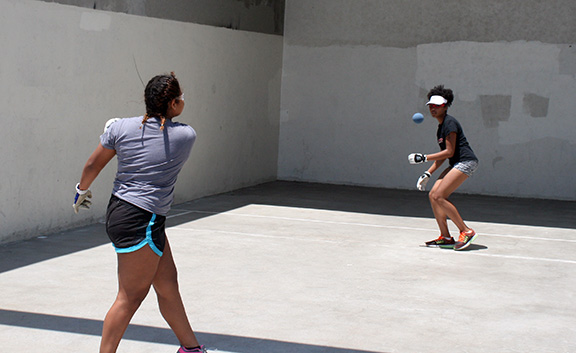 LOS ANGELES — Championship Sunday in Venice Beach treated handball fans and families with a spectacular show.  Tucson's Carlos Espinoza took home the 19-Under title, producing a stirring comeback against Pasadena's Bryan Pacheco, winning the title 6-21, 21-11, 11-6.  "Pacheco wasn't missing anything in the first game." said referee Marcus Hough.  Espinoza neutralized his opponent's hot shooting in the second game with high percentage passes to win the second.  In the tiebreaker, Espinoza watched Pacheco streak to a 6-0 lead but was able to score 11 unanswered points for the victory.  
Andrew Garcia of Los Angeles kept the Boy's 17-Under crown in Southern California defeating Tucson's Jesus Avila in two games, 21-7, 21-5. Garcia finished the slam with partner Brendan Ramirez, defeating Carlos Espinoza and Jonathan Gutierrez for the 19-Under Doubles title, 21-16, 21-10.  
Jorge Pimentel bested 520 teammate Isac Rios for the 15-Under title 21-6, 21-12.  San Jose's Briant Mendiola and Stockton's David Sanchez won the 15-Under doubles over Pimentel and John Franks in two close games, 21-19, 21-17.  
The match of the day belonged to the Boys 13-Under final where David Sanchez overcame a 6-0 deficit in the tiebreaker to defeat Bryan Trejo of Santa Barbara, 18-21, 21-12, 11-10.  Sanchez had to earn every point, as Trejo dug out a championship point winner to regain the serve at 10-10.  A side out by Sanchez gave him the opportunity to close, which he did with an timely pass down the right wall.
Daniel Mora stopped Luis Fernandez's run in the Junior 11-Under final, winning 21-15, 18-21, 11-0.  
Tucson's Kena Byrd-Jackson won the Girls 17-Under title by finishing undefeated in round robin play.  
Special "Thanks" to the Southern California Handball Association, Larry Fisher, Gary Cruz, and all the volunteers who made the tournament a special treat for the players.  Thank you to West Coast Handball's Mark Zamora for donating fruit and water on Saturday.  And THANK YOU to all coaches (Fred Lewis, Abe Montijo, James Coronado, Patrick Saito and Marco Coromac) and the junior players who showed great sportsmanship and positive attitudes the entire weekend.  Handball's future looks bright!
During a break in the action on Saturday afternoon, juniors were treated to a handball skills clinic from WPH Juniors Coach Braulio Ruiz. Juniors learned specific serves, ceiling warm-ups and took part in a "target" drill with the former USHA National Junior Champion.
Playing just a few feet from the Pacific Ocean, adjacent to the world-famous Venice Beach Boardwalk and Muscle Beach, junior handballers will get a minimum of three matches! Travel assistance is awarded to junior players traveling 250-plus miles one way through Joe Ardito and Wafe Risner Travel Funds! The Presidents Club is matching Ardito Funds for groups with five or more players traveling with a coach.
See today's results, draws and times on R2sports,
CLICK HERE.