60th One-Wall National Championships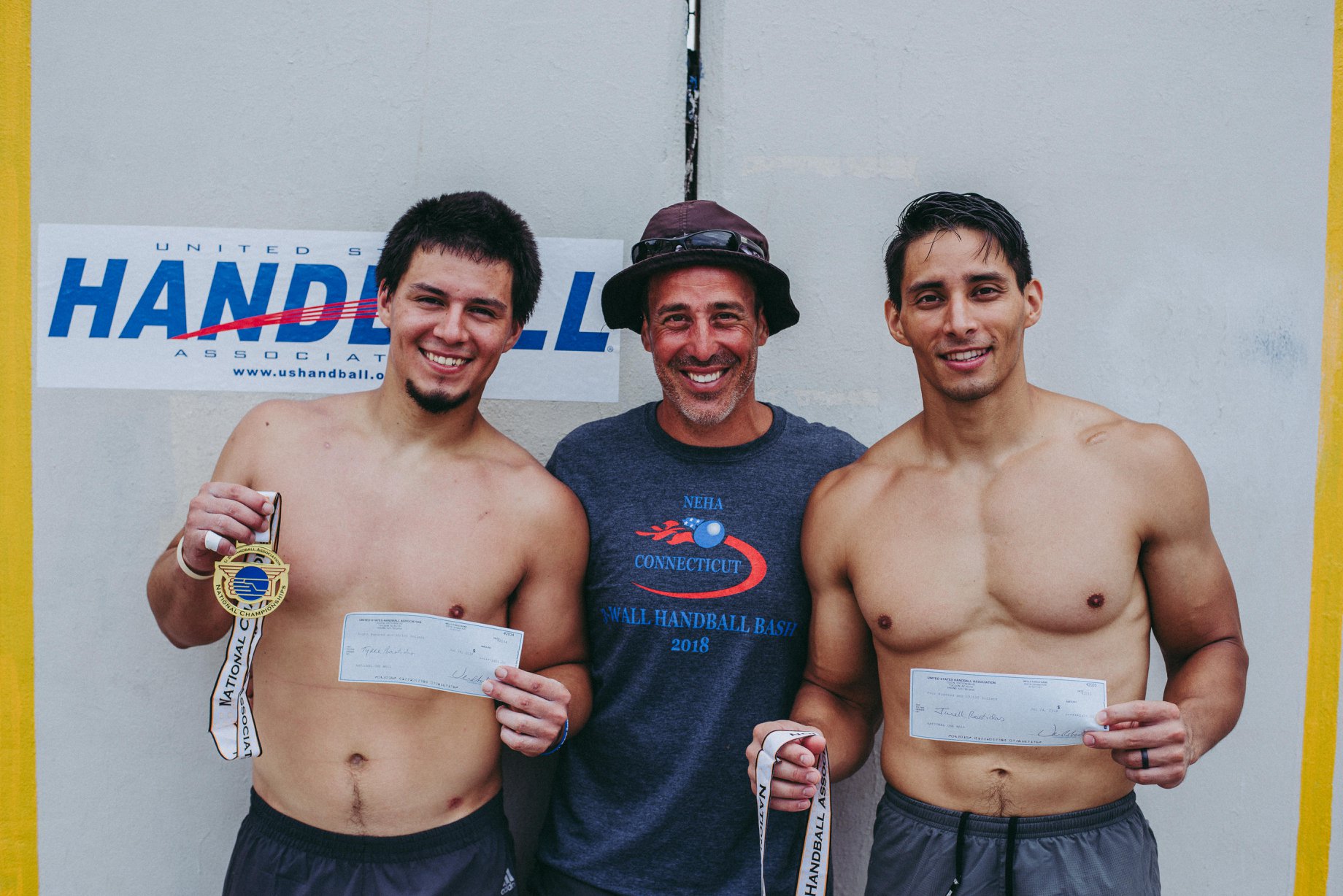 UPDATES FROM AUGUST 14 
The 60th USHA One-Wall Nationals resumed play this past week. All of the finals have now been completed after a rainy championship Sunday forced matches inside at the Zerega Indoor Handball Courts. Because of the limited courts space, many of the finals had to be played at a later date.
Among those finals that were played late was the Pro final between brothers Tyree and Jurell Bastidas. An amazing game one ended with Jurell just edging out his brother 21-20. Tyree raised his game to another level in game two, and took it easily 21-9. He kept that momentum rolling in the tie-breaker and held brother Jurell to just 2 points to win his seventh pro singles title!
Other national champions were crowned in several other divisions. In the 40 singles, Jai Ragoo took out one seed Joseph Kaplan 21-14, 21-15. Ragoo then teamed with Kaplan to win a thrilling 40 doubles title over Emilio Sierra and Robert Sostre 21-14, 16-21, 11-9. 
In the 50 singles, Andy Rousseau outlasted Richard Mascia to win the championship 21-8, 21-18. Rousseau and his partner Jared Vale were denied the 50 doubles title by champs Tony Roberts and George Figueroa in a thrilling final that ended 17-21, 21-20, 11-2.
Congrats to all the champions! To view all of the results you can check out the tournament website by clicking HERE.
UPDATES FROM AUGUST 8
The 60th USHA One-Wall Nationals took place August 6-8 in Brooklyn, and due to a rainy championship Sunday, matches had to be moved to the Zerega Indoor Handball Courts.
Because of the limited court space, many of the finals will be played later this week. The Pro Doubles division was able to finish, playing the semifinals and final.  Tywan Cook and Victor LoPierre defeated William Polanco and Allan Sanchez 21-10, 21-14. 
Brothers Tyree and Jurrell Bastidas will face off in the Pro Singles final this Saturday at 1:00 p.m. (Eastern).
In Pro Singles semifinal action (which began outdoors at Coney Island), Tyree stopped Killian Carroll's march through the draw with a 21-8, 21-16 victory.  This was Carroll's second consecutive trip to the One-Wall semis.  
In the other semifinals, Jurrell overcame a game-one blowout to outlast defending champion Tywan Cook in a tiebreaker, 5-21, 21-13, 11-5. 
The remaining matches will be finished this week.  See the upcoming upcoming finals schedule. 
August 12, Thursday 3:30 p.m.
40 Doubles final: Joe Kaplan/ Jai Ragoo vs Robert Sostre/ Emilio Sierra
August 13, Friday 3:30 p.m.
40 Singles final:  Joe Kaplan vs Jai Ragoo
August 14, Saturday
9:00 a.m.
50 Singles final: Andy Rousseau vs Richard Mascia
11:00 a.m.
50 Doubles final: Andy Rousseau/ Jared Vale vs Tony Roberts/ George Figueroa
1:00 p.m.
Pro Singles final: Tyree Bastidas vs Jurell Bastidas