72nd USHA Three-Wall Nationals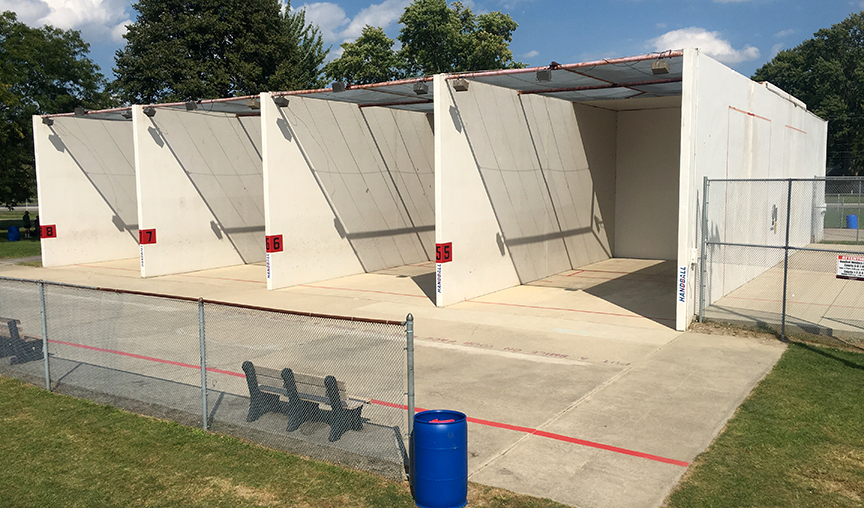 MAUMEE, Ohio — Another fantastic year of the USHA Three-Wall Nationals concluded Monday morning on a hot and sunny day. The weather was great all week, and players were treated to a tremendous number of entertaining matches. Sean Lenning and Danielle Daskalakis played immaculate all weekend, adding to their three-wall open singles title count. Tywan Cook wowed the crowd in his one-wall singles final performance over Nazir Marston as we welcomed several new one-wall players to the tournament. Several age divisions had incredible matches and came down to the last few points. It was an all-around exciting week of handball!
Lenning reminded everyone of his greatness when he won his astonishing fourteenth national three-wall open singles title in front of a pack crowd at the George D. Miller Handball Courts. Lenning squared off with Luis Cordova, who has been as good as anyone on the three-wall court over the last year, including beating Lenning a few months earlier in Kansas City. 
Lenning came out firing and built a big lead in game one, but Cordova refused to give up. He made Lenning earn every point and seemed to tire his opponent with each rally. Lenning finally closed out game one 21-11. Game two was similar to the first, with Lenning sustaining a lead the whole way through, but Cordova was making it difficult for Lenning to cross the finish line. On the rally for match point, while running backwards, Lenning flipped the ball up to the ceiling with enough power on it to go over the head of Cordova, giving him the title. It was shot that maybe only Lenning could pull off, something we've come accustomed to the past several years. 
Cordova was able to bounce back in the open doubles final, teaming with his brother Daniel to defeat the reigning champions of Sam Esser and Shorty Ruiz. After dropping game one by a point, the Cordovas controlled the second and third game, never allowing their opponents into the match. 
Danielle Daskalakis regained her Women's Three-Wall Open Singles title after taking last year off. Daskalakis overcame Megan Dorneker, who was coming off an impressive victory over defending champion Ashley Ruiz. Daskalakis was equally impressive in her semifinal over Mikaila Esser, which saw both players play an exceptional, hard-fought match. 
Daskalakis was flawless in the final, as she was nearly all weekend. Her serves were filled with power and hop and when she earned a setup, she put it down. Dorneker, who has a very strong out the door serve herself, could never get into the match. A long match point for Daskalakis ended with a perfect left-handed pass down the right sidewall, a fitting end to an undefeated weekend across three divisions for Daskalakis. She held Dorneker to just 15 total points in the final match. Daskalakis success across different disciplines of handball is nearly unrivaled, as she boasts open singles titles on the one-wall, three-wall, and four-wall court!
Daskalakis later teamed up with Sandy Ng to win the Women's Open Doubles division in both the three-wall, and the one-wall division. The three-wall victory came over back-to-back defending champions Mikaila Esser and Ashley Ruiz. Ng and Daskalakis played steady in both games and were able to hit their shots when it mattered most, winning 21-17 and 21-20. 
In their One-Wall Open Doubles final, Daskalakis and Ng took out Beebee Miranda and Melissa Sky in two straight games. 
Tywan Cook and Nazir Marston played the one-wall big ball singles final in front of a crowd filled with three-wall players who were amazed by their talent. After winning the first game, Cook rallied back from a 9-14 deficit in game two to win 15-14 and earn the title. Marston and Cook later teamed up to win the one-wall big ball doubles final over Mikey Mendoza and Los Pena in a thrilling tiebreaker. 
A big thank you to all of the players who came out to support the tournament. The tournament always has a family reunion feel to it, and that's because of the players who come year after year. Thank you to Richie Vera and the Castle Hill Handball Club for running the One-Wall events, which was a big success this year, including the Fun Division that allowed many three-wall players to try one-wall. 
Lastly, thank you to the Toledo Handball Club for all of their hard work in preparing and running this tournament. The members of the club work nonstop to make sure everyone has a great time. It's a lot of long days, and a tireless job, but their work does not go unnoticed, as they continue to put on the best tournament of the year. 
Check out all of the latest National Champions and this year's results HERE. 
____________________________________________________________________________________________________
MAUMEE, Ohio — Saturday was the busiest day of the tournament, and the courts were filled all day with what seemed to be a record amount of tiebreakers.
The Men's final is set Sunday as Sean Lenning is vying for another three-wall nationals singles title. Hoping to deny him this year is Luis Cordova, who has been one of the best three-wall players on the planet this past year.
In the first Men's Semifinal, Lenning annihilated Shorty Ruiz in two quick games and looked motivated to add to his national title collection.
In the next semifinal, Cordova was able to tame the upstart Ivan Burgos who has been on a Cinderella run this weekend.
On the women's side, play began in the quarterfinals. Danielle Daskalakis, Ashley Ruiz, and Mikaila Esser all advanced in dominant fashion to the semifinals. Megan Dorneker also clinched a spot in the semis, outlasting Sandy Ng in a tiebreaker and avenging her loss last year to Ng.
Ruiz will take on Dornerker and Daskalakis will face off with Esser on Sunday.
Several age divisions finished up their singles draw and many national champions were crowned. Check out all of the results HERE. 
Another highlight on the day was a presentation of two prestegious awards and accomplishments.
First, Rich Goosmann was honored with the USHA volunteer of the year award. Goosmann has been a tremendous ambassador of our game for many years, and continues to do so each year. He has promoted the game in Ohio and has hosted several tournaments, making each one better than the last. 
Next, Michigan's Rick Graham was honored with his Grand Master sweater, given to players who have won 10 age division national titles. Graham was quick to thank his former parnters, and most of all his family for supporting him. Graham also has a chance to add another national title this weekend in the 75 doubles. See him below as he addresses the crowd with some of his family members behind him.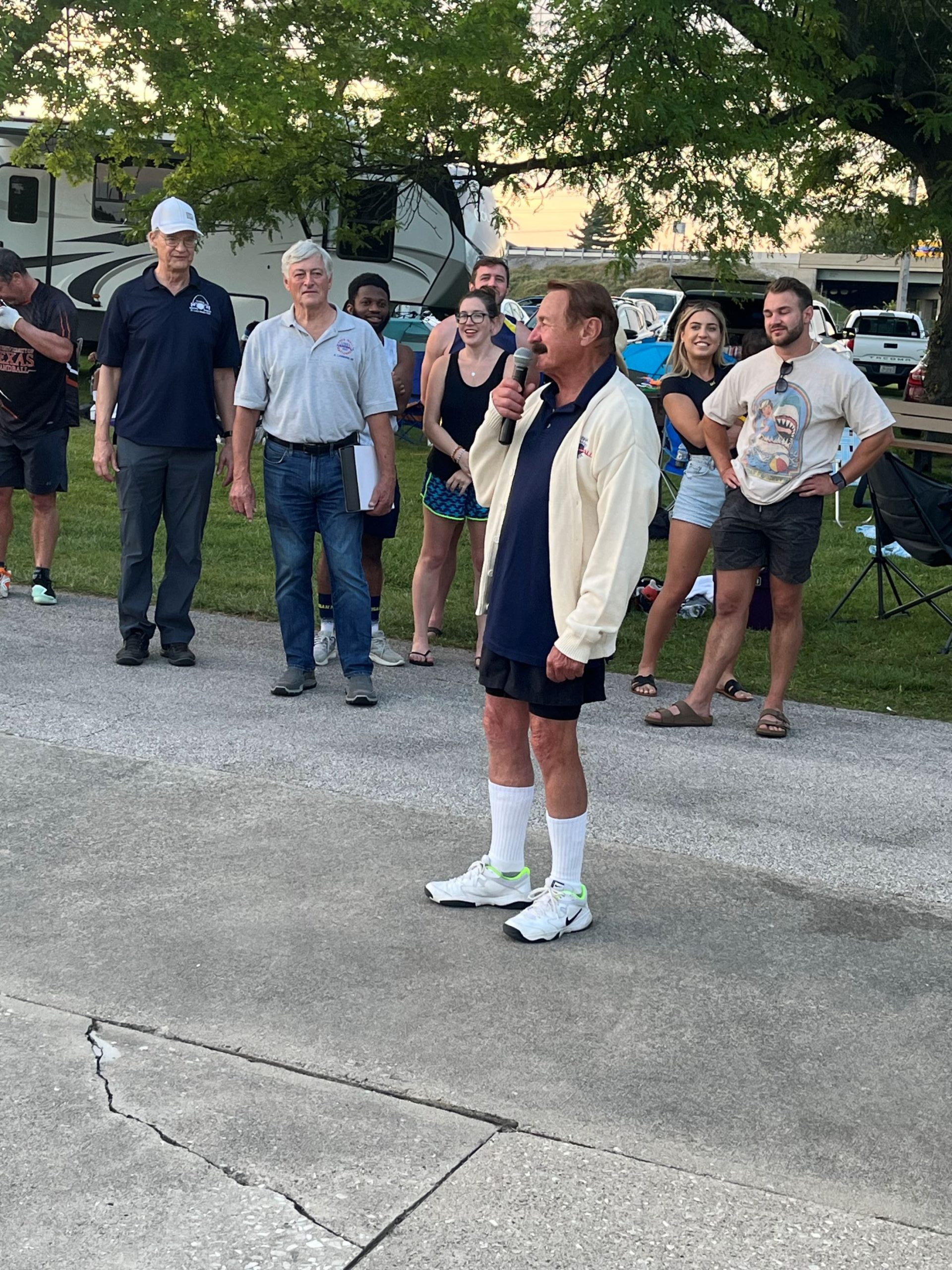 __________________________________________________________________________
MAUMEE, Ohio — The 2023 USHA Three-Wall Nationals kicked off on Thursday at the Geroge D. Miller Handball Courts at the Lucas County Rec Center. The weather couldn't of been any better, and the Toledo Handball Club's famous hospitality was on full display. The tournament always have a family reunion feel to it, and player's enjoyed catching up with friends. 
Nearly all of the singles divisions began, and the spectators were treated to some great matches. The Men's A Singles was the most exciting division of the day, and almost every match came down to the wire. 
In the Men's Open division, nearly all of the top seeds advanced, setting up some exciting quarterfinal matches tomorrow that will include the likes of Sean Lenning, Luis Cordova, Daniel Cordova, and Shorty Ruiz. The Women's Open division will begin Saturday. 
Follow along with the updated brackets HERE.
____________________________________________________________________________
The 2023 USHA Three-Wall Nationals are here! Players and spectators will soon be making their way to the George D. Miller Handball Courts at the Lucas County Rec Center. 
Draws and start times have been made available on the R2sports tournament website. View them HERE, and please know these are tentative, so check them each day leading up to the event. 
We are appreciative of the new players making their first trip to Toledo.  We hope you love it and tell your handball friends what they missed back home. 
We're also excited to work in partnership with the Castle Hill Handball Club for our Wallball Divisions, which include a NEW fun "Mixed Doubles" event.
All three-wall matches will be: Two games to 21 with a third 11-point tiebreaker, if necessary.
Wallball matches only: Rally scoring. Two games to 15 with a third 11-point tiebreaker, if necessary.
Continue to check this page for updates from the tournament. Good luck to all of our participants!