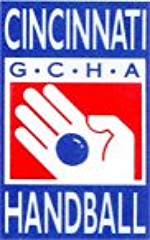 June 10-11 (Keep the 9th open as well).
Hosted at Veterans Park: 6321 Harrison Avenue, Cincinnati, OH 45247.
Find much more information (including on how to sign up) HERE
ARE YOU BRINGING THE PROS BACK TO PLAY AND TO TEACH ?
        Yes, we are planning to bring the pros back, details forthcoming as schedules are being checked.  Once again we are going to provide FREE training (whether or not you play in the tournament ! ) on Friday afternoon June 9th from 4:30 – 6:30.  This FREE training is sponsored by the GCHA (Greater Cincinnati Handball Association !!).
WILL THE PROS BE PLAYING IN THE TOURNAMENT ?
        Yes !!  The will be playing and we will attempt to get them playing as many of the participants as they can manage.  They do not even know who their doubles partner will be !!
WE have a DEFINITE cutoff number that we are dealing with so don't wait too long before you enter
Bob, today after I send in my entry what do I do for the next 104 days ???
        Answer – SUPPORT HANDBALL !!   There are great tournaments coming up !!  There is a Masters Doubles 3 Wall tournament in Tucson March 17th.  THIS IS A GREAT TOURNAMENT !!!!
Check out R2 sports for other upcoming events.  (OUR TOURNAMENT IS NOT ON R2)