Hall of Fame Grand Masters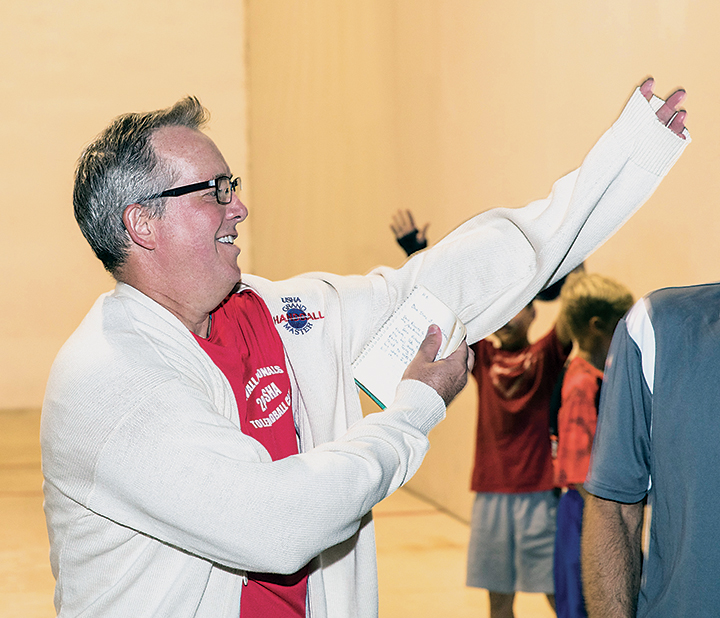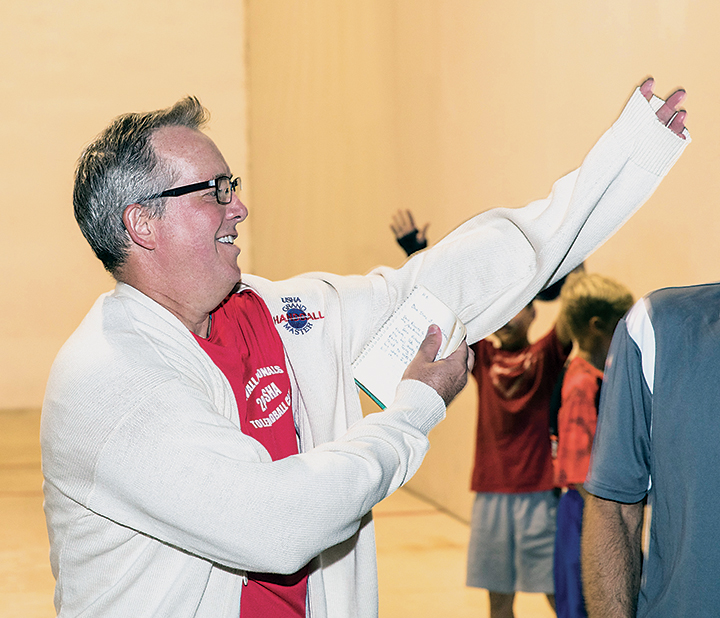 Matt Osburn receives his Grand Master Sweater at the 66th USHA National Three-Wall Championships.
The coveted United States Handball Association Grand Master Sweater.
Every handballer dreams of winning 10 Masters titles and accepting the Sweater. The following is a list of great players who have won at least 10 National Masters titles in USHA one-wall, three-wall, or four-wall play.
Max Lasskow, Tom Natale, Tom Schoendorf, Al Torres, Artie Reyer, Joe McDonald, Arnie Aguilar, Ron Emberg, Pat Kirby, Neal Manning, Larry Kotal, Irv Simon, Dell Mora, Ken Schneider, Mike Dikman, Joe Joiner, Mike Dunne, Don Chamberlin, Jim Golden, Al Bostrom, Rudy Stadlberger, Ray Barrett, Vic Hershkowitz, Dan Maroney, Skip McDowell, Lee Shinn, Dave Rott, Ben Glenner, Sol Aber, Ed Grossenbacher, John Blair, Joe Danilczyk, Gus Lewis, Rosemary Bellini, Vern Roberts, Alvis Grant, Mike Meltzer, Mike Dunne Jr., Norm Young, Ernie Virgili, Dave Dohman, Jerry Cronin, Alan Sherrill, Graham Palmore, Kevan DelGrande, David Steinberg, Bob Nedd, Sonny Schaefer, Rich Dunne, Doug Glatt, Charlie Wicker, Roger Berry, George Miller, Dave Morones, Jon Charneskey, Chris Roberts, Bob Harris, Gary Rohrer, Max Forcht, Tom Vitale, Mike Driscoll, Greg Raya, Alan Frank, Peter Service, Vance McInnis, Mike Panko, Jim Barnett, Joe Agosto, Dan Zimet, Glenn Carden, Tim Sterrett, Jim Smith, Mark Zamora, Danny Carrillo, Tom Fitzwater, Jim Economides, Fred Chapman, Ray Estevez, John Robles, Rod Gaspar, Marc Penick, Ben Marguglio, Steve Kraft, Phil Kirk, Merv Deckert, Jim Corrigan, Matt Osburn, Joe Lenhardt, Lew Buckingham, Chris Watkins, Ed Campbell, Dan Flickstein, Bob Braine, George Figueroa, Lloyd Garcia, William Cervantes, Ron Cole, Shane Conneely, James Karner, Gary Scogin, Kendell Lewis, Thomas Valenzuela, Bobby Nicholas, Tony Roberts, Vince San Angelo, Rick Graham