72nd USHA Four-Wall Nationals & World Handball Invitational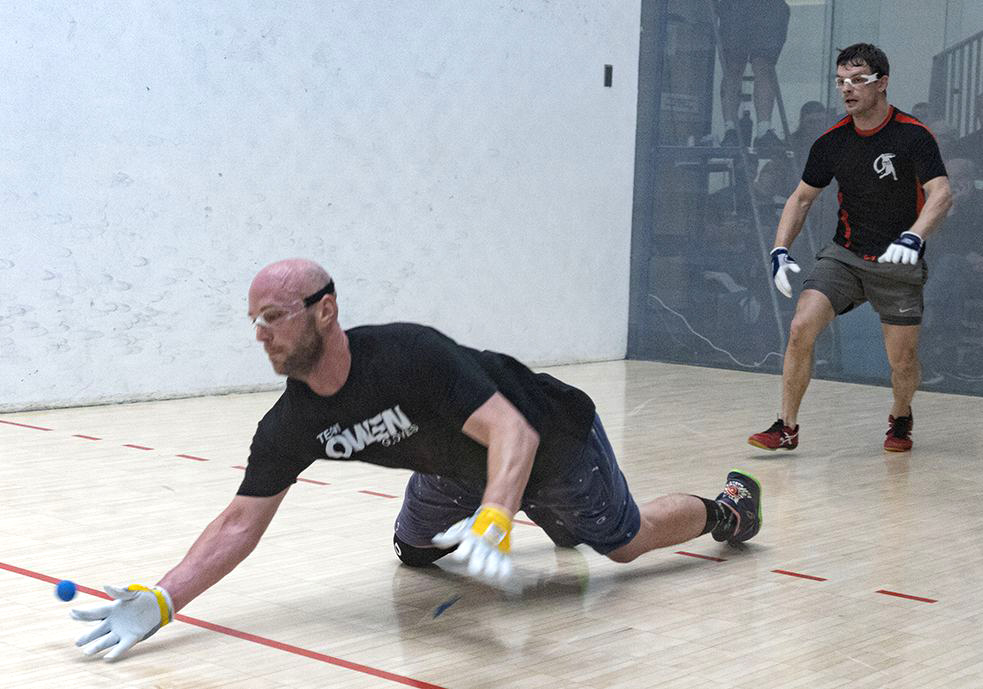 MINNEAPOLIS – For the third consecutive year, there will be a new USHA Men's Open Singles champion.  In the first semifinal and rematch of last year's final, Martin Mulkerrins delivered a dominant performance against Diarmaid Nash. A tiebreaker determined last year's outcome, but with determined focus, the stoic Mulkerrins never allowed Nash into the match. The defending champion made a late push in the second game, but that effort was countered with Mulkerrins' crisp shots that rocketed off the Rec and Wellness Center's concrete walls for a 21-8, 21-14 victory.  
In the remaining semifinal, Sean Lenning put on an equally impressive performance against defending World Champion Killian Carroll. In their last meeting in the WPH Player's Championship, Carroll bested his opponent in a tiebreaker. This time around, Lenning knew a strong start would be needed to keep the speedy Carroll on his heels.  With a capacity crowd in attendance, Lenning sprayed an array of amazing shots from the unlikeliest places and from impossible angles all on the court—something fans have enjoyed watching for over two decades.  But Carroll seemed poised to force a third game in the second, staying close with Lenning, only trailing 18-16. A sense of urgency began pushing each serve and return from Lenning, not wanting to face his dangerous opponent in a tiebreaker for the second consecutive tournament, winning in two games, 21-7, 21-17.  
Lenning and Mulkerrins will play for the Men's National and World title, Sunday at 11 am Central following the Women's final between Catriona Casey and Fiona Tulle (played at 10 am).  Matches will be streamed live at the USHA's YouTube Channel.   
Saturday evening closed with the USHA Nationals Banquet in the Pinnacle Ballroom of The Graduate Minneapolis. The event celebrated USHA Hall of Fame Inductee Lisa Fraser-Gilmore and Minnesota State Handball Hall of Fame Inductees, Mitchell Lallier, Pete Crouser and Matt Hiber.  The MSHA inductees shared their love of the game and the stories that fueled their paths to distinction.  The night closed with Fraser-Gilmore's long-awaited Hall of Fame Ceremony. In her acceptance speech, Fraser-Gilmore thanked her opponents who challenged, pushed and encouraged her over the years. Those same opponents also became longtime friends.  To close, the first-ever Canadian inductee shared that her "heart was full" and invited her family to share the stage with her.   
Wallball matches began yesterday at nearby Clayland Park, Minnesota's newest outdoor one-wall courts.  
See today's updated results HERE.
__________________________________________________________
MINNEAPOLIS — Over 270 players will be competing in The 72nd USHA Four-Wall Nationals and World Handball Invitational at the Minnesota University Recreation and Wellness Center. Play begins Thursday morning and will conclude with doubles finals on Monday morning. 
This event will be for a World Championship in the Four-Wall and Wallball Open Singles and Doubles events. You can read the Press Release from the World Handball Council and USHA HERE.
Start times and draws will be posted early next week, and you can view them HERE. Please remember these are subject to change, and you should continue to check your start time to make sure it hasn't changed. 
Banquet tickets will be sold at the tournament desk. The Banquet will be Saturday night at 6pm at the Graduate Hotel. Lisa Fraser-Gilmore will have her Hall of Fame Ceremony during that time. 
Reserved seats for the show court will be sold at the tournament desk. We will be livestreaming matches on our YouTube channel for those of you who are unable to make it to the tournament.
Here is a schedule of important events at the tournament:
– Wed., May 24: Registration at Rec & Wellness Center (4-7 p.m.). Warm-up and free play from 2 p.m. until 7 p.m.
– Thurs., May 25: Play begins with singles. If you come up short, be sure to sign up for a drop-down event.
– Sat., May 27: Men's & Women's Open Singles Semifinals. Men's and Women's Wallball events begin at Clayland Park. The USHA Reception & Hall of Fame Ceremony for Lisa Fraser-Gilmore at The Graduate Pinnacle Room (6 p.m.).
-Sun. May 28: Men's and Women's Open Singles Final, Sunday afternoon. Wallball finals at 3 p.m. (subject to change).
– Mon., May 29: Men's & Women's Open Doubles Finals. All other Finals through 2 p.m.
Make sure to follow along here for daily recaps of the tournament.