68th USHA National Collegiate Handball Championships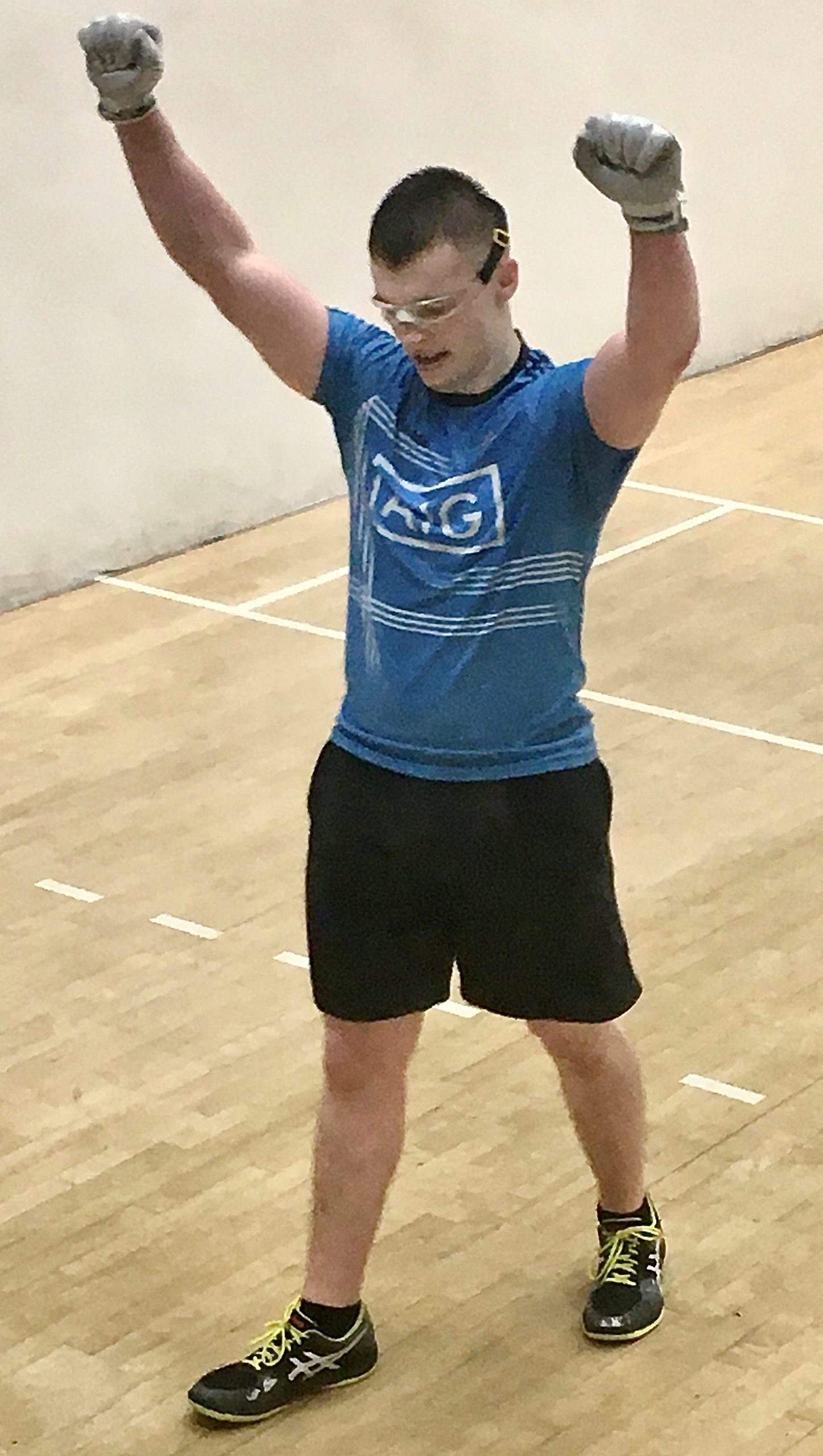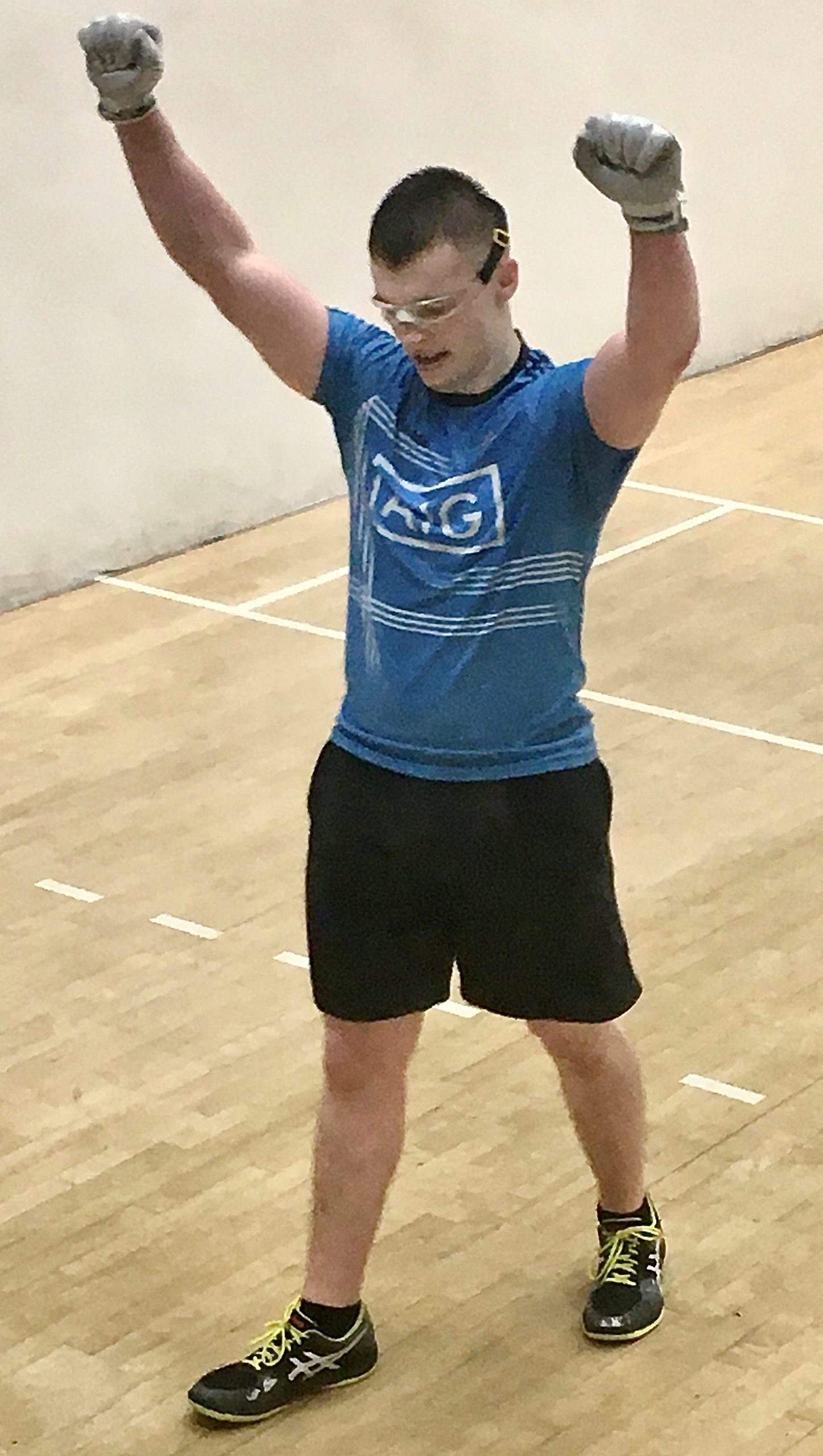 AUSTIN, Texas — The Men's Open final of the 68th USHA National Collegiate Handball Championships produced an instant classic on Sunday in University of Texas' Gregory Gym. In a momentum swinging affair, Shane Dunne of IT-Tralee willed himself to the title with an improbable comeback in the final against Galway-Mayo IT's Diarmuid Mulkerrins, winning 12-21, 21-17, 11-6. When looking at the draw, casual fans wouldn't expect the No. 6 and No. 5 seeds would reach the championship final. But both players stepped up in the biggest college handball tournament of the year.
Things didn't start smoothly for the eventual champ. Before the referee called the first score or he'd even set foot on the court, Dunne couldn't locate his eye guards leaving him scrambling for an alternative. Once he settled on a borrowed pair, he began his pregame ritual warm-up; however, that distraction may have affected his mindset once the match started.
Mulkerrins came out firing on all cylinders, comfortably zipping the ball around the court for some dazzling kills while a frustrated Dunne pressed his shots. While he prevented his opponent from running away with the game too early, Dunne's shots kept falling short, many skipping off the floor before reaching the wall. Mulkerrins capitalized on all his opportunities to close the first game with a 21-12 victory.
In the second game began, a settled Dunne began to find his grove. Now he began killing the ball from any angle, putting away the majority of the rallies and gaining confidence winning 21-17. It appeared Dunne had all the momentum going into the tiebreaker, but that wouldn't be the case.
Mulkerrins served first in the tiebreaker and quickly ran off to a 6-0 lead. After a few rally exchanges, Dunne would score his first. Getting that first point fired up the IT-Tralee standout, and he would go on to outscore his opponent 10-0 to get his first National Collegiate title.
In Women's action, Ciana Ni Churraoin (shown swinging) of Minnesota State, Mankato, defeated Fiona Tully (Dublin City) in her final Collegiate Nationals, 21-11, 21-3. Tully exacted some revenge in the Women's Open Doubles final, teaming up with partner Meadhbh Ní Dhálaig to stop Ni Churraoin and Maddie Kennedy, 21-5, 21-17.
The final match of the day was by far the most exciting. University of Limerick's duo of Fergal Coughlin and Tadgh O'Neill snagged the first game from Adam and David Walsh of Cork Institute of Technology 21-19. Team Walsh (no relation) answered big in the second game with flawless execution and teamwork winning 21-15 and setting up a tiebreaker.
With a national title at stake, the intensity on the court picked up a notch. Each team was putting extra zip on serves and making some incredible retrieves during a few long exchanges. While Coughlan and O'Neill held the opportunity to win at match point, the team from Cork IT pulled off the improbable side out and converted championship point. The Walsh's victory marked their second consecutive doubles title (2019 was also decided by tiebreaker).
See the updated results and match times on the draw links below.
The Saturday night awards banquet was an event that recognized the Most Improved Players, Spirit of Handball Winners, Sabo Scholarship recipients and the winners of the Combined, Men's and Women's Team titles.
Kouichi Saito of Pacific University and Jonathan Gutierrez of Front Range Community College were presented with the 2020 John C. Sabo Memorial Scholarships.
William Rangel-Alfaro of Angelo State and Pacific's Hannah Ramsey were the recipients of the Spirit of Handball Awards (nominated and voted by their peers), and the Most Improved Player Awards were presented to Jordan Turnquest (Colorado School of Mines) and Abby Evan (Pacific).
A very special "THANK YOU" goes to the UT Handball Team, Wayne Lee, UT Handball President Avery Shepherd and the rest of the volunteers who pulled off an amazing event.
Final Team Standings
Combined — Men's — Women's
Final Brackets

Men's
Open
Open 9-16
A1
A2
A3
B1
B2
B3
C1
C2
Men's Doubles
Women's Doubles
Men's Singles (Wednesday Matches)
Men 1-16
Men 17-32
Men 33-48
Men 49-64
Men 65-80
Men 81-96
Men 97-112
Men 113-128
Men 129-144
Women's Singles (Wednesday / Thursday Matches)
Women 1-16
Women 17-32
Women 33-48
Women 49-64
Women 65-80
Women 49-80P

Men's Singles (Thursday)
Open/A1
A1/A2
A2/A3
A3/B1
B1/B2
B2/B3
B3/C1
C1/C2
C2/C3

Women's Singles (Thursday)
Missouri State University is once again on top of the Collegiate Handball World as they captured the Men's, Women's and Combined Open team titles at the 68th USHA National Collegiate Handball Championships. Limerick University won the International team title. For the first time in recent memory, the Men's Open Singles final will feature the No. 5 an No. 6 seeds. Shane Dunne (ITT) will meet Diarmuid Mulkerrins (GMIT) in the Men's Open final. It's a finals rematch in the Women's Open Singles with Ciana Ni Churraoin (MNSU) mixing it up with Fiona Tully (DCU).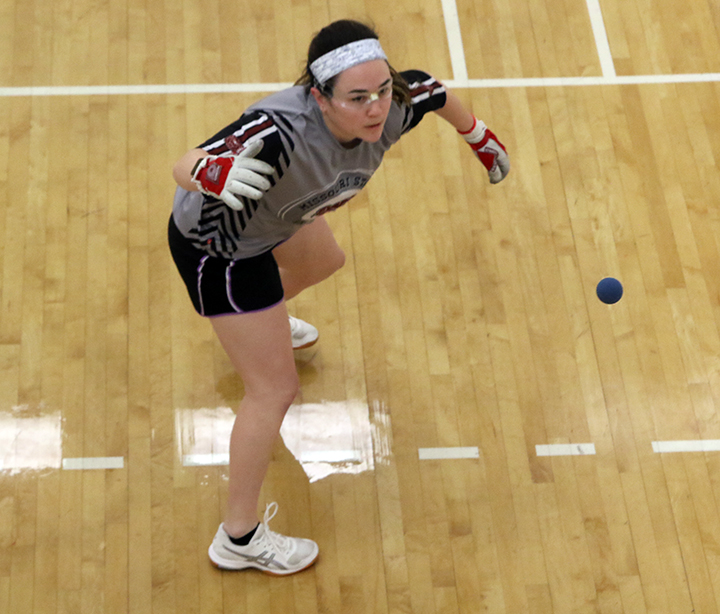 (Megan Mudd of Missouri State sets up for a shot off the back wall on Friday).
The Irish player's talent and dominance was on full display through the quarterfinals of all divisions in the 68th USHA National Collegiate Handball Championships. All four Men's Open semifinalists hailed from across the Atlantic and will playoff for a spot in Sunday's final. Fergal Coughlan (University of Limerick) faces off against Shane Dunne (IT-Tralee) in the top semifinal. In the bottom bracket, Diarmuid Mulkerrins (Galway-Mayo IT) tussles with David Walsh (Cork IT) for the second spot in the final.
In the Women's Open bracket, defending champion Ciana Ni Churraoin (Minnesota State, Mankato) meets Sinead Meagher (Limerick IT), while 2019 finalist Fiona Tully (Dublin City University) matches up against Niamh Hefferman (University of Limerick) in the other semifinal.
Doubles semifinals will be played Saturday after singles action completes.
The second day of competition at the 68th USHA National Collegiate Handball Championships brought more contested matches as players pressed on through preliminary rounds. Doubles divisions also advanced another round on Thursday (Image Courtesy of Missouri State Handball). Friday brings the first matches of the "knock out" brackets where players "win of go home" in their respective divisions. Each round players advance in the final brackets scores more points for their college team.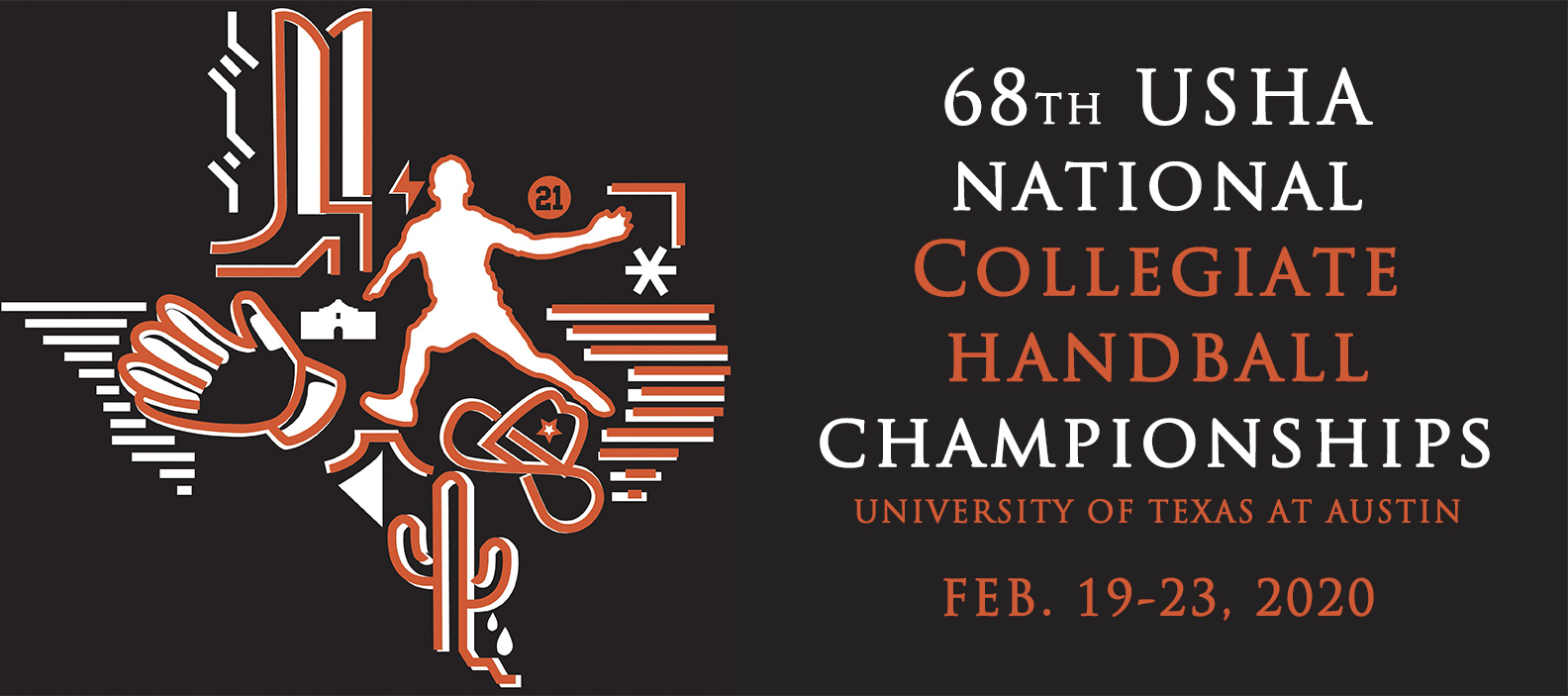 AUSTIN, Texas — Collegiate handball players representing 36 institutions from around the world stood in awe when they saw the main observation "fish bowl" court in legendary Gregory Gym.
"Everything IS always bigger in Texas!" joked one player as they checked in for the 68th USHA National Collegiate Handball Championships. No sooner had players received their hospitality package, they immediately took to the courts to practice before scheduled matches. Once official matches began, it set the tone for what promises to be a long weekend of raucous handball competition. Wednesday's matches would determine where a player would end up before points may be earned for their respective teams. First round doubles matches were also played on the first day. Click on the draws below to see the results.
2020 Entry and Eligibility
Printable entry form HERE.
Important Deadlines and Dates
Monday, February 17 – Starting Times and Draws Posted
February 19 (12 pm) – Play may begin
February 23 (12 pm) – Play ends
March 3 – All American Bios and Championship Articles due