2018 Milwaukee Handball Classic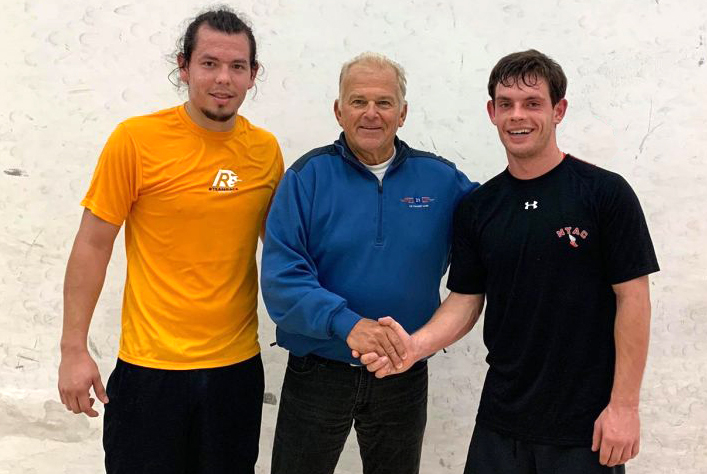 WEST ALLIS, Wisc. — On a cold Wisconsin December weekend, Killian Carroll maintained the edge that's kept him at the top of the Pro rankings for the past three years.  With the next R48Pro Stop #3 in Portland at the end of the month, the Milwaukee Classic made for an interesting preview.  Carroll stormed through the Milwaukee Classic Open draw and defeated Luis Cordova Jr. by a score of 21-4 and 21-18. 
Although Cordova pushed Carroll for a tiebreaker in the second game, the last rally of the match was a mere indicator of how Carroll mastered his opponents the entire weekend:  A four-shot exchange that ended with Carroll passing a diving Cordova down the left wall for match point.   
Milwaukee Classic Women's Open Finalists Ni Churraoin and Hilary Rushe. 
In the Women's Open division, Ciana Ni Churraoin continued her "Revenge Tour" by defeating Hilary Rushe in the final, 21-6, 21-5.  Ni Churraoin won the Women's Collegiate title in 2016 and was a 2016 USHA National Four-Wall finalist before tearing her ACL in early 2017.  As a graduate student now attending Minnesota State, Mankato, Ni Churraoin looked unstoppable all weekend. 
In the Men's Doubles, Sean Lenning and Vic Perez outlasted Daniel and Luis Cordova in an exciting final, 21-14, 12-21, 11-6. 
"What makes The Classic so great is the players that continue to come every year and create a lot of camaraderie." said Tournament Director Charlie Keller. 
"The opportunity to watch the college kids each year and how much they improve over the years. Reminiscing about previous years is always interesting."

The Milwaukee Handball Classic has become the region's premier event hosted by the Wisconsin Athletic Club.  The Classic enjoyed another fabulous turnout with nearly 200 players entered, including some of the country's best handball talent with prize money awarded in both the Open Singles and Doubles events as well as the Women's Open. 
"This is outstanding!" Keller proclaimed.  "Almost 80 collegiate players entered along with a few high school players.  It's great to see so many young kids playing and filling up the draws.  Every division is full."
Those college participants included a couple of new players from the nearby University of Wisconsin-Milwaukee. 
Congratulations to Jeff Werstein, Charlie Keller and the Milwaukee Classic crew who hosted another great event with tremendous hospitality! 
See the 2018 Milwaukee Classic final results on the tournament's r2sports page HERE.
Photos provided by Kyra Vidas.