2017 USHA Hall of Fame and Women's Classic
TUCSON, Ariz. — Tracy Davis and David Fink come up big at Hall of Fame & Women's Classic.  The former Women's Classic champ Davis took back the Classic title over defending champ Jennifer Schmitt in two games.  On the Men's side, Fink repeated his win over Sean Lenning in singles and teamed with Braulio Ruiz to take the doubles over Lenning and Dylan Key.
Davis made a statement in the first game, utilizing her power serve with relentless precision that kept the experienced Schmitt on her heals.  While Schmitt adjusted to the speed, she couldn't mount a comeback bid losing 21-8.  In the second, Davis once again built a big leads of 13-4 and 17-8 and appeared to be on the way to victory.  But Schmitt adjusted, hitting defensive shots which forced Davis to the back of the court and neutralized her power.  Schmitt kept chipping away at her deficit and nearly tied the score before Davis earned the side out leading 18-17.  At that point, Schmitt burned her final timeout to regroup and make a final push for a tiebreaker. 
When play resumed, Davis regained her early match form to get out of her scoring slump and score match point on a drive along the wall to the deep left which wasn't returned. 
This year's Men's Open final was a rematch from 2016; however, it didn't have the same drama as last year's contest.  In less than 30 minutes, David Fink successfully defended his Hall of Fame title, making quick work of Sean Lenning who was hampered by a left shoulder injury suffered last month.  While one-armed Lenning's heroics worked in earlier rounds, Fink refused to rally with his opponent, aggressively killing the ball and ending rallies with every opportunity. 
In the doubles final, Fink and partner Braulio Ruiz kept their foots on the gas pedal, relentlessly forcing shots to Lenning's left and serving to Lenning's partner, Dylan Key.  The young Key made several big plays and held his own with the top pros on the same court but ultimately couldn't withstand the firepower of Fink and Ruiz, falling in two games, 21-14, 21-8. 
Video replays of the Women's Classic and Men's Open finals are available on the United States Handball Association's Facebook (no audio).  
See draws and results HERE. 
Women's Classic Drop-Down Divisions:
5th Place Playoff (from Quarterfinals)

Semifinals:  Amy Gross d. Kena Byrd-Jackson, 12, 15; Donna Mosely d. Terry Bowman, 16, 13.
5th Place final:  Gross d. Mosely, 5, 16.
7th Pace final:  Bowman d. Byrd-Jackson, (11), 20, 7.
A Singles (9th Place Playoff from Round of 16)

Quarterfinals:  Dimas, BYE; Sojourner d. Camacho, 14, 15; Della Croce d. Smith, (16), 12, 9; Valdillez d. Norenberg, 13, 1.
Semifinals:  Dimas d. Sojourner, 6, 3; Valdillez d. Della Croce, 16, 18.
Final:  Dimas d. Valdillez, 4, 4.
B Singles Consolation (from A)

Semifinals:  Camacho, BYE; Smith d. Norenberg, 1, 9.
Final:  Camacho d. Smith, 12, 14.
As if playing two matches on Saturday weren't enough, WPH's David Fink led a youth handball clinic for juniors and collegiate students at the TRC once play was finished.  A number of kids attended to learn basic fundamentals and winning strategies to improve their games. Photo courtesy of WPH. 
Players, families and fans gathered at the Hall of Fame for the annual Celebration Banquet.  People in attendance enjoyed dinner and had a chance to tour the Hall of Fame Museum.  Nathaniel Frank was given the Marty Decatur Sportsmanship Award. 
See times, draws and each day's result HERE.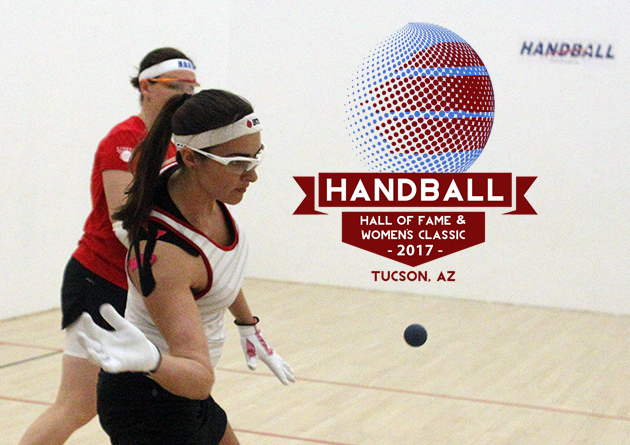 SPECIAL THANKS TO THE TREMENDOUS SUPPORT RECEIVED BY OUR TOURNAMENT SPONSORS AND SUPPORTERS: 
Fred Banfield
Charlie Wicker
Vince San Angelo
Fred Lewis
Ron Kroll
Alex Jacome
Paul Flasch
Richard Stevens
Matt Goode
Steve Hamrick
Joe Wright
Jack Herbst
Dan Wetmore
John & Carol Ross
John Stalder
Brian Wessel
Steve Sheldon
Doug Clark
Andy Onate
Carl Porter
Leo Carillo
Don Whatron
Ken Hartnett
Ron Deriana
Kam Nasser