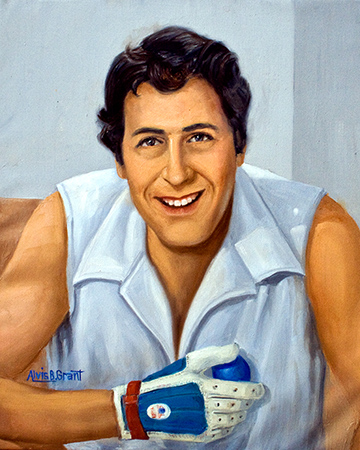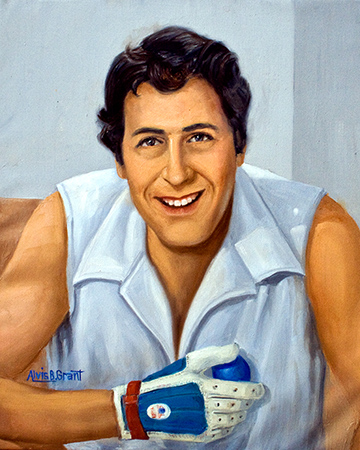 Induction: 2011
Steve August was inducted into the USHA Handball Hall of Fame in June 2011 at the 61st USHA National Four-Wall Championships in Fridley, Minn.   
In the late 60s and early 70s, Steve August was one of the most feared and successful handball players in the world. To this day, his power is unmatched. Over a seven year span, August won four National titles in 3 & 4-wall, three singles and one doubles title, and finished second 26 times in National, Worlds, and Three-Wall (Singles and Doubles). During that span, August won five National titles (Junior Singles, Collegiate Singles, Three-Wall Singles and a National Masters Doubles).
In the midst of the "Golden Age of Handball," an era when the greatest concentration of all-time greats were competing, beginning with Jim Jacobs and ending with Naty Alvarado, along with Paul Haber, Fred Lewis, Stuffy Singer, Terry Muck, Lou Russo, Marty Decatur, Dave Graybill, Gordy Pfeifer and Bill Yambrick, he more than held his own with this group of elite players.
August's natural overhand power game spelled trouble for his opponents, especially when faced on the three-wall courts at Detroit's Palmer Park. August developed an incredibly effective power z-serve that crossed the short-line by only by inches and then dropped quickly as it rebounded off the third wall. 
Although he was an original member of the "Super Eight" pro series, August's handball career was short-lived compared to others. In 1973, he retired from handball to pursue his medical career, becoming one of the most respected and successful ophthalmic surgeons in the country, ascending the Chief of Staff and the Daniel Freeman Marina Hospital. 
USHA National Titles (including junior, collegiate and masters)
1961: Junior Four-Wall 19-Under Singles
1963: Collegiate Open Singles
1964: Collegiate Open Singles
1970: Three-Wall Open Singles
1986: Masters Doubles

"During the late sixties and early seventies, arguably Handball's "Golden Era," Steve beat everyone within that elite group which included: Pfeifer, Haber, Muck, Russo, Decatur, Lewis and Alvarado. There was no one in that group that was feared more than Steve, for when he was on his game; his strengths were more than what we could deal with." – Stuffy Singer, Hall of Fame, 1994