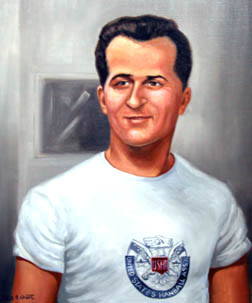 Gus Lewis, 1918-1998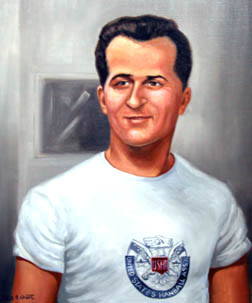 Induction: 1961
1947 Four-Wall Singles Champion
1948 Four-Wall Singles Champion
1949 Four-Wall Doubles Champion
1954 Three-Wall Doubles Champion
1955 Three-Wall Doubles Champion
Lewis took advantage of his background as an acrobatic dancer to become a national singles champion in 1947 and 1948. His speed afoot gained him the nickname "Lightning Gus." He is considered one of the very best retrievers of all time and his all-around game was a delight to watch.
Originally from of Buffalo, N.Y., Gus later played in the Los Angeles area, and then moved to Chicago, where he tutored many great national champions, including Johnny Sloan, Jim Jacobs and Paul Haber.
After Gus' Open singles days were over, he compiled an outstanding Masters doubles record with Ken Schneider.