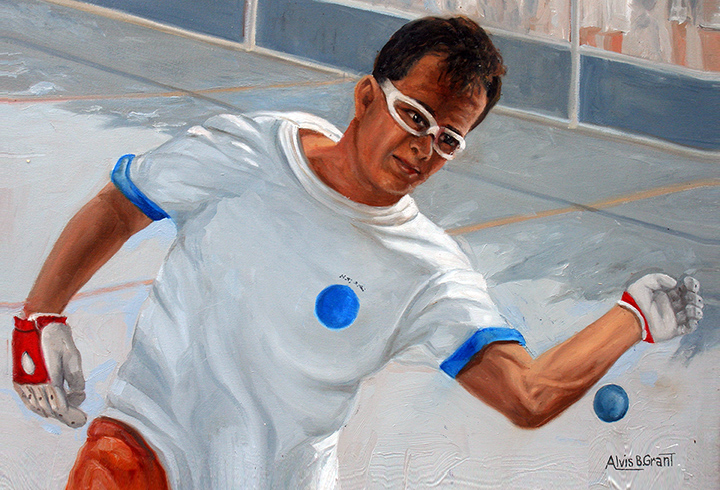 Albert Apuzzi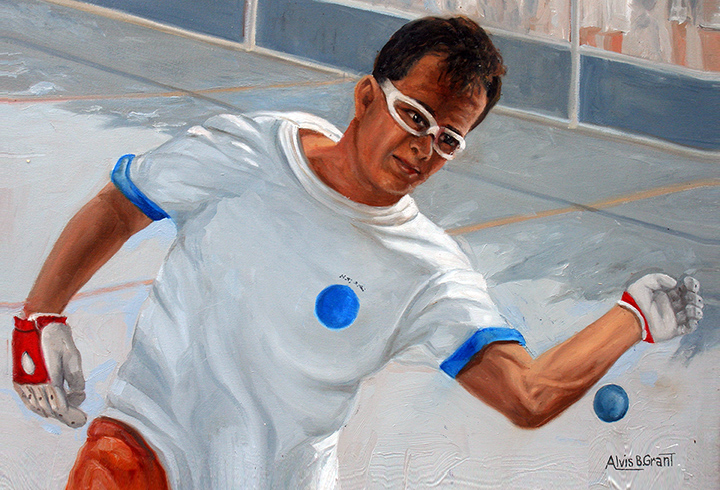 Induction: 2002*
*Albert Apuzzi was inducted into the Handball Hall of Fame in 2002. Not a fan of fanfare and still trying to compete at the Open level, Apuzzi asked to hold off on any formal induction. Though Albert's still trying to compete, the time has come for him to receive his honor and the Annual ICHA Dinner late in 2011. 
1986 One-Wall Singles Champion
1993 One-Wall Singles Champion
1983 One-Wall Doubles Champion
1984 One-Wall Doubles Champion
1985 One-Wall Doubles Champion
1986 One-Wall Doubles Champion
1987 One-Wall Doubles Champion
1988 One-Wall Doubles Champion
1989 One-Wall Doubles Champion
1992 One-Wall Doubles Champion
1985 Indoor One-Wall Doubles Champion
By Dan Flickstein
"In addition to displaying complete sportsmanship on the court at all times, he is a national handball champion many times over. He is alone in the record book as the player who has the greatest number of USHA one-wall national doubles titles with nine." Eric Klarman penned these words in 1993 to Gino DePasquale, Handball Chairman of the renowned New York Athletic Club. They clearly and fittingly described Albert Apuzzi, who was a topflight one-waller for nearly two decades.
Yet his accomplishments and persona have somehow remained mostly anonymous. There are obvious factors which have contributed to Apuzzi's lack of notoriety, least of which is the almost mute intensity with which he competes. Unlike his former doubles partner, Joe Durso, whose flamboyant style and disruptive temperament tab him both fabulous and eccentric, Albert's business-like approach and equanimity are always in evidence. He and Durso are perfect foils to one another. Durso's explosions buried Albert's taciturnity deeper than it actually is.
Moreover, it had been Durso, not Apuzzi, who was approached by various publications for opinions, quotes, and lifestyle interviews. Inconspicuously, Apuzzi, during his years of competition, established a remarkable set of data, including the most consecutive USHA National Doubles Titles (7). Moreover, it was surgery to Albert's axillary artery, during which a blood clot was removed from his right arm that ended his doubles streak in 1990, not defeat on the court of play.
The condition first surfaced in 1986, when in his championship match against Golden, Albert "only wanted to end the rallies" because of the pain he was feeling.  Although Albert won the singles and doubles crowns that year, downing Durso in the semis and Golden in the final, his arm was "never the same again." In April 1990, the pain grew severe enough for Albert to consult a physician. The clot had been caused, he was told, by "continuous, strenuous, repetitive movement," probably owing to "playing too much." According to Albert, he was playing up to 40 hours a week. Arterioplasty was performed in addition to surgery, and Apuzzi was instructed not to play handball ever again. Thus, his doubles streak ended at seven when he bowed out of the 1990 One-Wall Nationals.
But in 1991, he rebounded, playing lightly without pain. Despite the "career ending" surgery, Albert and Ed Golden remained the team to beat in doubles and his singles game was still good enough to win any tournament he entered.
Albert's talent was always so obvious.  Albert recalls: "I wasn't even good enough to make the starting team at Canarsie High School in Brooklyn. I didn't even play handball in junior high despite the fact that they had a team. I forgot to go to the tryouts.  But I did get to play in high school. I used to substitute for either one of the two guys who had jobs and couldn't make games.  I was terrible. I had no left. I played with my right backhand. I didn't even want to wear gloves. Canarsie's best player, Neal Bocian, who became a USHA Doubles Champion several years after graduation, once returned to Canarsie and watched me play. He advised me to take up golf. That was in 1972."
It's a good thing that Albert didn't heed the advice. Working his way up the competition levels, Albert became "addicted to winning." In 1979, Albert savored one of the most succulent victories of his career when he knocked out aforementioned Bocian in three, tough games, not 18 holes!
Apuzzi has several other wonderful memories of his illustrious days of handball: "I knew I had gotten good when Durso and I beat Reyer and Ulbrich in the final of the USHA Nationals at Castle Hill in 1983. In 1980, I won a very difficult round robin in Coney Island. I beat just about everyone who was good at that time, including a fairly easy win over Durso in the final. Certainly beating the Oberts' doubles record and then breaking my own record were great. And I guess I'd have to say beating Durso in the semis and Golden in the final of '86 are among my all-time favorite moments."
While Albert was at the top of the one-wall world, he also became more than proficient at three- and four-wall, winning numerous doubles. Albert's joined the Hall as a player, but he's been a promoter of the sport as well. Apuzzi has helped run and organize numerous events, served on the one-wall committee, and been involved in improving the rules and refereeing at tournaments.
In 1990, local one-waller, Ben Brettner, wrote it simply, yet eloquently: "Albert Apuzzi is one of the sport's nicest people, and also one of its best performers. The phrase, 'nice guys finish last,' doesn't apply to him."