Houston R48 Pro & State Doubles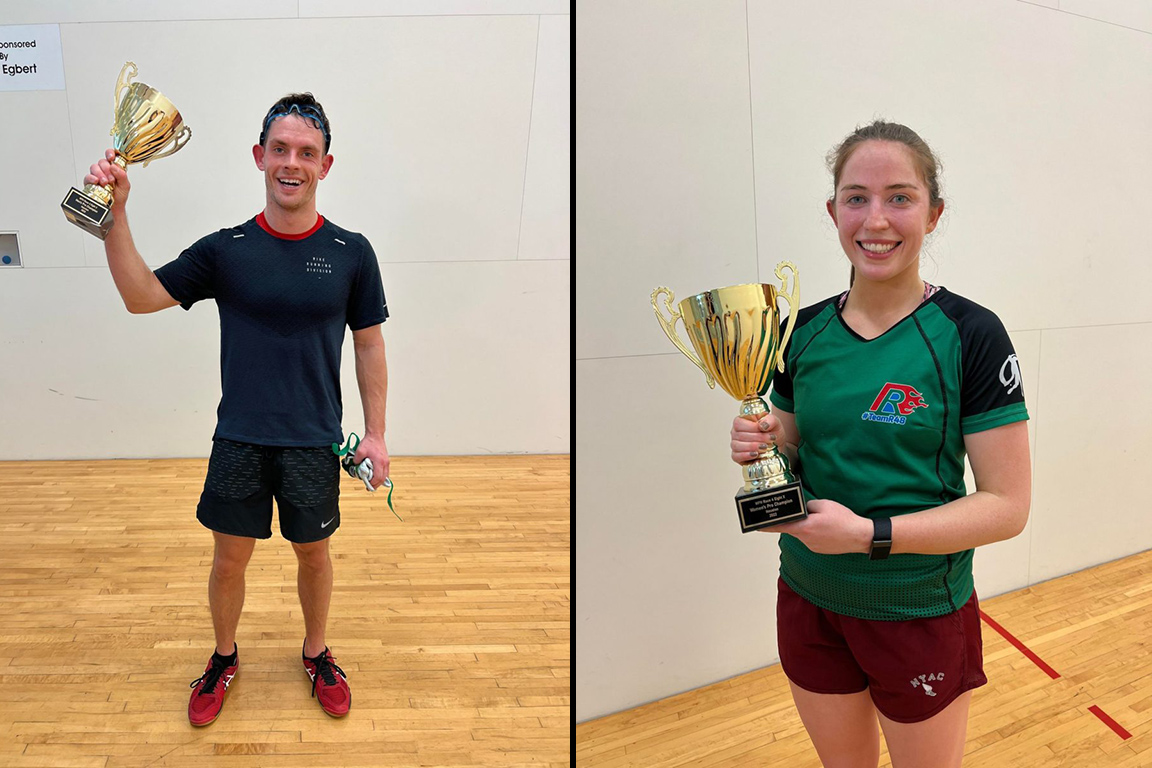 Complete WPH tournament report and coverage HERE.
All images and content courtesy of WPH.

Men's R48Pro Final: Carroll vs. Nash
Final: Carroll vs. Nash
Killian Carroll entered Sunday's Houston final riding a five-tournament Race 4 Eight win streak and seeking his nineteenth Race 4 Eight final. Diarmaid Nash entered his second Race 4 Eight final in search of his first R48 title against his junior and Irish Senior rival. "I suppose in Ireland I was sick of playing Killian because we met in every tournament but we haven't played much since so I'm looking forward to playing him," stated Nash. Killian is a dog and gives it 120%, so I hope to play my best ever match and come out on top."
Killian Carroll picked up where he left off on Saturday, dominating the action en route to a seven-minute, 15-1 first game win. Nash changed his approach in game two, slowing the game down with a lob serve and changing the momentum of the match. "This is what Diarmaid always does against me, he plays me," stated Carroll after the match. "I was used to playing the ball low and hard and he slowed the game down and I made a lot of errors and he waited for his opportunities and took advantage."
The tiebreaker started with six consecutive side outs, as neither player was able to seize the momentum. With the score tied at seven, Carroll switched to his right-handed serve for the first time in the match and rediscovered the game that carried him to the first game lead. "I'm chasing Catriona now," stated Carroll after his nineteenth R48 title. "She has 21 and I'm just trying to keep up with her."
Final: Carroll d. Nash, 15-1, 11-15, 15-7.
Playoffs

5th place playoff: Esser vs. Canales

Sam Esser and Leo Canales continued their rivalry in the fifth place final, with Esser taking their last encounter in the fifth place playoffs at the R48 January Classic. Canales led 19-14 and 22-18 but Esser found his back wall kill, scoring the final seven points of the match to take fifth place for the second consecutive event. "Leo and Killian are the two fastest guys on the tour, so it's not easy to put the ball down," stated Esser. "I feel like I was skipping my back wall shots by an inch early in the match, but I found my kills just in time."
Final: Esser d. Canales 25-22.
9th place playoff: Ruiz vs. Montijo
Tucson rivals played a classic ninth place final, with Ruiz racing to a 14-2 lead before narrowly leading at the half, 15-14. "When Shorty is playing like that there's not much anyone can do," stated Montijo. "I just tried to grind and stay in." Montijo changed his serve throughout the match, alternating between 2-Wall lobs, underhand lobs, power serves, and 2-Wall power serves to change the momentum. "Those slow serves just kill my momentum," Ruiz would later say. Montijo forged ahead in the second half and just crossed the finish line with both players exhausted. "Winning ninth place is a big deal and I'm proud of myself," stated Montijo. "Shorty made three dives in the last rally and there were not many easy points."

Final: Montijo d. Ruiz 25-23.
R48 Finishes
1st: Carroll
2nd: Nash
3rd: Fink/Lucho
5th: Esser
6th: Canales, Jr.
7th: Langmack/Danos
9th: Montijo
10th: Ruiz
WR48
Final: Casey vs. Tully
Catriona Casey entered Sunday's WR48 Houston final seeking her twenty-first WR48 title in her twenty-third WR48 start, while Fiona Tully was appearing in her first WR48 final in her third season on the tour.
Catriona blitzed Tully in game one, needing just five minutes to take the lead. Fiona started to demonstrate her immense talent in game two, playing close with Catriona in the first several rallies in game two. Casey pulled away, changing her serves and implementing the all-around game that has made her unstoppable since the inception of the tour. "I got here early, skipped rope, and threw the ball around, so even though I was nervous and my legs felt heavy, I got off to a good start," stated Casey. "I knew Fiona would start to play better in the second and she did. I made adjustments, just as she did, and I'm thrilled to win the title."
Final: Casey d. Tully, 15-1, 15-4.
JR WPH Clinic
JR WPH was proud to host a junior handball clinic during the 2022 Houston Race 4 Eight, teaching several youngsters how to properly swing, rally, and have fun on the court. "We have really missed having the opportunity to get kids on the court during our hiatus, and it was wonderful to see all of the smiling faces enjoying the game," stated WPH Development Director David Fink.
Thank you
Thank you to the Houston Handball Club, the Tellepsen Family YMCA, Ron Cole, Chuck Reeve, Sandy Gaitz, Jim Krepper, and the WPH staff and broadcast crew for an outstanding event in H Town.
Follow all of the brackets from the 2022 Houston Race 4 Eight HERE
David Fink
WPH Senior Writer