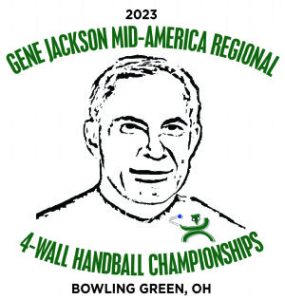 READ THIS!
What's New:
Yes, we changed the tournament dates from what was previously published. New dates are 3/31-4/2 2023.
Martin Mulkerrins, Professional Handball Player ranked #8 in the world will join us for one or more of the following activities: Exhibition Match, Handball Clinic, Play 5 points with a Pro (Details to follow)
$10 Early Registration Fee discount. It is very helpful when players enter early. (No risk – you can always get a full refund if you need to cancel any time before the tournament deadline.)
What's not new:
Same great venue as last year – Bowling Green State University.
Food throughout the tournament.
Great tournament souvenir (but not a sweatshirt this year).
Entry discounts for Juniors/College Students, Novices, and anyone who has not played in this tournament for over 3 years.
Additional Info:
Current USHA membership required (EXCEPT for Novice division) to play in this event. You may sign-up or renew your membership when you register on-line, or at the tournament desk. Free souvenir with new USHA membership.
Match format (except maybe the Novice bracket): Standard USHA tournament rules – two games to 21, tiebreaker if necessary to 11.
New to Handball? You may enter the Novice division (singles only) for a flat fee of just $40!*  To see what Handball is all about, look up "4-wall handball" on Google.  It looks easy, but it's not.  It looks like fun and it really is.  Special accommodations for Novices, including relaxed and simplified rules, softer and/or larger ball, etc.  You won't be disappointed.
Juniors (<18) and Full-time Students: Flat fee of $45 for one or two events. ($60 discount!)
If you have not played in this tournament since 2017, you may take a $15 discount when you enter this year.**
We are working on securing discounted rates for the hotels listed under Hotel above.
Please select the Info tab above for additional details.
Enter SOON!
We look forward to seeing you!