13th USHA Wallball Nationals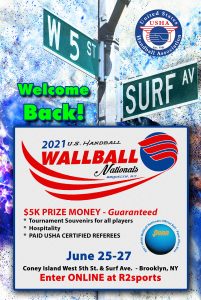 Welcome Back!  13th USHA Wallball National Championships are on!  See new reduced entry fees! 
$5,000 prize money – Guaranteed


Blue Penn Ball 

USHA Certified Referees
Free tournament souviner shirt provided to entrants

Tournament Hospitality provided for players

Entry Deadline:  June 21. No onsite entries (unless on standby).  Must register online at r2sports HERE.
Tournament Format:  One game to 25 points.  Drop-down consolation brackets offered.

Scheduling Note: The majority, or all tournament matches will be played on Saturday, June 26. This is dependent on the weather forecast and amount of player entries. If player entry exceeds the capacity, or there is rain, we hope to play preliminary rounds on Friday afternoon, with possible semifinals and finals on Sunday.
Protective Eyewear Required (eyeglasses are NOT considered protective eyewear for court sports). 
Stay Safe Handballers!