2018 World Championships & USHA Four-Wall Nationals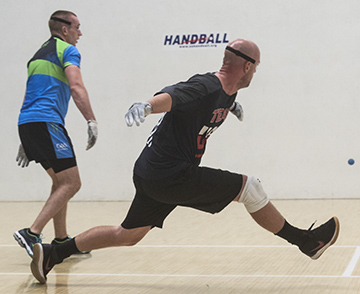 MINNEAPOLIS, Minn. — The quarterfinals of the Men's Open singles brought incredible drama to 2018 World Championships and USHA Four-Wall Nationals.  Team USA's Sean Lenning (pictured stretching for a return) pushed Ireland's Robbie McCarthy to a 19-19 tie in the first game, but the lengthy American ultimately couldn't break through, falling 21-19, 21-14. 
Killian Carroll stopped countryman Diarmaid Nash in their two-game contest, 21-14, 21-8.  Carroll faces McCarthy in Friday's first semifinal. 
Five-time defending champion Paul Brady found himself in an all-out brawl against Mexico's Luis Cordova Jr.  During a an early rally, Brady landed awkwardly and turned his ankle after taking a shot.  Things looked bleak as Brady left the court and nearly exhausted his injury time out.  After a 13-minute break, Brady returned to the court, but it was doubtful if he could continue.  Cordova seized the opportunity and built a small lead before Brady stormed back to steal the game, 21-17.  In the second, Cordova jumped to a 10-0 lead as the match appeared ready to go to a third game.  Brady responded with a 21-5 run to secure his place in the semifinal.  
He'll face Martin Mulkerrins who outlasted Colin Crehan in two tightly contested games, 21-13, 21-17. 

See the day's results, draws & future match times HERE.