A Closer Look: Randy Morones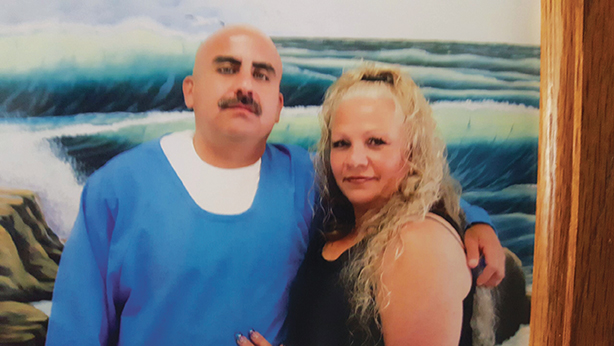 RANDY MORONES' USHA TITLES
1982: 13-under, junior nationals, Tucson
1983: 15-under, junior nationals, Burlingame, Calif.
1987: 23-under, four-wall nationals, Baltimore
1988: 19-under, junior nationals, Burlingame, Calif.
1988: Open doubles runner-up (Haynes), four-wall, Berkeley
1990: Open doubles runner-up (Haynes), four-wall, Atlanta
1993: Pro singles runner-up, four-wall nationals, Baltimore
DAVE MORONES' USHA TITLES
1985: 35+ singles, Masters Singles, Las Vegas
1986: 35+ singles, four-wall nationals, Houston
1987: 35+ singles, four-wall nationals, Baltimore
1987: 35+ singles, Masters Singles, Charlotte
1989: 40+ singles, four-wall nationals,  Palatine, Ill.
1990: 40+ singles, four-wall nationals,  Atlanta
1990: 40+ doubles (Lou Marquez), four-wall nationals, Atlanta
2002: 50+ doubles (Ken Eng), four-wall nationals, Las Vegas
2002: 50+ doubles (Ken Eng), Masters Doubles, San Diego
2005: 55+ doubles (Tim Ryan), four-wall nationals, Houston
Left: Dave and Randy Morones on August '87 Handball cover.
Tight Morones clan weathers storm
By Marc Penick
     The Morones family has experienced the joy of being consistent winners in handball. Like many of us, they have experienced downfalls and trials in life as well, particularly Randy's imprisonment.
    

If you attended or read about the Bob Harris Open this February in Las Vegas, you may have noticed the return of Dave and Bob to tournament play.

    

Bob is a longtime open-level singles and doubles player in Southern California. Yet he is arguably not the best handball player in the Morones family.

    

Bob's older brother, Dave, and Dave's son, Randy, had extraordinary careers from the 1970s through the '90s. Randy was a pro tour regular. Dave won many open singles and doubles events around the West and 10 national age-group titles as well.

    

Dave and Bob grew up in Pico Rivera, Calif., in a family of four boys and four girls. Most of the family still lives in Southern California, and they stay connected. Their father Martin died in 2016 and their mother Betty in 2015. Randy is Dave's second son.

Let's talk about your families today.
Bob: I'm married to my wife Lynn. Her sister worked at the Hacienda Heights club and introduced us. We have one son, Gary, 23. He excels in soccer and martial arts. He manages a bakery called 85 Degrees.
Dave: My wife Virginia and I have three children: Vince, Randy and Antonette. I have another son, David Jr. We have nine grandchildren: Randy, R.J., Alexis, Ryan, Jacob, Anissa, David III, Elena and Melikie.  
Randy: My wife Sofia and I were married in May 2015. Her brother Robert introduced us. We started by talking on the prison phone a little at a time. Sofia is my best friend, and she helps me stay positive while I am in here. I have two sons, Randy, 26, and R.J., 18.    

So you guys started outdoors, hitting the big ball at Smith Park in Pico Rivera?
Dave: Yes, my dad would take us to Smith Park to play three-wall. We would pick up tennis balls and shave them to use as handballs. We learned our skills playing local guys, plus guys who were released from the local jail. My dad would arrange games for us at the park. Later I met John Chavez, a fireman from Pico Rivera. He invited me to play indoors at the station. I was reluctant at first because I only knew about handball at the park.  
Bob: I was the youngest of eight kids. I started at 8 years old. We would all go to Smith Park, where we played three-wall big-ball. We played every Tuesday, Thursday, Saturday and Sunday. It was a way of life for us. Dave was the best player.
Randy: I started playing handball as a young boy when my dad would take me to the Longhorn Club. I practiced on my own for years. When I was 14, I started competing in open tournaments. I played open singles and open doubles with my dad.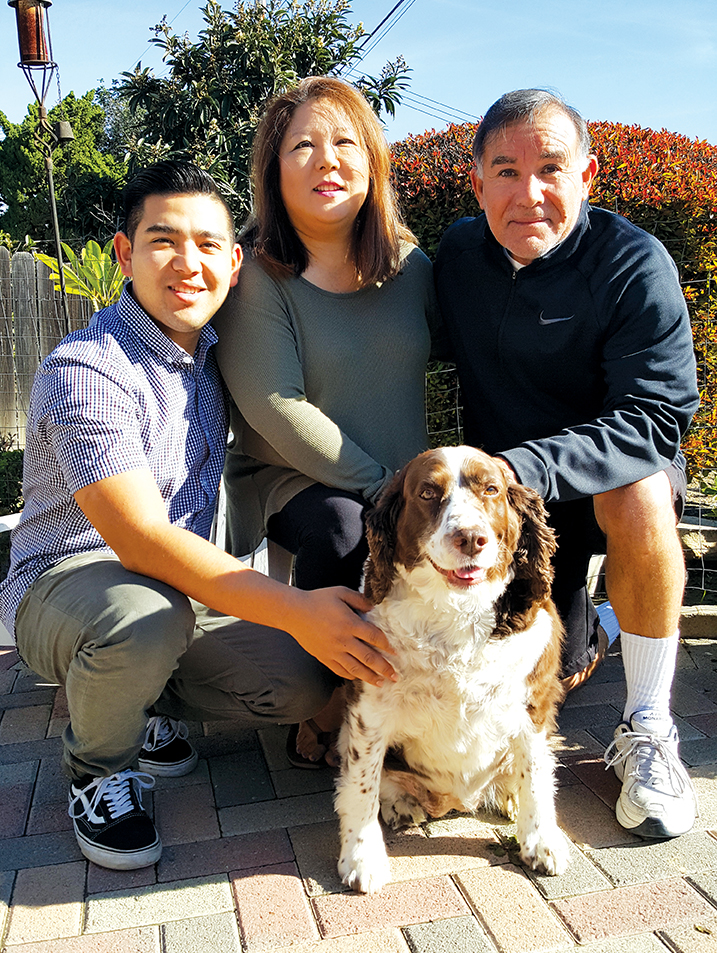 Bob Morones (right) with wife Lynn, son Gary and Maggie the dog on a sunny day last winter.
In the mid-'70s, Dave became a force in SoCal handball. From their club, he and Bob challenged the other handball hotbeds in Los Angeles.
Bob: When my brother Dave became a top player, we joined Longhorn Club in La Habra. It was a single-court club. We had two open teams, and we would challenge Long Beach Athletic Club. They had Matt Kelly, Stuffy Singer, Skip McDowell and other great players. I have played doubles with many great partners, including Poncho Monreal, Jack Hulick and my brother Dave.
Dave: Los Angeles had a lot of great players. I got to play Stuffy Singer, Paul Haber, Naty Alvarado, Jim Vandenbos and many other great players. I realized playing against such talent, you can't win all the time, but I'd try to play my best every match.  
Name some favorite tournament wins.
Bob: Poncho and I won the open tournament at Hacienda Athletic Club two years in a row. The first year we beat Doug Glatt and Larry Morefield. The next year we beat Dave and Randy in the final. Those were good wins!
Dave: Every tournament win is a great experience. One time I played Paul Haber. He was so good at ceiling balls! After losing the first game, I was determined to cut off every shot so he couldn't set up on his ceiling balls. It worked. I used to play Richard Lopez (Valenzuela) a lot as he was coming up. I remember one tournament in Whittier, Richard and I were playing in the final for prize money. He won the first game and joked about me being an old man. I won the next two games and told him, "You had the money, Richard. Next time don't get me mad." Richard is my good friend. I introduced him to his wife Donna. When I got older I started playing in age-group singles and doubles at the USHA nationals. I won 10 national titles from 1985 to 2005.   
Randy: One year my dad and I won the open doubles in Fresno. Then we had to play each other in the singles final! I made the national pro singles final in 1993 and played David Chapman, but David won. In 1990, Dennis Haynes and I played Doug Glatt and Rod Prince in the national open doubles final. They won 11-10 … we were so close! I'm sorry to hear about Dennis' passing this year. He was a very good player.
Name some Morones family handball rivals out there over your careers.  
Bob: Naty Alvarado was the greatest rival in our time … for everyone. He was the best player. There were so many other good players we competed with — Don Chamberlin, David Chapman, Doug Glatt, Jack Hulick, Matt Kelly, Skip McDowell, Lew Morales, Jim Vandenbos. L.A. is a great place to play handball.

Who was your favorite doubles partner?
Bob: Jack Hulick, Dave Morones and Poncho Monreal. Jack was the best two-handed player around. Poncho was an exceptional player. My brother Dave is so tenacious! I am more of a finesse player.
Dave: Randy, Bob, Lou Marquez, Red Gastulem. I also played doubles with David Chapman when he was young.
Randy: My dad Dave was by far my favorite partner. We always knew where each other was and who would take the shot.  

Name your favorite pro players.
Bob: Paul Haber was so good, so consistent, and he had a lot of heart. But Naty Alvarado … he was something else.
Dave: Randy was my favorite pro! I had a chance to play many of them in my day. Naty Alvarado was the best in my time.
Randy: Early in my pro career my toughest matches came from Tati Silveyra and John Bike. Later David Chapman came up, and he became the best for many years.

What are your favorite hobbies when not playing handball?  
Bob: My wife Lynn and I like to visit the local casinos. We also like to hang out with our son Gary. I am still working. I have a truck and operate a delivery service.     
Dave: I ride bicycles with my brother Martin. I talk to Randy all the time on the phone. We also enjoy camping with our grandkids. I retired a few years back.

Dave, you had a battle with colon cancer not long ago. How are you doing?
Dave: I was diagnosed with cancer in 2014. The doctors performed surgery to remove a section of my colon. It was kind of rough for a while. I lost weight and stopped playing. Now I'm feeling better and coming back to the courts again. Bob and I just played a doubles event in Las Vegas this year. (They won the 60-plus doubles.)
 

Dave Morones and wife Virginia relax on the sofa with six of their nine grandchildren.
     Southern California is richer because of the Moroneses' influence on the game over the decades. They are richer because of their
family loyalty and pride in what they do.  

    

If you see Dave, Bob — or eventually Randy — out on the courts, take some time to observe their game styles … unique, aggressive and with a lot of heart.
A Closer Look by Marc Penick (pdf) HERE.
From the Author: 
I am happy to hear that our interview with Randy Morones has caught the members' attention.  Sadly, Randy is back in the hospital fighting the Valley Fever infection which has reappeared in his back.  His wife Sofia and I spoke over the weekend.  Because Randy is an inmate and is hospitalized currently, those who might want to reach out to him may do so by contacting Sofia Morones at her email address: 

[email protected]

She sees Randy regularly and she will get him all the messages she receives.  It is a good thing for our players who care about Randy to reach out to him.  He could use a little extra some love right now during a tough time in his life. 

Thank you USHA for printing this interview.  My thanks to all of you who take the time to reach out to Randy as well.