25th USHA Hall of Fame Event
TUCSON —  The Annual USHA Hall of Fame Event celebrates handball by honoring the game's history and celebrating today's top players.  What better way to mark the 25th anniversary of the tournament by featuring the Women's Classic, National Masters Singles and the WPH R48Pro LTE!  
The atmosphere was electric at the Tucson Racquet Club on Friday as top players battled throughout the day in first and second round action.  All the top seeds in the Women's Classic bracket advanced, including Tracy Davis, the 2017 Women's Classic Champ the last time it was held in Tucson.  Davis also put on a tremendous show in the Masters, pushing No. 2 seed Raul Jasso through two exciting games before falling 21-19, 21-11.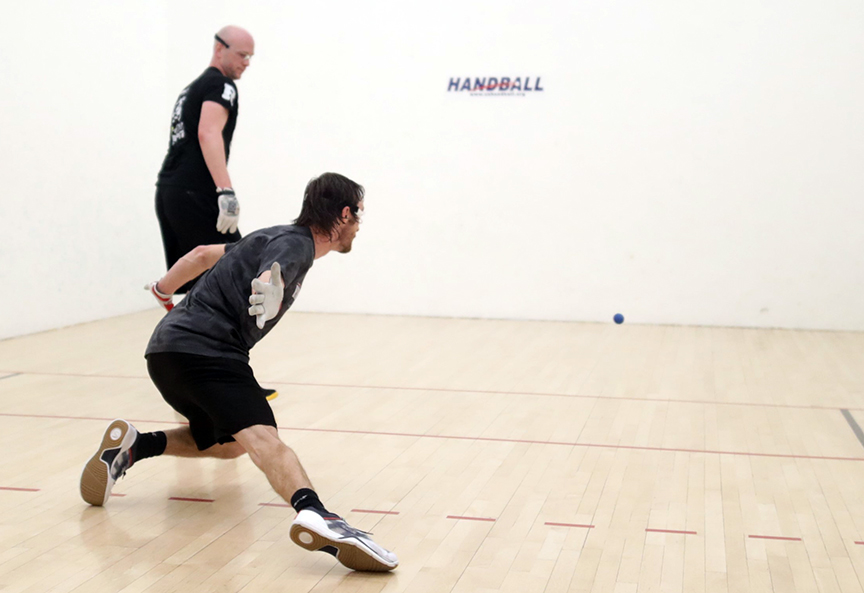 Jeff Streibig (St. Louis) extends for a return against Sean Lenning (Tucson) in the WPH R48Pro LTE.
In WPH's R48Pro LTE event, Jeff Streibig of St. Louis put forth a spirited effort against top seed Sean Lenning, almost playing the roll of spoiler on Lenning's home court.  Streibig took game one, 15-10 and was up in the second before Lenning stormed back to force a third set by the identical score.  While Lenning usually owns the crowd in Tucson, the gallery cheered Streibig's tremendous physical effort and impressive shot execution.  Lenning ultimately settled in to advance to the quarterfinals, 10-15, 15-10, 15-5. 
The rest of the Hall of Fame events resumed on Friday, setting up Saturday semifinals.  
See the draws with today's results HERE.  
SPECIAL THANKS TO THE TREMENDOUS SUPPORT RECEIVED BY OUR TOURNAMENT SPONSORS: 
Fred Banfield
Charlie Wicker
Kevan Del Grande
Tom Sove
Joe Driscoll
Andy Onate
Richard Kimble
Doug Clark
Steve Sheldon
John Stalder
Ron Deriana
Brian Wessel
Paul Flasch   
Ron Kroll
Ken Hartnett
Don Wharton
Jack Herbst  
Larry Lenning
Leo Carrillo
Joel O'Connor
Jeff Healam
Bob Henry