2017 USHA National Junior 3-Wall Championships
FRIDAY
VENICE BEACH, Calif. — The second day of the 2017 USHA National Junior 3-Wall Championships at the Venice Beach Rec Center gave fans and players even more competitive matches and ended with a few championships decided.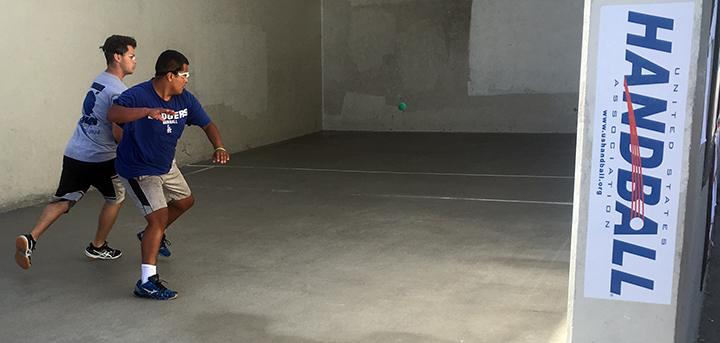 The first major title was the Boys 15-Under Small Ball Doubles which was decided by four Santa Barbara TGOP products:  Bryan Trejo and Daniel Mora vs. Luis Fernandez and Oswaldo Perez.  Fernandez and Perez struck first with a surprising game one victory, but Trejo and Mora battled back to force the tiebreaker where they edged their teammates, 11-6 for the title. 
To wrap the day's action up, Andrew Garcia (right) and Anthony Sullivan played for the Boys 19-Under Big Ball singles crown and provided a glimpse of what to expect for a Boys 19-Under Small Ball final.  Sullivan looked strong early, ringing up a seven-point lead en route to a 21-19 game one win.  But in the second, Garcia showed off his Big Ball prowess, mixing up speed and power to force a deciding third set.  In the tiebreaker, Garcia rolled, jumping to a 7-0 lead to route Sullivan 11-1 for the crown. 
"I ran out of gas in the second," Sullivan said.  "I used up everything in the first and couldn't adjust after." 
Garcia credited his win to settling down and letting his game come to him in the second and third sets.  "I was rushing things, and my shots were off in the first game."  Friday's outcome produced more drama to a possible Sunday rematch in Small Ball. 
SCHA continued to roll out the red carpet for junior players and families on Friday.  Mark Zamora, aka "Rapper" manned the grill which provided delicious tacos for all participants and families.  (If you really want to get your mouth watering, check out the United States Handball Association's Facebook video of what was served!).
During a small break in the action, former junior champion and R48Pro Mando Ortiz with Tucson's pro qualifier Abe Montijo gave the kids a thrill with a player clinic on the main court.  Kids worked on their serve and were shown how to cut the ball off on the three-wall court.  Special thanks to both players for sharing their time teaching the next generation better skills!  
See today's results HERE.