Sign up for Court Shorts
US Handball's E-Newsletter
Tournament Calendar
| | | | | | | |
| --- | --- | --- | --- | --- | --- | --- |
| Su | Mo | Tu | We | Th | Fr | Sa |
| | 1 | 2 | 3 | 4 | 5 | 6 |
| 7 | 8 | 9 | 10 | 11 | 12 | 13 |
| 14 | 15 | 16 | 17 | 18 | 19 | 20 |
| 21 | 22 | 23 | 24 | 25 | 26 | 27 |
| 28 | 29 | 30 | | | | |
Go to list of events
Contact Us
Phone:
1-520-795-0434
Address:
2333 N. Tucson Blvd.
Tucson, AZ 85716
Email:
This email address is being protected from spam bots, you need Javascript enabled to view it
2014 USHA 1-Wall Nationals
BROOKLYN - The 2014 USHA 1-Wall Nationals saw the new champ Tyree Bastidas (at left), hold off the old champ Satish Jagnandan on Thursday in two well-played quarterfinal games. Tyree will play Billy O'Donnell in Friday's semifinal while Tyree's brother Jurell faces off against Michael Schneider.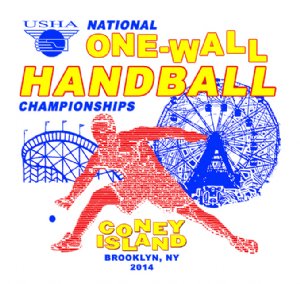 CLICK HERE to see the draws and start times. Please Note: Draws and start times may change up to the day of the event. Please check your time(s) up until that point.
Good Luck to all participants in this year's event!
Read more...
2014 National Junior 3-Wall Championships
BOULDER, Colo. - Santa Barbara produced the youngest champions at this year's 3-Wall Juniors. Luis Fernandez (left) amazed all the spectators as he played well beyond his 9 years en route to a singles title and runner-up in the 15-Under Consolation doubles. Fernandez defeated fellow T.G.O.P. teammate Daniel Mora in two games, 21-18, 21-5.
Bryan Trejo was equally impressive as he won the Junior 11-Under final over Tucson's Andres Maldonado 21-13, 21-8.
San Jose's Briant Mendiola returned to the winner's circle in the Boy's 13-Under division. Mendiola served his way to a dominant win over Tucson's Jorge Pimentel, 21-8, 21-1. Mendiola teamed with Edwin Laredo two win the Boy's 15-Under doubles.
New York's Robert "Bobby" Lee (shown here returning a shot from the long line) had no answer for Lake Forest's Anthony Collado in the first game of the Boy's 19-Under championship match, losing 21-6. Lee was able to swing the momemtum and win the title in three games, (6), 11, 9.
It looked like another easy win for Collado, who was the defending champion, but in the second game, Lee rediscovered a devastating serve that Collado couldn't adjust to: a crack serve to the right.
"My one-wall game really helped, and once I had my serve going, it gave me more confidence." Lee said.
Lee completed the slam as he and Collado paired in the 19-Under Doubles to defeat Anthony Sullivan and Kaelen Rae, 21-13. 21-10.
Sullivan looked unstoppable in the 17-Under division, defeating Alex Guadarrama 21-3, 21-8.
Tucson's Jesus Avila won the Boy's 15-Under singles, defeating Agustin Santiago of Santa Barbara, 21-2, 21-4.
Rosita Howard took another title to Tucson defeating 520 teammate Kena Byrd, 21-15, 21-5.
The Colorado Handball Association laid out an impressive spread, bringing in an afternoon BBQ for the players and fans.
Click HERE to see today's draws and results.
Read more...
2014 USHA 1-Wall Big Ball Nationals
Men's Pro Doubles action: Gio Vazquez shoots in the Pro Doubles final. Vazquez and Oscar Cardenas (2nd from left) came back to defeat William Polanco and Andres Calle in a 25-23 thriller.
BROOKLYN - A short rain delay in the morning quickly gave way to sunshine and the 2014 USHA 1-Wall Big Ball Nationals were able to wrap-up on Sunday.
The last matches of the day were filled with high drama, lead changes and delivered plenty of action.
In the Men's Pro Doubles final, Gio Vazquez and Oscar Cardenas sealed a comeback win over William Polanco and Andres Calle, 25-23. After watching their 11-5 lead evaporate into a 16-11 deficit, Vazquez and Cardenas were able to scrap back into the match and tie the score at 23. With the crowd cheering on both teams, Vazquez broke the tie with a blazing ace serve down the middle, just inches over the short line. Minutes later, he sealed the win with a right handed kill to the left, just beyond Calle's reach for match point.
In the Women's Pro Doubles final, defending champions Maggie Crespo and Mel Sky waged a back-and-forth battle with Danielle Daskalakis and Sandy Ng before closing match point at 25-23.
Earlier in singles action, Daskalakis served to her second consecutive Big Ball title over Karen McConney, 25-6.
In the Men's Pro Singles final, Timbo Gonzalez defeated Tywan Cook 25-12 for his THIRD consecutive singles title.
Ray Lopez won two singles events, claiming the 40+ Singles and Open Singles.
In other action, Jose Velez defeated Ryan Delevan in the B Singles final, 25-23. Delevan won the Boy's 19-Under title over Michael Ngai, 25-13.
Read more...
Paul Williams, Hall of Fame Induction
NEW YORK - Paul Williams was honored Saturday evening with his Hall of Fame Induction Ceremony at the Citrus Bar & Grill in Manhattan. Family, friends, Hall of Famers and many of the junior players that Williams had mentored showed up for the special occasion.
USHA President Mike Steele attended to make the official presentation to Williams, and Brooklyn Borough President Eric L. Adams issues a Proclamation that July 12 will be Paul Williams Hall of Fame Induction Day in Brooklyn.
Dan Flickstein gave the induction speech and outlined the many championships in addition to the accomplishments Williams had achieved in national and international handball.
A very gracious Williams thanked the handball community and family for their constant support throughout the years. In addition to this special event, Williams also celebrated his 55th birthday.
<< Start
< Prev
1
2
3
4
5
6
7
8
9
10
Next >
End >>
Results 1 - 9 of 215
Purchase Handballs
CLICK HERE to purchase handballs!
21 Handballs are the Official handballs of the United States Handball Association