Sign up for Court Shorts
US Handball's E-Newsletter
Contact Us
Phone:
1-800-289-8742
Address:
2333 N. Tucson Blvd.
Tucson, AZ 85716
Email:
This email address is being protected from spam bots, you need Javascript enabled to view it
| | | | |
| --- | --- | --- | --- |
| 5th USHA One-Wall Big Ball Championships | | | |
Big Ball Nationals: Timbo Takes Down Gio in Final then pair up to win Men's Doubles
Tim "Timbo" Gonzalez wins the Men's Pro Singles over Givanni "Human Torch" Vazquez, 25-24. Awesome match and atmosphere today in Coney!
BROOKLYN - Doubles partners Timothy Gonzalez and Givanni Vazquez provided an epic show of athleticism during lengthy close range rallies in the Men's Pro Singles final.
While both had chances to win championship point, Timbo was able to close out the match 25-24.
The two then paired to win the Men's Pro Doubles over George Figueroa and Tywan Cook, 25-19.
Karen McConney and Adrian Floyd won their fourth straight doubles title by defeating Melissa Smoker and Maggie Crespo, 25-18.
.Visit our Facebook site to see interviews with the champs.

CLICK HERE to view the draws and today's results.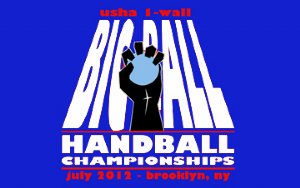 Silent Auction!
CLICK HERE to view the online auction and place your bid!
All proceeds support "The Perfect Game"