Sign up for Court Shorts
US Handball's E-Newsletter
Contact Us
Phone:
1-800-289-8742
Address:
2333 N. Tucson Blvd.
Tucson, AZ 85716
Email:
This email address is being protected from spam bots, you need Javascript enabled to view it
Castro tops Bastidas in Men's singles.
Kaplan/Sala take doubles and Sandy Ng slams in Women's Open events...
Pee Wee Castro hits the match winner over Satish Jagnandan in the semifinals.

BROOKLYN, N.Y. - Pee Wee Castro recovered from cramps overnight and jumped on everything defending champ Tyree Bastidas hit in the singles final to win two close games. "It's been 10 years since my singles final and I hope to slam later today, just as I did then," Castro said.
Castro came up short in the doubles, losing with Willie Polanco to former champs Cesar Sala and Joe Kaplan in an 11-8 tiebreaker.
Sandy Ng pulled off the slam in the Women's Open, teaming Danielle Daskalakis to defeat Theresa Haley and Maggie Crespo in another final tiebreaker, (18), 15, 2.
Overnight rain had the first two masters doubles playing at the HES with Sal Cataudell and Steve Kraft earning the 65 title and Carmine Bellissimo and Tony D'Auria winning their third 70-plus title.
Pro Prize Money: A big thanks to USHA Handball Sales and Ken Saunders with We Got Next Productions for their sponsorship of the One-Wall Nationals. We Got Next is currently working on a film called One Wall. CLICK HERE for the prize money breakdown!
CLICK HERE for more information on We Got Next

Read more...
B.A.I.T. Stands for Best Athlete In Town, and the WPH is coming to a city near you to crown the best athlete. The President's Council on Physical Fitness has listed Handball, once again, as the leading athletic game in the world for physical fitness, burning in excess of 800-1200 calories per hour. The goal is to get more people onto handball courts by illustrating the positive affects handball has on an athlete's body; meanwhile, creating fun, safe and competitive play for all seeking an alternative lifestyle sport.
The Best Athlete In Town competition will kick off in Tucson, Arizona on Saturday, August 13. CLICK HERE for more info!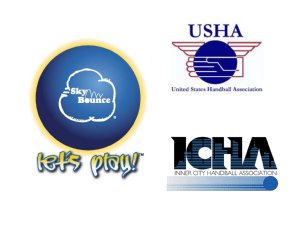 The 2011 Sky Bounce / ICHA / USHA National Big Ball Championships are August 20- 21, in Coney Island, NY.

Avoid Late Fees: The entry deadline is August 6. CLICK HERE to enter online!

This is a Team USA qualifying event! Participation in this event helps move the dream of big ball handball in the 2016 Olympic Games closer to a reality.
ICHA and USHA Adult members receive $15 - $20 discount.

ICHA and USHA junior members receive $15 discount.
CLICK HERE for more information!
Charlie Danilczyk - Dean of One-Wall Handball
By Dan Flickstein
I have been part of organized handball for fifty years, during which time I have, I hope, developed some wisdom about our great sport. Our One-Wall Commissioner, Howie Eisenberg, has been around the game even longer than that! Both of us sit on a type of "council of elders," where he and I have often clashed over our opinions. I think, though, even without consultation with our esteemed Commissioner and Hall of Fame player, that he would agree with me when I refer to Charlie Danilczyk as the "Dean of One-Wall Handball" for his longevity in the sport and his highly intelligent views of how the game should be played.

At 83 years of age, with two knee replacements, among other physical infirmities associated with age, Charlie hasn't entered tournament play for many years. But he retains grand memories... CLICK HERE to read the entire article
<< Start
< Prev
1
2
3
4
5
6
7
8
9
10
Next >
End >>
Results 73 - 81 of 188
Silent Auction!
CLICK HERE to view the online auction and place your bid!
All proceeds support "The Perfect Game"